| | |
| --- | --- |
| Convert DVD to AVC with StaxRip | You are viewing Page 1 of 3 -- Go to page 1 , 2 , 3 |
Convert DVD to AVC with StaxRip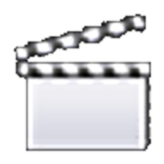 In recent years MPEG-4 AVC (H.264) video has become a standard for everything from mobile phones and portable media players to Blu-ray, and even some HDTV broadcasts. Along the way many programs have been introduced for creating AVC video, including a large number that take advantage of the high quality and open source x264 encoder. StaxRip is one such program.
StaxRip distinguishes itself from other similar software by providing a unique interface that offers a number of hints and instructions which are shown automatically while you use it. It also features an auto-download capability that helps you download and install various helper applications, reducing the amount of experience required to get started. After completing this guide you should be able to go from DVD files on your hard drive all the way to an MP4 file suitable for playback on a computer or standalone DVD player with AVC support.
Required Software






AviSynth is a powerful open source editor, commonly used to provide input for encoders such as Cinemacraft Encoder for MPEG-2 and x264 for AVC. You can find more information on AviSynth in our guide on Using AviSynth 2.5. It includes not only basic instructions for AviSynth, but also descriptions of a number of built-in filters, as well as third party plugins.




The .NET Framework is code which is used to add various standard features to a variety of programs.





StaxRip is one of a growing number of graphic interfaces for video encoding using free and open source tools.
---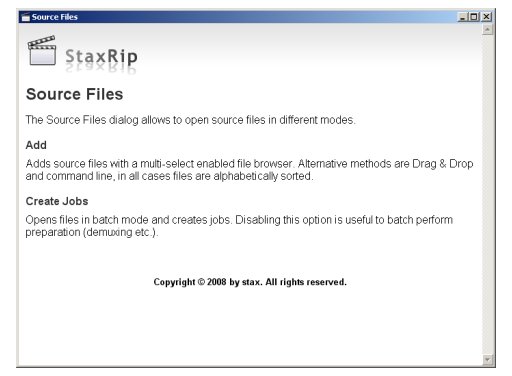 Hints
The first time you use many parts of StaxRip you'll be presented with a window giving you additional information about what the program is doing, and even what you may need to do to complete a particular operation. You can choose to read through some or all of the text or just ignore them completely. The example on the right shows the Hint window for adding Source files.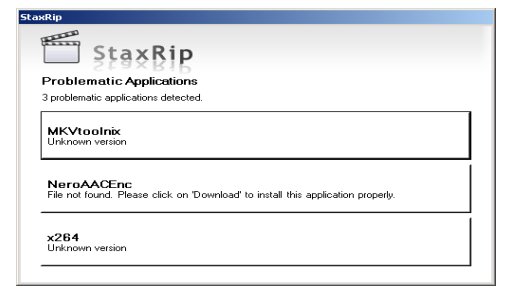 Auto-Download
If you haven't used StaxRip before there's a good chance you won't have one or more required helper applications installed on your computer. Rather than requiring you to find, download, and install additional software separately StaxRip uses an Auto-Downloader which identifies any missing software for the current operation. Simply click on each item listed to bring up the
External Applications
dialog.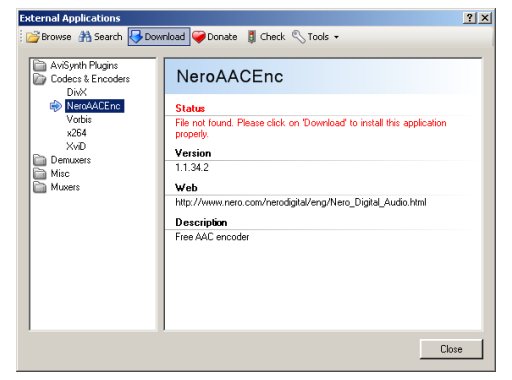 Installing External Applications
In the
External Applications
dialog you'll be shown the specific problem, highlighted in red. In some cases it's an issue with software that's not present on your computer at all, while in others you may simply have the wrong version. In either case you can use the
Download
button at the top of the dialog to let StaxRip retrieve the required software and start the installer for you. Once installation is complete you'll return to StaxRip automatically after clicking the
Close
button at the bottom of the
External Applications
window.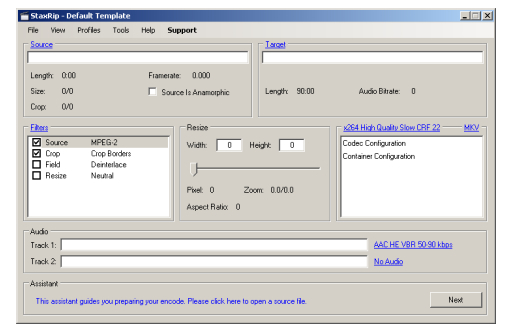 Using StaxRip
Although StaxRip includes a number of menus which operate similarly to most other programs, it also features a number of menus embedded directly into the main program window, which we'll be referring to as
menu-links
. You can identify these menus by looking for the blue text. In some cases you'll need to right-click a menu-link to use it, while others will require a standard left-click. Some even work identically regardless of what button you click them with. In general you should assume the left mouse button (left-click) is used unless specifically instructed otherwise.
Continued On Page 2



First we'll look at loading DVD sources into StaxRip and doing any pre-processing required, including deinterlacing and resizing.





Convert DVD to AVC with StaxRip
You are viewing Page 1 of 3 -- Go to page 1 , 2 , 3