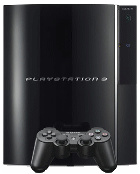 Sony Computer Entertainment America
has confirmed that in the six weeks following the launch of the
PlayStation 3 (PS3)
console, over 1 million units were shipped to North America. The company did not give any figures for the number of units actually sold to consumers but did deny claims that there is a surplus of stock available in stores in some areas saying the
"PS3 has been selling out at retail outlets across North America"
.
According to the company, it is this demand that helped the PS3 hit the 1 million milestone in less time than both the PlayStation and PlayStation 2 consoles.
"SCEA went to great lengths to help meet demand for PS3, including airlifting systems into North America on a weekly basis to ensure a steady stream of units were available to consumers throughout the holiday season,"
said SCEA boss
Jack Tretton
.
"The fact that we were able to reach the one-million mark faster than our top-selling platform, PS2, further validates the strength of the PlayStation brand and our belief that consumers are ready to experience true high-definition gaming."
he added. The number of units shipped to Japan is still unknown.
Source:
GamesIndustry.biz
1 million PS3s shipped across North America