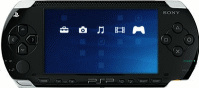 Sony
has released another
firmware
update for the
PlayStation Portable (PSP)
console. The
3.50
update adds support for
Remote Play
, which allows anybody with a PlayStation 3 and a
PSP
to access the multimedia content stored on the PS3 from anywhere an Internet connection can be made. While accessing
Blu-ray
or DVDs using the PSP is not possible, users can stream other videos, music and games to the handheld over the Internet.
The update also added an RSS channel guide for users.
You can now connect a PSP system to a PS3 system via the Internet using [Remote Play].

[Communication Settings] has been added as an option to the [Remote Play] menu.

[RSS Channel Guide] has been added as a feature under [RSS Channel].
Source:
GameSpot
---
| | |
| --- | --- |
| More Recent Gaming News | Date |
| HMV sees strong sales for Next-gen consoles, games | June 01, 2007 |
| Wii Virtual Console to reach 100 game milestone | June 01, 2007 |
| Video game helps 12 year old in Cancer battle | June 01, 2007 |
| Doom and Quake creator working on new franchise | June 01, 2007 |
| Australia gets Xbox 360 Elite accessories | June 01, 2007 |
| Price confirmed for GTA IV: Special Edition in Australia | June 01, 2007 |
| FIFA 08 producer talks football games | June 01, 2007 |
| Australia gets Xbox 360 Forza 2 bundle | June 01, 2007 |
| Five million DS gamers play online with Wi-Fi Connection | June 01, 2007 |
| Bungie will make graphical improvements to Halo 3 | June 01, 2007 |
| Metal Gear Solid 4 heading to Xbox 360? | June 01, 2007 |
| Lite-On IT lands orders for Xbox 360 DVD-ROM drives | June 01, 2007 |
| PSP gets 3.50 update | June 01, 2007 |
| New York targets violent video games | June 01, 2007 |
---