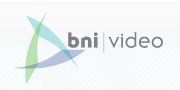 BNI Video
, a start-up backed by
Comcast Corp
,
Time Warner Cable Inc
, and
Cisco Systems Inc
, launched on Tuesday, offering software that can help satellite and cable providers attempt to keep up with rapidly changing viewer behavior and demands.
The start-up's software will aid in offering functions like search and social networking to subscribers of pay-TV services. It has raised $16 million in financing so far, backed by
Charles River Ventures
and
Castile Ventures
.
Cable providers are responding to demands from a new generation of TV viewers, who watch television content on their smartphones, tablet computers and other devices, but have a clear appetite for more features to be available while viewing the video. The TV giants also require the technology to deliver video in a wide variety of formats and to many devices that are now used to commonly view programming.
BNI Video's products will cover a broad range of devices. Viewers have more choice now than ever for tuning in, and spend a lot more time using social networks and other services. BNI will
enable pay-TV providers
to add those features for subscribers as well as bulked up services for their gadgets.