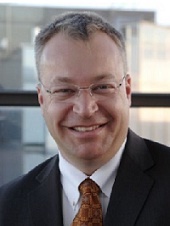 According to
Nokia
CEO Stephen Elop, the Finnish phone maker is looking into producing a tablet in conjunction with partner
Microsoft
.
Says Elop (
NYT
):
"We look very closely at what is coming out of Microsoft in terms of Windows 8. We are very, very pleased with the consistency of the user experience that is coming from the Windows phone and moving up onto tablets and slates and PCs as Windows 8. So we look at those things and say, boy, if there's a family opportunity there, that's something we'll look at very carefully."
Nokia created a tablet back in 2009 based on its now defunct Symbian operating system.
The company is now in a billion dollar partnership with Microsoft, however, to produce phones with Windows Phone as the operating system.
During the
Mobile World Congress
event, Nokia introduced 6 new phones that will launch during the year, including the Lumia 610 and the Nokia 808 PureView with a 41MP camera.