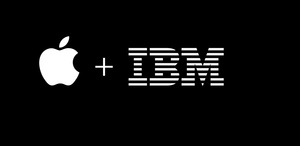 Earlier today we reported on Apple's partnership with IBM to control the enterprise market.

The deal is groundbreaking in that two giants have teamed up their resources to make industry specific apps that work flawlessly for iOS and include Apple's AppleCare support into the future.

Read more that story here.

CEO Tim Cook sent a memo to employees today about the deal, which emphasizes the synergies. The memo in its entirety:


Team,

Today, we announced a groundbreaking new partnership with IBM that will enable enterprises to put the power of big data analytics at their employees' fingertips on their iOS device. This exclusive global partnership brings together Apple's legendary ease-of-use and integrated hardware and software with IBM's unmatched industry depth, enterprise software and expertise in big data analytics.

It also builds on the incredible momentum in Apple's enterprise business. iPhone and iPad can be found in 98% of the Fortune 500. People love to use iOS devices and Apple delivers the things companies need most--security and scalable deployment along with a powerful platform for apps. With this announcement, we're now putting IBM's renowned big data analytics at iOS users' fingertips, which opens up a large market opportunity for Apple. This is a radical step for enterprise and something only Apple and IBM can deliver.
Read more...
---