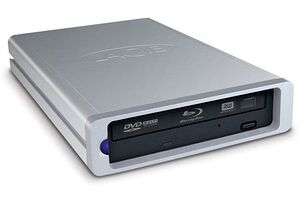 External drive / 32xCD / 8xDVD / 2xBlu-ray / No HD DVD read support / / 2xBD-R
| | |
| --- | --- |
| Form factor? | External drive |
Connection type

?
USB / USB2
| | |
| --- | --- |
| Read speeds | 32xCD / 8xDVD / 2xBlu-ray / HD DVD |
| | |
| --- | --- |
| CD write speed | 24xCDR / 16xCDRW |
| | |
| --- | --- |
| HD DVD write speed | HD DVD-R / HD DVD-RW / HD DVD-R DL / HD DVD-RW DL / HD DVD-RAM |
| | |
| --- | --- |
| Additional info | Includes both USB2 and FireWire connectors. |
| | |
| --- | --- |
| Manufacturer product code(s) | 301828EK |
| | |
| --- | --- |
| UPC / EAN code(s) | 3660619318285 |
---
Form factor

(Form factor)


Internal drive is simply a drive, which is installed inside the casing of a computer, while an external drive has a casing of its own, and is connected to the computer via an cable. If you need to move the drive around a lot (e.g. use it in two or more different computers), an external drive is a practical choice.

Connection type

(Connection type)


An external Blu-ray-drive may be connected to the computer via an eSATA, FireWire, or USB interface, while an internal drive may be connected via IDE (ATA), SCSI, or S-ATA interface.

Media load type

(Media load type)


A slot load drive has an opening to slide the disc in (i.e. like many car CD players). In tray load drive the disk is placed on a tray that slides out of the drive.
Review this product
Did you notice incorrect or missing information? Submit us corrections for these details

Do you have questions or comments regarding this product? Use our discussion forums to find out more about this and thousands of other products.