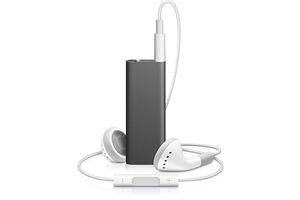 | | |
| --- | --- |
| Storage medium? | Flash memory |
| | |
| --- | --- |
| Memory card slot? | No memory card slot |
| | |
| --- | --- |
| Headphone jack? | 3.5mm headphone jack |
| | |
| --- | --- |
| PC connection? | USB / USB2 |
Supported audio formats
MP3 /

FLAC

/

Ogg Vorbis

/ AAC / AAC (FairPlay) / WMA (non-DRM) / WMA (DRM)?
| | |
| --- | --- |
| Battery life (audio) | 10 h |
| | |
| --- | --- |
| Dimensions (W x H x D) | 45,2mm / 17,5mm / 7,8mm |
---
Display

(Display)


The display eases the use of the player, even if the device is only used for listening to music. You can, for example, easily browse through songs and artists, adjust the settings, or, if supported by the player, watch images and videos.

Display size

(Display size)


The diagonal of the display in inches.

Resolution

(Display resolution (nnn x nnn))


Resolution refers to the amount of horizontal and vertical pixels the device uses to generate the image on screen, i.e. the physical number of columns and rows of pixels creating the display. The resolution is given as horizontal pixels x vertical pixels ("width x height").

PC connection

(Computer connection)


The player is usually connected to a computer via an USB or FireWire-cable. Quite often, however, the player end of the cable requires a special connector designed by the manufacturer.

Storage medium

(Storage medium type)


MP3 Players can use either flash memory or hard disk drive (HDD) to store the MP3 music files. Flash memory is a non-mechanical solid state technology, and therefore it is lighter and more power efficient than HDD. Flash is also more resilient to such hazards as dropping or fragmentation. On the other hand, HDD offers more storage capacity than flash memory: flash-based players only offer storage capacity up to 32 gigabytes (GB), while HDD players reach up to around 250-300 GB.

MP3

(MP3 playbck support)


Usually all digital music players are capable of playing MP3 files. However, the playback of various forms of DRM protected files is often limited to a number of players. The same applies to more special file formats, such as FLAC, Ogg vorbis, AAC and WMA.

Headphone jack

(Headphone jack type)


The headphone jack most commonly used is 3.5 mm in diameter. Sometimes a smaller 2.5 mm jack is also used, which saves space. The downside is that most headphones are equipped with a 3.5 mm plug and require an adapter to fit into the 2.5 mm jack. Some manufacturers also use their own proprietary jacks.

WiFi / WLAN

(Integrated WiFi / WLAN)


Some modern players have the ability to transfer data through Wireless LAN (WiFi) connection. However, the connection is seldom used for data synchronization, but rather to provide access to the Internet or proprietary services.

Memory card slot

(Memory card slot)


Some MP3 players have a slot for external memory card, which can be used to connect memory cards containing music for playback.
Review this product
Did you notice incorrect or missing information? Submit us corrections for these details

Do you have questions or comments regarding this product? Use our discussion forums to find out more about this and thousands of other products.