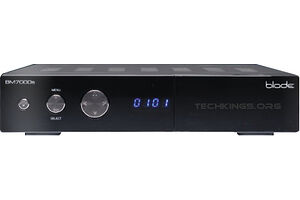 | | |
| --- | --- |
| SCART 1 | RGB, S-Video, CVBS, YPbPr ("YUV") |
| | |
| --- | --- |
| SCART 2 | RGB, S-Video, CVBS, YPbPr ("YUV") |
---
PiP

(Picture-in-picture)


Picture in Picture (PiP) is a feature of some set top boxes which displays one program (channel) on the full TV screen and at the same time another program (channel) in a small inset window.

Conax

(Integrated Conax card reader)


Conax is a form of encryption method used by several European pay-TV operators. Without Conax reader (or Conax CA-module), those channels can't be accessed, as the authentication car provided by pay-TV operator can be read only by Conax reader.

Tuners

(Number of tuners)


If the device includes multiple tuners, it typically allows picture-in-picture functions (and, in case of PVR-capable devices, recording) for two or more channels, even if the channels are physically located in different multiplexes.

HDD

(Does the device include hard drive?)


If the device has an internal hard disk drive (HDD) it is possible to save programs without any loss in picture quality.

CIs

(Number of CI slots)


CI stands for Common Interface module and is a standardized interface for connecting different kinds of descryption modules to digital receivers. In order to view a encrypted channel you need to connect a conditional access module (CAM) in to the CI.

USB

(USB or USB2 connector)


USB port offers a fast data transfer route between the set top box and a computer. The connection is typically used to transfer saved programs from the set top box to a computer.

Two-way USB

(Does the USB allow transferring videos to PC?)


Two-way USB enables the transfer of data both to and from the set top box. This means you can for example transfer saved programs from the HDD to a computer as well as images and videos from computer to the HDD of the set top box.

AC3

(Dolby Digital support)


AC3 (Dolby Digital) is a surround audio technology that is widely in use in many digital and HDTV transmissions. More information of AC3 in glossary.

Teletext

(Integrated Teletext)


Integrated Teletext allows using Teletext services with the device, whether the connected TV supports Teletext or not.

DVB-C

(Includes also DVB-C tuner)


DVB-C tuner is required to receive digital cable television transmissions.

DVB-S2

(DVB-S2 support)


DVB-S2 tuner is required to receive digital HDTV satellite transmissions.

HDTV

(HDTV support)


Does the device have support for High-Definition television (HDTV) programming, i.e. can the tuner handle AVC (MPEG4) format.

VideoGuard

(Integrated VideoGuard card reader)


VideoGuard card reader is required to use several pay-TV operators' offerings, including UK's BSkyB, Nordic's Viasat and Australia's Foxtel.

Ethernet

(Ethernet port)


The ethenet port can be used to connect the device to local area network. The utilization of the port varies from device to device. Some models offer the possibility to access and transfer the content of the device to PC, to record programs to an external storage, or even play videos from a PC. Some devices, on the other hand, only use the Ethernet port as an return channel of MHP.
Did you notice incorrect or missing information? Submit us corrections for these details

Do you have questions or comments regarding this product? Use our discussion forums to find out more about this and thousands of other products.