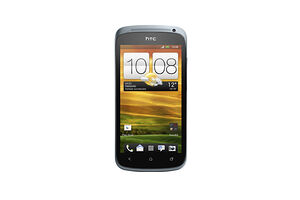 | | | | |
| --- | --- | --- | --- |
| Misco (UK) | £420.00 | 04/16/2014 | HTC ONE S BLACK SMARTPHONE |
| | |
| --- | --- |
| Measurements (WxHxD) | 130,9 mm x 65 mm x 7,8 mm |
| | |
| --- | --- |
| Memory card slot | No memory card slot |
| | |
| --- | --- |
| 2G networks | GSM 850 / GSM 900 / GSM 1800 / GSM 1900 |
| | |
| --- | --- |
| 3G networks | WCDMA 850 / WCDMA 900 / WCDMA 2100 |
| | |
| --- | --- |
| Data? | HSUPA / HSDPA / WCDMA / EDGE / GPRS |
| | |
| --- | --- |
| Manufacturer product code(s) | 111966 / 111967 / 99H10766-00 |
---
Data

(Packet data modes)


Data transfer modes that are based on packet switching method rather than circuit switching, and offer a much faster and more efficient data transfer. For more information and comparision see for example here.

MMS

(MMS support)


Multimedia Messaging Service (MMS) is a standard for telephone messaging systems that allows sending messages that include multimedia objects (images, audio, video, rich text) and not just text as in Short Message Service (SMS).

RAM memory

(RAM memory)


RAM (Random access memory ) is the internal memory of the phone used to execute programs etc.

Display technology

(Display technology)


Display technology in use. The options (from worse to best) are STN (LCD), CSTN (Color STN), TFT (Thin-Film Transistor), and OLED (organic light-emitting diode). The first three are all based on LCD technology, which unlike OLED, do require backlight.

Storage memory

(Built-in storage memory)


Built-in storage memory expresses the amount of memory space available for storage of ringtones, pictures, videos, games etc. The most commonly used memory type is flash.
Rating: 5 / 5 Value for money: 4 / 5
Pros:
Extremely thin and awesome design.
Great feel and hold to it.
Snapdragon S4
1GB RAM
Start-up time is very fast.
Android 4.0 runs very smooth.
Excellent screen, works great outside too.
Beats audio.

Cons:
Battery life can be better.
No micro-SD.
Cannot remove battery.
Pre-loaded apps.
16GB is plenty, but I would have liked more memory.
No ear buds included.

Summary:
Ive been waiting a long time to upgrade my 4 year old phone. And once I heard about the HTC One S, I knew this was the phone Ive been waiting for. Android 4.0 is excellent and everything runs so smooth on this phone. Being able to play files such as flac is a huge plus; however thats where 32GB would have been better than 16GB. This phone screams quality with its all metal design. Ive always like the look and feel of HTCs phones, and being the thinnest HTC phone ever made, I think its also one of their best too.
Review this product
Did you notice incorrect or missing information? Submit us corrections for these details

Do you have questions or comments regarding this product? Use our discussion forums to find out more about this and thousands of other products.