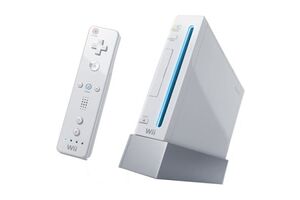 88MB / No HD media drive / No HDMI output
| | | | |
| --- | --- | --- | --- |
| Play.com | £119.89 | 04/25/2014 | NINTENDO WII CONSOLE WITH + MOTIONPLUS + MARIO & SONIC AT THE LONDON 2012 OLYMPIC GAMES - BLUE |
| Play.com | £119.99 | 04/25/2014 | NINTENDO WII CONSOLE WITH WII SPORTS + WII PARTY + MOTIONPLUS - WHITE |
| Play.com | £119.99 | 04/25/2014 | NINTENDO WII CONSOLE BUNDLE INCLUDING MARIO KART + STEERING WHEEL + REMOTE PLUS + NUNCHUCK - BLACK |
| Play.com | £159.99 | 04/25/2014 | NINTENDO WII CONSOLE BUNDLE WITH WII FIT PLUS PACK - BLACK |
| | |
| --- | --- |
| HD media support? | No HD media support |
| | |
| --- | --- |
| Additional info | Only wireless controllers connected via Bluetooth, Bluetooth is can not be used for anything else |
| | |
| --- | --- |
| Manufacturer product code(s) | 13043 / 160000 / 160003 / 21000149 / 2100158 / 2100167 / 2100190 / 2100290 / 2100440 / 2100467 / 2100558 / 2100590 / 2100690 / 2100690 / 2100790 / 2123240 / 2123267 / 2126340 / 2126366 / 2126367 / 2126467 / 2209927 / 372092 / 464821 / 55773 / GAM0056164 / GAM0063813 / GAM0065292 / GAM63813 / hpaivat / NIN-K-WII BLACK EDITION / RVL-001 / RVL-004 / WII-SPORTSPAK-STARTER-SET |
| | |
| --- | --- |
| UPC / EAN code(s) | 0045496342173 / 0045496880019 / 045496342067 / 045496342111 / 045496342159 / 045496342166 / 045496342173 / 045496342180 / 045496342203 / 045496342210 / 045496342241 / 045496342258 / 045496342258 / 045496342265 / 045496342272 / 045496342357 / 045496342357 / 045496342425 / 045496367794 / 045496367800 / 045496367886 / 045496368357 / 045496880019 / 045496901691 / 5704875044231 / 785138301310 |
---
CPU

(CPU type)


The CPU (or processor ) is the core component of any console. It executes the programs (e.g. games) with the help of other dedicated hardware. The CPU has high impact on the general performance of a console, altough other components and the general architechture of the devide also play a significant role.

Memory

(Memory installed)


The amount of internal memory available to execute programs.

Video memory

(Video memory)


The amount of video processing memory reserved for graphics board. Presented as megabytes.

HDD size

(Storage capacity (HDD size))


If the console has an internal hard disk drive, the storage capacity of the drive is announced here (in giga bytes, GB). The HDD can be used, for example, to store games/game data, photos, music, videos or software.

USB ports

(Number of USB or USB2 ports)


The number of USB ports the console has. The ports can bes uses to connect game controllers or external devices, or to read memory cards.

Ethernet

(Integrated Ethernet / LAN adapter?)


If the console has an integrated Ethernet port, it can be connected to a local area network (LAN) via the port. The speed of the LAN connection is announced as megabits per second (Mbps).

WiFi

(Integreated WLAN / WiFi)


WiFi is a wireless solution to connect a device to a local area network.If the console is WiFi-enabled, it can be connected to a WLAN Network without the use of a connection cable.

Bluetooth

(Integrated Bluetooth adapter)


Bluetooth can be used to form a data transfer connection between the console and Bluetooth enabled devices. Another possible use of the technology is to connect external devices or game controllers.

HD media support

(Support for HD media)


The console can support some kind of HD media, i.e. it can be used as a HD media player for the supported format(s). Theoretically there can be devices suppporting either HD DVD or Blu-ray, but in practice only the latter is supported by consoles.

Component video

(Component video output)


Component Video is a type of video transmission where either luma and chroma difference channels (Y, Cb, and Cr) or red, green, and blue (RGB) video is sent across three separate cables.

HDMI

(HDMI output)


HDMI (High-Definition Multimedia Interface) is an interfacing standard for transferring digital video and audio between electronic devices. It is developed primarily for high definition displays in mind.

SD card reader

(Integrated SD memory card reader)


Integrated Memory Card Readers can be used to read information from different types of memory cards. The readers can be used for example to save game data to a memory card, view photos from a memory card of a digital camera, or to transfer music or other files from/to the console. Common types of memory cards are SD, MemoryStick, and CF.
Review this product
Did you notice incorrect or missing information? Submit us corrections for these details

Do you have questions or comments regarding this product? Use our discussion forums to find out more about this and thousands of other products.