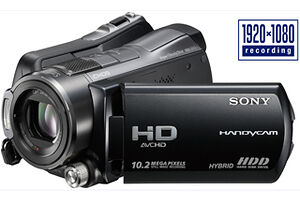 Hard Drive / 5.66 Mpix / 1/3.1" / 16:9 / 12X
| | |
| --- | --- |
| Focal length | 4,9mm - 58,8mm |
Connectors
USB , HDMI , A/V output ,

Mic input

,

Headphone out

,

LANC
| | |
| --- | --- |
| Viewfinder | Electronic, Colour |
| | |
| --- | --- |
| Measurements (WxHxD) | 83mm x 76mm x 138mm |
| | |
| --- | --- |
| Manufacturer product code(s) | HDR-SR12E / HDRSR12 / HDRSR12E.CEL / HDRSR12E.CEN |
| | |
| --- | --- |
| UPC / EAN code(s) | 4905524488548 / 4905524488555 / 4905524488562 |
---
Rating: 5 / 5 Value for money: 4 / 5
This is a "Prosumer" model - price and features. You can turn pro with it but dont expect to beat a pro without lots of additions ($$$).

Despite it's poor Lux rating, it records low light video superbly, very hard to get into grainy situations. In "Auto" setting. But, forget about taking pictures in low light without switching modes - "twilight", etc.

The flash is mounted ON the lens cover. Automatically disables flash if a filter is attached. Need to use a hotshoe flash ($$$) instead.

The Dolby Digital 5.1 surround Mic works! Even if it's a tiny flat square piece on top of the cam. Tried and tested in a Helipad video recording.

For it's price, it should record progressive scan 1080p, instead of 1080i. This is why my "value for money" is only 4.

Best to also have a cheap, small memory card ($$$) installed if taking pictures while recording a video simultaneously. Or else, the priority will go to the video recording. It will take a long time to save a picture.

Requires expensive HD rated filters to function best. Still works with cheaper normal filters but sharpness may suffer.

NOT COMPATIBLE with cheaper, normal HDMI cables. Requires Sony's mini-HDMI cable ($$$$$$$$) instead. A short mini-HDMI cable should be enclosed FOC with the purchase.

The IR remote control is very handy. Very thin, small and light, you can "almost" hide it in your palm.

Best used with it's recomended tripod ($$$) - expands almost all functionalities to the tripod, big buttons and all.

I still havent deleted any videos from the HDD despite owning the unit for more than 1 year. Must be me...
Review this product
Did you notice incorrect or missing information? Submit us corrections for these details

Do you have questions or comments regarding this product? Use our discussion forums to find out more about this and thousands of other products.