Product reviews by 'omegaman7'




Rating: 5 / 5 Value for money: 5 / 5
money for power ratio is EXCELLENT. Despite what some people say, its not that far behind the i7! Everything I throw at it, it handles with ease! Upgraded from 5200 athlon, EXTREMELY impressed! Overclocked to 3.5 easily. I hear 4 is possible. I BELIEVE IT!

Rating: 5 / 5 Value for money: 3 / 5
Very good upgrade from an athlon thunderbird (1.4ghz). There are much better processors now. Makes for a VERY powerfull media center. in 1.5 yrs, not one hiccup. Infact, from 6yrs with amd, NEVER a problem. Will encode video rapidly (pending on compression). Though quads, are EXTREMELY much better.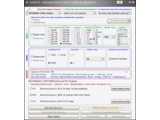 Rating: 4 / 5
well... It looks like a pretty nice program. In that i mean, Lots of options, aspect, container(File Type), Codecs(ALOT of them). I am somewhat green to the encoding world. But am quite intrigued by how much a video file can be compressed while still being lossless to the human eye!!! I am running the latest version of AVG(grisoft) and NO red flags came up. Perhaps they fixed that bug. Either SUPER or AVG. I even scanned the finished installed directory. Well... off to encoding. At this point i recommend this software to anybody with atleast some encoding skills. Not as user friendly as one might think. A newbie MIGHT be intimidated by the looks of the software!! I rated this software good, but... it could go either direction in a week. We'll see.