Author A Blu-ray Disc with EasyBD Lite
In this guide we will walk through authoring a Blu-ray disc with EasyBD Lite. EasyBD Lite is a free version of a professional authoring program. It allows you to create non-interactive BDMV discs, meaning you can't add menus or special commands.
Although there are several free Blu-ray authoring programs available, they typically rely on tsMuxer for creating the M2TS files which hold the video, audio, and subpictures. While tsMuxer is overall an excellent program, especially considering it is free. it doesn't always create BDMV compliant files, and can even alter content during the muxing process. Being based on a commercial authoring program, EasyBD Lite will always produce compliant files.
The one drawback to using EasyBD Lite is that you will need to start with video files which exactly meet the requirements for BDMV discs, as laid out by the Blu-ray Disc Association. Although you can create such files with the freeware x264 encoder, you will need to make sure to use the right settings.
Rather than starting with HD sources from a Blu-ray disc, the example in this guide actually uses titles from a standard DVD.


Why A DVD Source?
Many people have large DVD collections with a lot of discs they may never buy on Blu-ray. But that doesn't mean you can't get some of the advantages of Blu-ray for your DVD collection. Backing up to BDMV, rather than DVD-Video, allows you to heavily compress the video without losing any quality. That's more important than ever when you're playing your videos on a modern HDTV. That means you may be able to back up the contents of multiple dual layer DVDs on just one single layer disc. In fact, that's exactly what I've done while making this guide.
Preparing DVD assets for Blu-ray compatibility
Most DVD assets are already Blu-ray compliant. You can use the MPEG-2 video and AC-3, DTS, or even LPCM audio tracks from a DVD for a Blu-ray project. If you prefer to fit more titles on a single disc, fitting the entire contents of a dual layer DVD onto a single layer blank for example, you should consider
converting to H.264
.
For subtitles you will simply need to convert them to BDN XML format. The video guides below detail that process. Or you can visit our regular guide for
converting Sub/IDX subtitles to BDN XML format
.
Software Used In This Guide
| | |
| --- | --- |
| | EasyBD Lite |
Importing Video, Audio, and Subtitles
The first step in authoring a BDMV compilation with EasyBD Lite is creating tracks. Each track consists of a single video file, along with any accompanying audio and subtitles.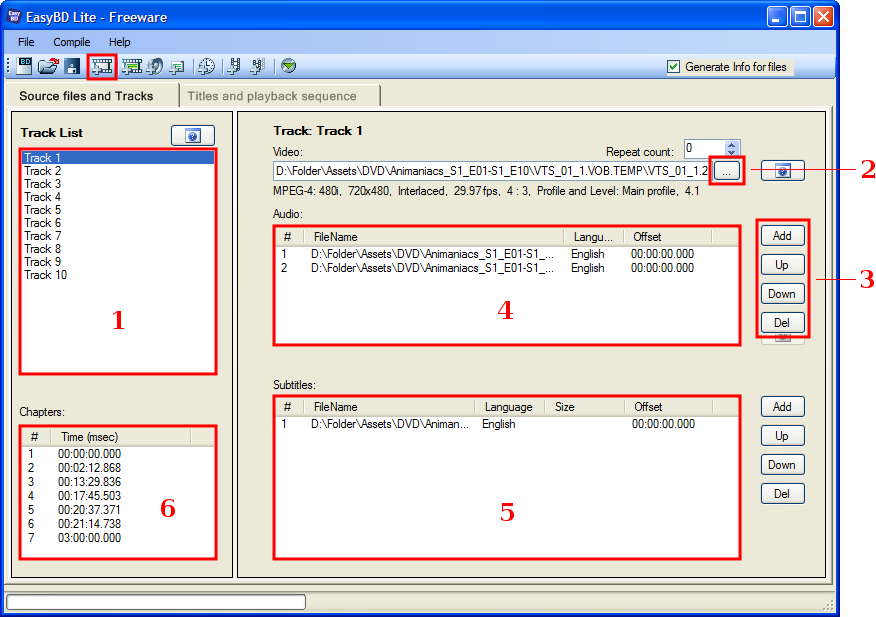 1. Tracks

By default, there will be a single track in your BDMV compilation. You will need one track for each video file you add. You can add more tracks using the button on the toolbar. Delete or rename a track by right-clicking on it in the Track List.

2. Video file

Use the browse button to add a video file to the currently highlighted track. Because this is basically a professional authoring program, your video will need to be an elementary stream, which means it can't be in any container. Video in MP4, M2TS, MKV, AVI, or other containers won't work. My files are elementary H.264 streams which have a file extension of .264. You can find more information on how I created them in AfterDawn's guide for converting video from a DVD to H.264 with MeGUI.

3. Audio Streams

Each track may have one or more audio streams. Like with the video, these need to be elementary streams. I'm using AC-3 (Dolby Digital) files extracted from my DVDs. The Add buttone lets you browse for an audio file, the Up and Down buttons change its order in the list of audio streams, and the Del button deletes the selected audio stream.

4. List of audio streams

If you need to change the language of an audio stream or set it to start later than the video, right-click on it and select Set Language or Set Offset.

5. Subtitles

You can also add subtitles. EasyBD Lite requires that subtitles be in the Sony BN XML format. You can convert subtitles to this format using the free program, BDSup2Sub, which you can download in AfterDawn's Software section.

6. Chapters

Right-clicking in the Chapters list gives you the option to add or remove chapters. You can also import them from a text file containing timecodes. I used a chapter file exported from MeGUI. I had to edit the file to get rid of extra information which confused EasyBD when I tried to import it originally. You can see the original and edited files below.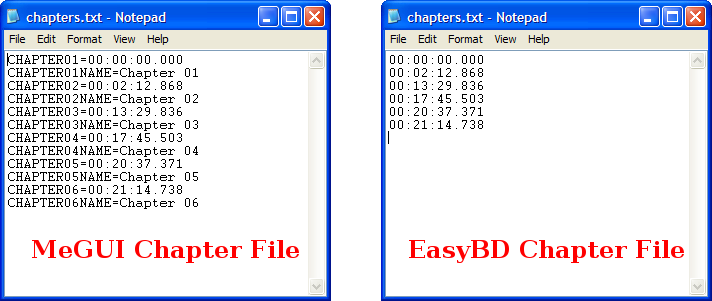 Titles and playback sequence tab
Once you have all your tracks added, you can move on to the Titles and playback sequance tab. Titles are playlists which contain tracks. A single track may be in more than one playlist, although for the sort of simple discs you can create with EasyBD Lite you are unlikely to need that capability.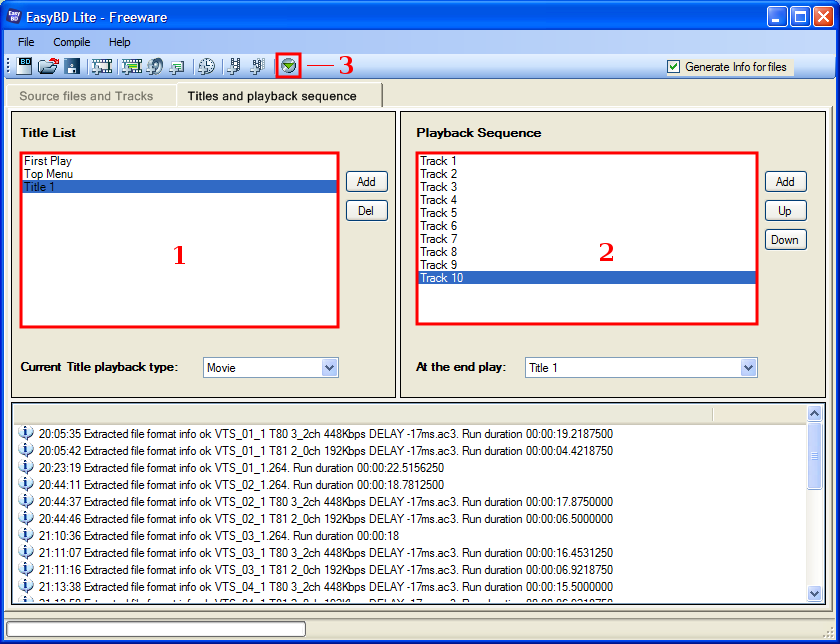 1. Title List

By default, the Title List contains three items; First Play, Top Menu, and Title 1. First Play is typically where you would see some sort of introductory video when the disc first starts playing. This video would be shown just once, unlike the menus which might play in an endless loop if left alone.
Normally the Top Menu title would be an actual interactive menu, but due to the limitations of the Lite version of EasyBD it's not possible to include any interactive features. You can safely ignore both of these titles.
The third title is where you'll be adding your tracks. Click on it and then turn your attention to the Playback Sequence list.

2.. Playback Sequence

The Playback Sequence is a list of tracks which belong to a particular title. In our case we only have one title, so the Playback Sequence needs to include every track. Click the Add button and then select each track, one at a time, from the dialog that pops up.

3.. Compile

Once all your tracks are added to Title 1, you are ready to create the files for your BDMV disc. Click the Compile button to start.