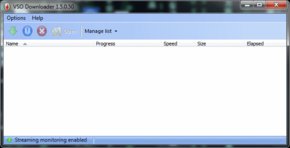 Do you watch a lot of videos in your web browser? If the answer is yes, then you no doubt would have seen something you liked one day, only to be completely unable to find it later on. If you think it would be a good idea to automatically download videos you watch in your web browser, so you can decide whether to keep or delete them later, then read on.
---
Introduction & Requirements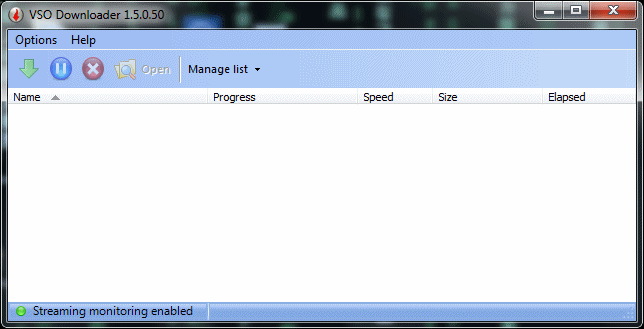 The only thing you will need to download and install is
VSO Downloader
.
VSO Downloader sits in the background while you are browsing the Internet and consuming multimedia. To the best of its ability it will download any streaming video or audio that it can detect.
It supports the typical sources that you would expect, such as YouTube and Metacafe, but it also has been tested against an extensive list of sources.
VSO Downloader will allow you to rename files as they download from remote servers, and using a download accelerator engine, will achieve the best speed it can, supporting resuming if something goes wrong. It also supports VPNs and proxy servers.
It does not matter what web browser you are using to view / listen to multimedia. The software is easy on system resources too, and is only a small installation completely free of adware, toolbars, spyware etc.
Run VSO Downloader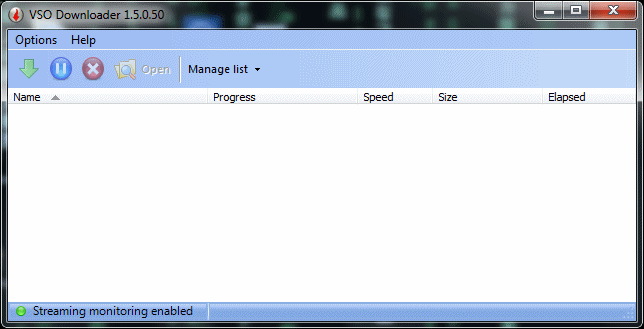 When VSO Downloader first runs after being installed, it will automatically activate monitoring. You will see this in the bottom-left corner of the User Interface - the green light with
"Streaming monitoring enabled"
- and simply clicking in this area will turn it on or off.
Unless you have had video playing during the installation, it is unlikely that anything will be added to the queue in the program yet.
In order to test VSO Downloader, go to a popular video site like
YouTube.com
and start playing any video there. VSO Downloader should alert you if it detects a video playing.
Stream Detection

VSO Downloader uses little Windows alerts in the form of familiar bubbles/ balloon hints that appear in the bottom right-hand corner of the screen. With VSO Downloader running in the background while you surf for videos, this is how you will be alerted if VSO Downloader initiates any video downloading.
It will also pop-up a message when the download has completed, or other events occur.
NOTE
: VSO Downloader will only grab the multimedia content you are watching. That means it will download in the quality/resolution you are viewing. If there is a High-definition option available, then you should play the HD stream. VSO Downloader will detect the new media file and download that.
This can be toggled on or off in General Settings of the program. Go back to VSO Downloader once it has started to download a video.
Downloading and Renaming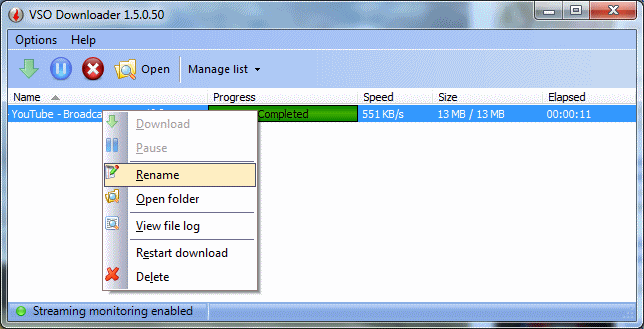 The default settings of VSO Downloader are to automatically download any stream that is detected above a certain size (we'll see this later.) When a file is downloading, you can see the progress in the VSO Downloader user interface.
During (or after) a download, you can right-click on the item in the queue and rename it. This can be particularly helpful at times, since streams might have very generic names that give no indication of the content. Avoid a headache and remember to rename your streams once they start downloading.
To Rename a streaming simply right-click it and choose the rename option. You can play a video simply by double-clicking it (the default media player for the format of the download will be launched.)
To remove any items from the queue, you can also use the right-click menu, but be sure not to tick the option to remove the video from disk too if you want to keep it.
That's the basic usage of VSO Downloader covered, let's just toggle some important settings now.
Set default download folder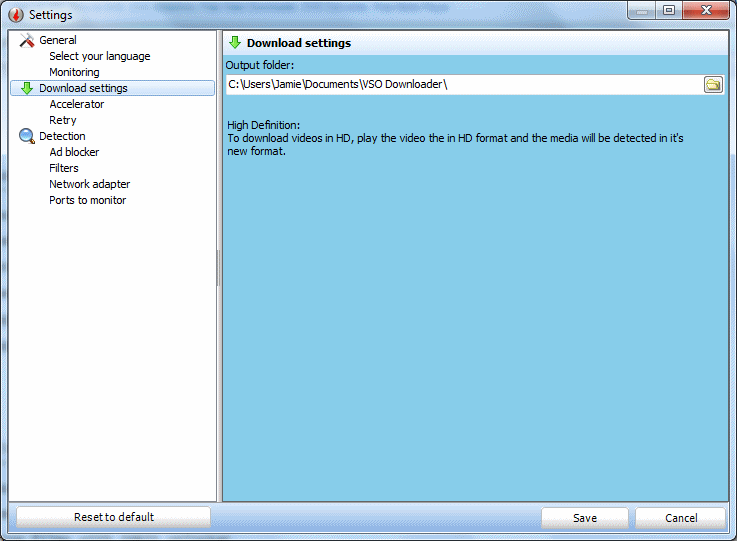 To set a default download folder, click
Options -> Settings
. In the Settings window that appears, click
Download Settings
as shown above.
The only option you have here to manipulate is the
Output Folder
itself. Either type in a directory or click the tiny folder icon to the right of the text field, then navigate to a folder in the explorer window that pops up to select it.
Now let's change settings that affect the speed of the download. Click
Accelerator
.
Download Accelerator Settings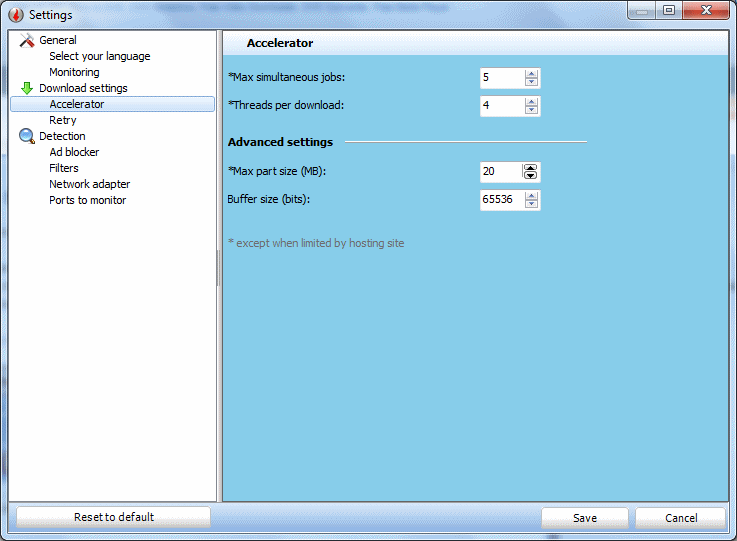 VSO Downloader is capable of speeding up downloads so you aren't waiting all day for your video downloads to finish. It does this by downloading files simultaneously, and chunking single video files into several threads to download separately.
The settings here mean...
Max Simultaneous Jobs -> To a maximum of 10. This is the number of video downloads that can be carried out at the same time.
Threads per download -> If supported by the remote host, VSO Downloader can split the single job up into different chunks (threads), which should increase download speed but will require more resources in the process.
Max part size -> Files are split into multi custom parts to increase the speed of the download. As a rule, a smaller size means a faster download speed but higher resources (CPU, HDD writes) needed.
Buffer size (bits) -> The size of the memory buffer dedicated to the program. A higher amount means less writing to the disk and so higher performance.
Retry Settings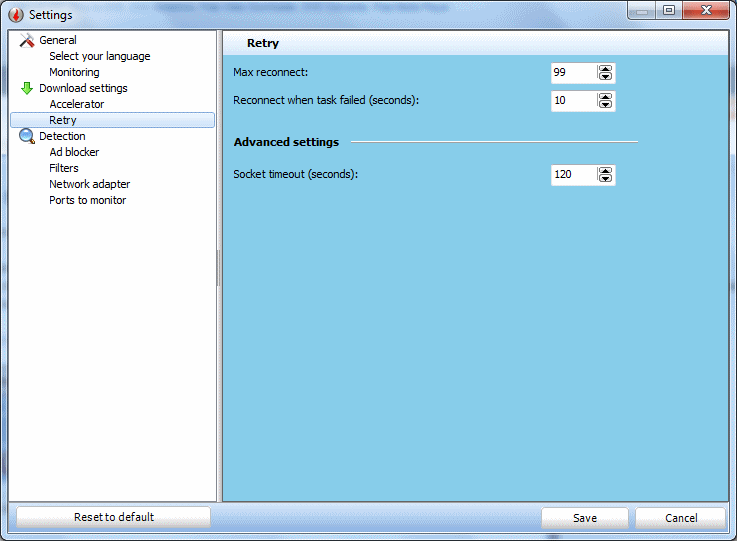 Things won't always go smoothly. Your connection will be interrupted or the remote host will have problems which will prevent your download from starting or completing. If possible, VSO Downloader will retry the task. There are some settings here that deal with this...
Max reconnect -> If a problem stops a download before its completed, this setting will determine the amount of times the program will automatically try resuming the download before it gives up.
Reconnect when task failed (seconds) -> This option, defined in seconds, is the amount of time the program will wait between retries.
Socket timeout (seconds) -> If the remote host is unresponsive to connection attempts, this setting defines, in seconds, how long to wait before VSO Download displays and error.
Detection Settings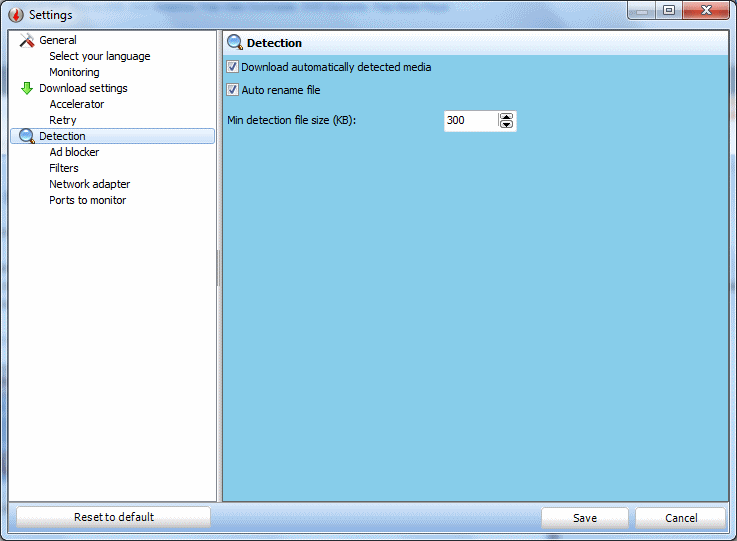 These settings affect how the program behaves in terms of detecting streams and what to do afterwards....
Download automatically detected media -> If the checkbox is ticked, then VSO Downloader will automatically download multimedia it detects in the browser.
Auto rename file -> The files you download will generally have generic names, like "playvideo.flv". If this setting is set, VSO Downloader will attempt to automatically rename it based on some other elements of the webpage.
Min detection file size (KB) -> This determines in kilobytes the minimum size of a multimedia file for it to be downloaded. Generally speaking, by keeping this figure around 300kb, you will avoid downloading advertisements and other unwanted material on webpages.
Network Adapter Settings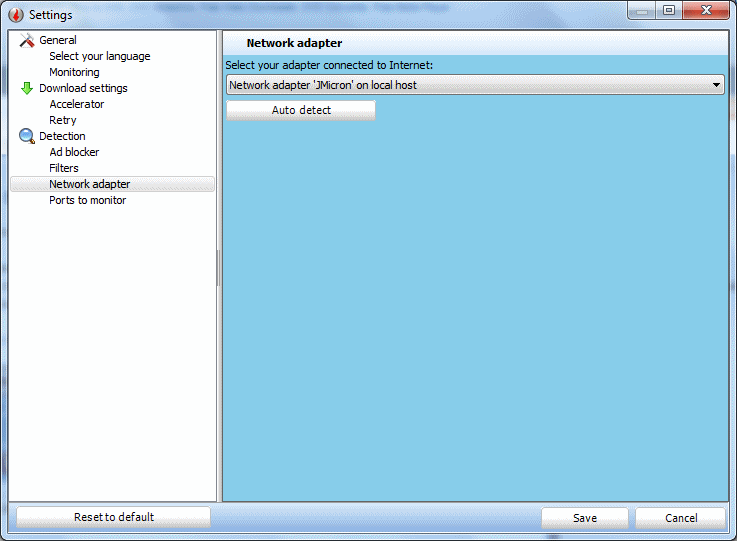 Here you can select the network adapter that you are using to connect to the Internet. If this setting is wrong, it could result in videos not being detected playing in your browser. Generally speaking, this will be set correctly, just remember that if you connect to a VPN after starting VSO Downloader, you will need to return here and click "Auto Detect" for the program to work properly again.
Finally
That's about as much information as you really need to use VSO Downloader properly. The program is not that old yet and therefore is subject to change and improve over time. Remember to actually delete some videos from time to time as they rack up quite quickly