Video Encoder Settings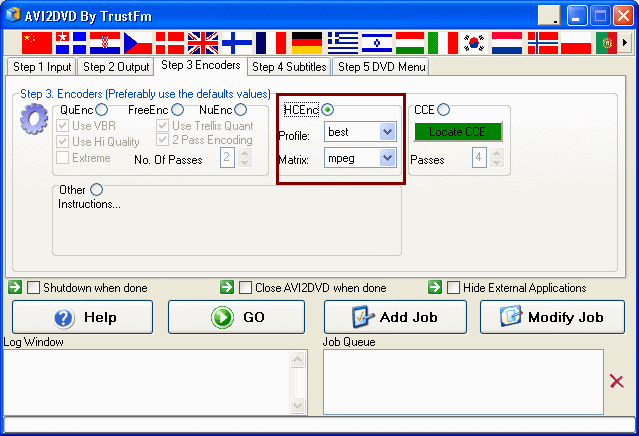 Avi2DVD
comes with four free
MPEG-2
encoders included;
QuEnc
,
FreeEnc
,
NuEnc
and
HCEnc
. It also provides an option to use
CCE SP
, if you are lucky enough to have a copy of it. In most cases, you won't be so, so we will go with the next best thing, which in my opinion is HCEnc. Luckily there is not a lot of settings we really need to address here, we only need to change the profile. Leave the Matrix set to mpeg, and I highly suggest changing the Profile to best.
Please note that changing the Profile to best will actually increase the time the entire process takes quite severely, but the quality difference makes up for it. Encoding is something that really should be done while you sleep, or are at work/school anyway, as it is resource consuming, and it takes time, sometimes a lot of time depending on your hardware. You are now ready to move on to
Step 4 Subtitles
. However, if you don't have subtitles, skip ahead to
Step 5 DVD Menu
settings, and if you don't want a Menu, then skip all the way ahead to
"Add the Job and Start Encoding"
.
Subtitles Settings (Optional)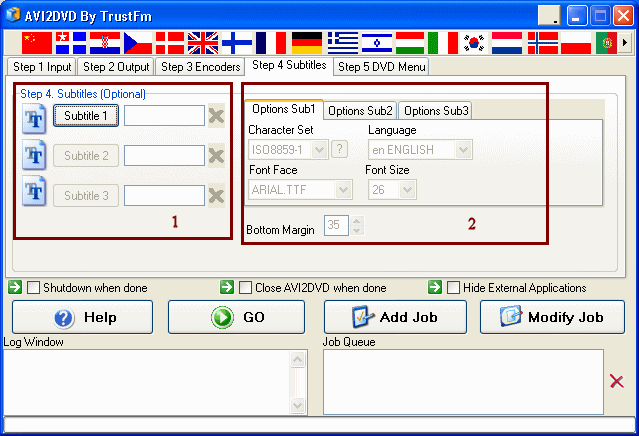 You will notice two areas that I have marked out on the page above. I have also given them numbers so you can easily identify what I am refering to.
1: Subtitle Files - Here you can load in at least three subtitle files that Avi2DVD supports (SRT or TXT). Simply click the "Subtitle 1" button and load in any supported subtitle file. Do the same for any extra subtitle files.
2: Subtitle Options - You will notice the Subtitle Options area actually has three tabs; they are numbered according to the files you loaded in (Subtitle 1 = Options Sub1, Subtitle 2 = Options Sub2, Subtitle 3 = Options Sub3). The options simply give you the option to specify a language for the selected stream, a font, font size and character set. You can leave the fonts alone if you wish as the defaults should be fine, but I highly suggest selecting the Language as this will be readable by your DVD player.
When you are done, move on to
Step 5 DVD Menu
settings. If you are not interested in the Menu, then go right ahead down the page to
"Add the Job and Start Encoding"
.
DVD Menu Settings (Optional)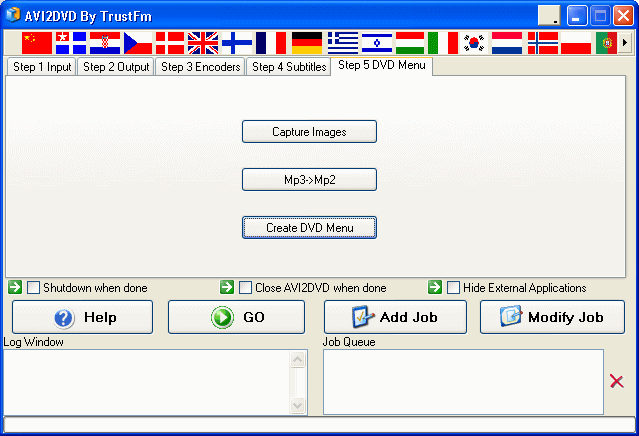 The Menu settings in
Avi2DVD
are arguably the most difficult thing you will have to deal with, but it is not that hard to understand. On the
Step 5 DVD Menu
tab, you have three main options that all relate to the DVD Menu that you will create.
Capture Images --- On your DVD Menu, you can place little snapshots of your video file. We will look at that in a moment.
MP3->MP2 --- Want background audio on your Menu? If you have an MP3 track you would like to have as the background, you will need to convert it to MP2 in order for that to work.
Create DVD Menu --- This is to the actual Menu editor, once you have all of the source files you need for it (Images, Music etc.).
First, let's take a look at the
Capture Images
option.
DVD Menu - Capture Images (Optional)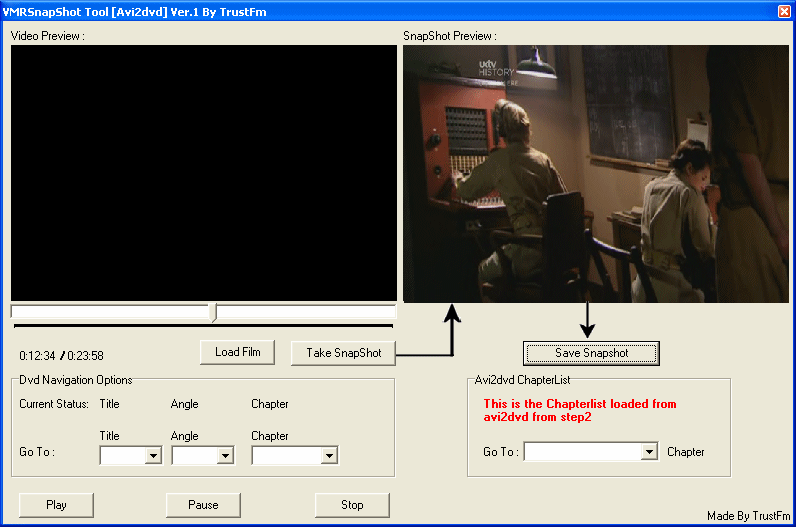 The DVD Menu that
Avi2DVD
can create will require a background on top of which, text and buttons are placed.
Avi2DVD
has added this tool to capture images directly from your input file. Once loaded, the input video will start playing automatically.
You can use the slidebar below to navigate through the video stream for a frame that would be useful as a background picture for a menu. Once you find one, simply click
Take Snapshot
. If you are happy with the picture, click
Save Snapshot
and the program will allow you to save it for later use as a
BMP
image.
Now you can close the
Capture Images
window, and next let's see the option to convert
MP3-MP2
.
DVD Menu - Convert MP3 to MP2 (Optional)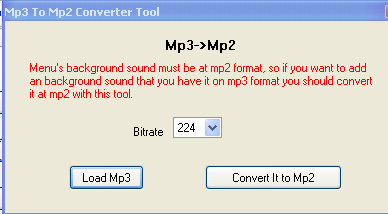 With this you can load any
MP3
file you want and it will be saved as an
MP2
file which can be used on a DVD menu. Simply click
Load MP3
and browse for the MP3 file you want, then
Open
it. One click of
"Convert It to MP2"
and the program will convert it for you for later use.
Now we can finally take a quick look at the actual Menu Editor in
Avi2DVD
.
DVD Menu - Avi2DVD Menu Editor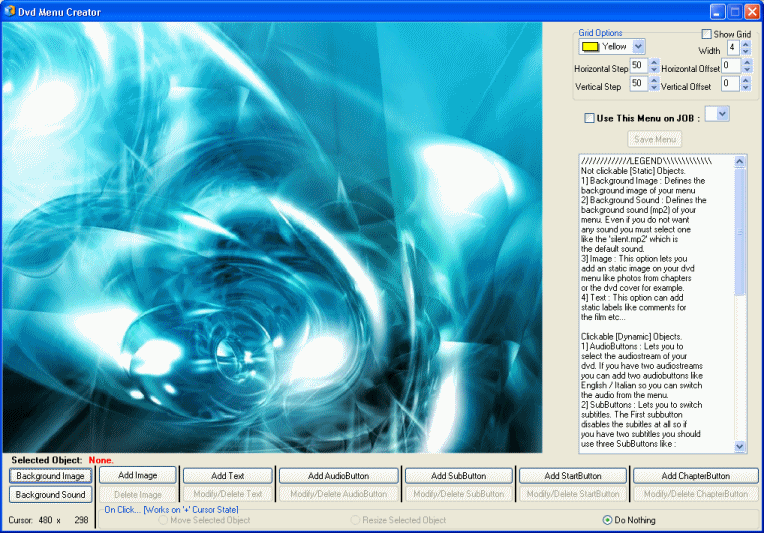 The
DVD Menu
editor is pretty basic and easy to understand. I do not go into it in any great detail because it is not exactly vital to the process. However. there are instructions on the Menu Editor itself to the right-hand side of the window. I suggest giving that a read as it will show you how to create pretty neat menus using backgrounds that came with the program, or Images you took yourself earlier. It will also show you how to add Audio and chapter points and more. When done with the Menu Editor, close it and let's begin the process.
Add Job and Start Process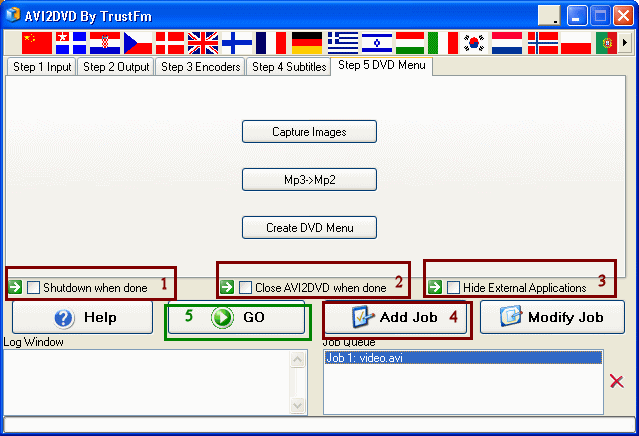 Now it is time for a few last minute settings and then to start the encoding process. The screenshot above as the areas I will be refering to mapped out and numbered already.
1: Shutdown when done - If you select this option, Avi2DVD will shut down your computer when the overall process is complete. This is probably a good idea if you encode when you are asleep or at work/school to save energy.
2: Close Avi2DVD when done - If this option is selected, then Avi2DVD will terminate when the process is complete.
3: Hide External Applications - Avi2DVD uses a host of third-party applications to get its job done, these will pop-up on the screen when Avi2DVD is going through the conversion stages. Some people opt to hide these applications.
4: Add Job - When you are ready, click the Add Job button and notice it appearing in the Job Queue.
5: Go! - Clicking the GO button after you have added the Job will start the process. Also, take note that you can add as many Jobs as you like before you click GO and Avi2DVD will convert them all in a row.
Avi2DVD
should now start working on the conversion process.
The Conversion Process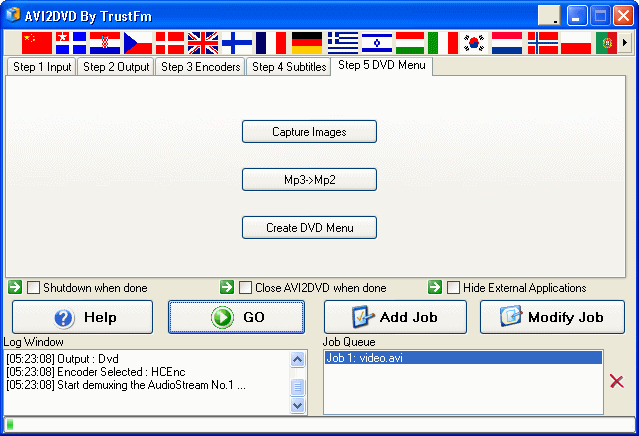 There is an overall progress bar that will let you see how much of the process has been completed (green bar). The amount of time this conversion will take depends on your hardware, and the length of the video file. An older computer might take hours to accomplish what a newer machine can do in an hour or so. Once you encode a lot of different files, you will get used to how long the process takes and plan for it. I suggest encoding while you sleep, or while you are away from home, so that the process does not affect your own personal computer time.
Finally
You will have been left with a
VIDEO_TS
and
AUDIO_TS
folder from Avi2DVD. You will need to burn the VIDEO_TS contents to a DVD disc. There is a link for a guide to do that below. If you would prefer to check the DVD before burning it, then read the guide on how to play DVD files on your computer. If you have any problems or questions, please visit our
Discussion Forums
.
GUIDE: How to burn a DVD Folder with ImgBurn
GUIDE: How to play DVD files on your Computer