Making A Full Disc Backup
Blu-ray Rebuilder gives you the option to make either Movie-Only or Full Disc backups. Obviously the decision on which to make will depend on the size of your target media and whether you need AVCHD compliance for your Blu-ray player.
Note
If you want to follow along with the steps in this guide using BD-RB you will want to have your Blu-ray discs's contents on your hard drive now. BD-RB does not include any ripping functionality, and although it can read from (unencrypted) discs it's generally advised to work exclusively from your hard drive. Particularly considering BD-RB's beta status, which may result in several tries to backup a disc.

Start by selecting
Full Backup
from the
Mode
menu. If you want the extras encoded at slightly lower quality, reducing the time required to make a backup, you can also select
"Quicker" Encode for Extras
.
Encoder Settings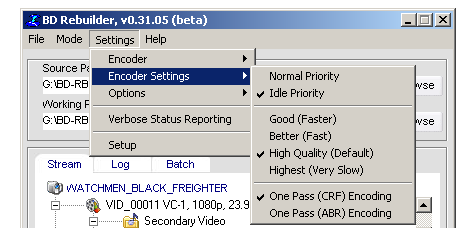 Priority
By defaulting to
Idle Priority
for video encoding BD-RB allows you to use your computer for most tasks while your backup is being made. Setting it to
Normal Priority
will produce a marginal decrease in encoding time, but make other programs run much slower.
Quality
BD-RB doesn't have much in the way of AVC encoder (x264) fine tuning, but you can select from four different quality presets. Higher quality will, predictably, result in longer encode times.
Encoding Mode
By default, BD-RB encodes video in 2 pass VBR mode. This gives you a balance of quality and predictable output size. If you prefer you can switch to one of two single pass modes, constant quality (CFR) or average bitrate (ABR) but be aware that either quality or predictability may suffer as a result, depending on which single pass option you choose. If you want to switch back to 2 pass VBR mode simply click on whichever single pass mode is selected to remove the checkmark.
One Pass (CRF) Encoding
CRF, or Constant Rate Factor, encoding maintains a constant quality throughout the encode, often producing better (or at least more consistent) quality than any other encoding mode. However, size prediction for CRF encoding is an imperfect science and it can result in output that's bigger or smaller than intended.
One Pass (ABR) Encoding
ABR encoding is similar to 2 pass VBR mode except for the lack of a second pass. Although this may seem like a small thing, the lack of an analysis pass means decisions on how to allocate bitrate for highest quality results will suffer.
Size and Burning Options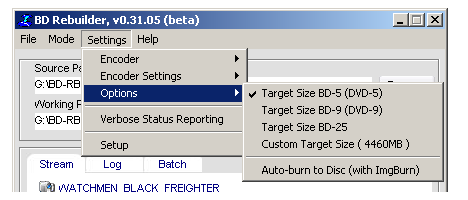 You can choose to make your backup to fit on a DVD-5 (standard DVD+/-R), a DVD-9 (dual layer DVD+/-R) or BD-25 (single layer BD-R). You can also select the
Custom Target Size
set previously
in BD-RB Setup
.
Auto-burn to Disc (with ImgBurn)
This option tells BD-RB to burn the output files automatically using the excellent (and free) ImgBurn. Make sure you
have ImgBurn installed
before selecting this.
Load Source & Backup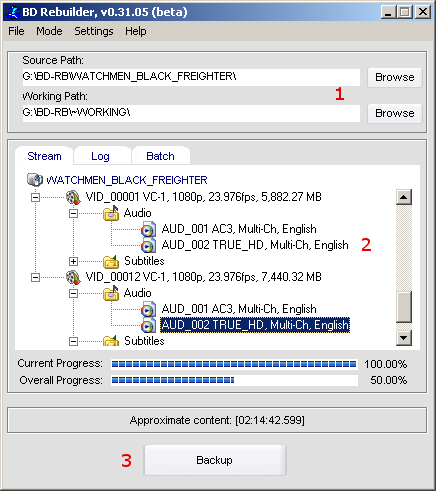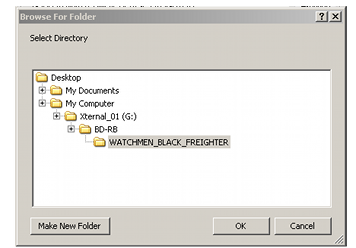 1. Source & Destination Directories
Use the
Browse
buttons to locate the
Source Path
(your Blu-ray disc files) and
Working Path
where you want BD-RB to put its working and output files.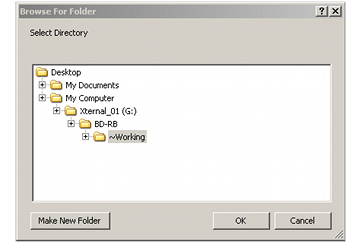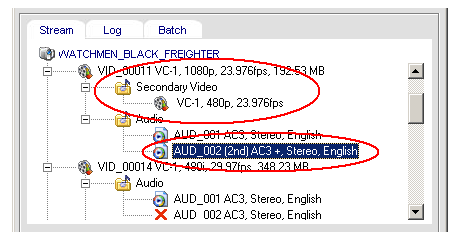 2. Stream Selection
You can manually select audio and subtitle streams to keep or remove for each encode. By default the audio and subtitle streams will be kept according to the settings you selected previously
in BD-RB Setup
. You can manually select or de-select audio and subtitle streams by double-clicking on them. Streams selected will be kept as-is or re-encoded according to the settings
from BD-RB Setup
.
Some streams which initially appear to be alternate audio for the main video program are marked to indicate they belong to a secondary program. Because Blu-ray uses MPEG Transport Streams it's possible to have separate programs, much the same way a DTV broadcast can include multiple channels, there may be secondary video streams. In the example on the right there title has a main video and audio stream and a second program with a single audio stream.
3. Backup
Once you have all the options set to your liking you can click the
Backup
button. BD-RB will spend the next few hours (perhaps more than a few) making your backup.