How to burn a DVD folder with DVD Decrypter

This guide shows you a method to use to burn a folder to DVD using
Folder2Iso
and
DVD Decrypter
.
IMPORTANT: DVD Decrypted Discontinued / New guide and tool!

Note: Thank you for your interest in DVD Decrypter. However, DVD Decrypter has not been updated in quite a long time and is no longer available to download here. There is good news though, Lightning_UK, the developer of DVD Decrypter, now provides and constantly updates ImgBurn, which picks up where DVD Decrypter left off and offers much better burning options. We have a perfectly fine guide for burning folders (including DVD) with ImgBurn.
We strongly recommend you follow the ImgBurn guide instead of this guide. You can also find more options to burn DVDs and folders in our Guides Section.
Introduction & Requirements
Folder2Iso
- Needed to make an ISO image from a folder.
DVD Decrypter
- We will use this excellent freeware DVD ripper to burn the ISO image to a DVDR.
You will need enough space for your ISO image. If you have a 4.36GB folder, then you are going to have a 4.36GB ISO image.
Folder2ISO Interface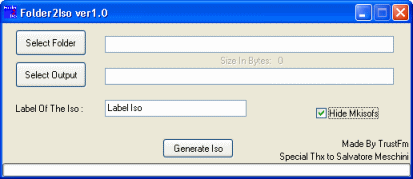 Folder2Iso is a very simple program to use. All you really have to do is hit the
Select Folder
button and choose your folder that contains your DVD folders (make sure you read below to make sure you do it properly) and select an output directory and filename. Then simply clicking
Generate Iso
will begin the building process.
Folder2Iso - Select Input Folder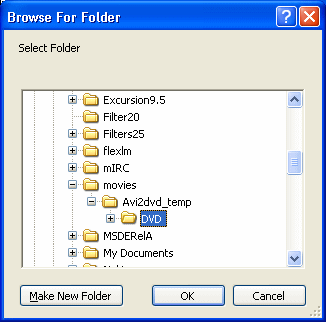 While this sounds like an extremely easy task, you have to remember that simply selecting the folder that contains the DVD files (.vob, .ifo, .bup etc...) WILL NOT WORK!! On a DVD, for compliancy issues you need an
AUDIO_TS
folder and a
VIDEO_TS
folder. The AUDIO_TS folder is usually empty but the VIDEO_TS folder must contain all you DVD files. So copy all your DVD files into a folder and call it VIDEO_TS. Create a new folder called DVD or something and put the VIDEO_TS folder into it. Then create an empty folder called AUDIO_TS.
Now click the
Select Folder
button and browse for your DVD folder. Make sure that when you find the DVD folder, Click It. If you do not click it, then the folder before it will be selected. As you can see in the pic, my folder is selected and covered in blue. Make sure yours looks the exact same and then click OK.
Folder2Iso - Select Output Folder and File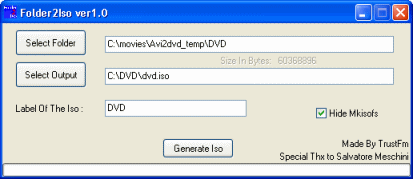 Now click the
Select Output
button and browse to a folder to save the file. Give it a
filename
and then click Save. Now you can also give the DVD a
volume label
. I have just called mine DVD as you can see but it does not really matter what you choose here as your option.
Folder2Iso - Generate ISO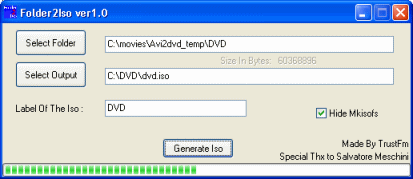 When you click the
Generate ISO
button, it will begin the process immediately. It will not ask you to confirm beforehand so make sure that your settings are OK. The progress bar will indicate the status of the process. The amount of time it takes depends on the size of the ISO image. Now once it has finished we are ready to use
DVD Decrypter
to burn.
Launch DVD Decrypter and select ISO Write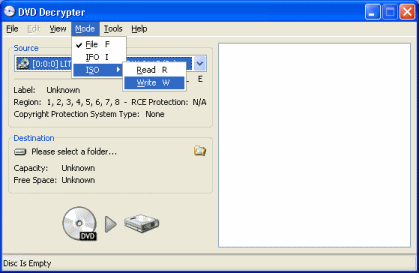 DVD Decrypter is primarily used to rip DVDs. It can rip all the DVD files or just one set of them or it can rip them all as an ISO image. These three options are changeable modes in DVD Decrypter.
File mode
will allow you to rip whatever files you want from the list (usually all).
IFO mode
allows you to select an IFO and rip all the DVD files associated with it. However ISO has two separate modes.
ISO Read
will allow you to rip the entire DVD to an ISO image and
ISO Write
(which is what we need) will allow you to burn an ISO image to a blank DVDR as long as it is not too big. To select ISO Write, either click
Mode --> ISO --> Write
or simply hit the
W
key on your keyboard.
Select Source, Output Target and Write Speed
Now we will do this in order. To select your
Source
file (
dvd.iso
in my case) click the tiny folder icon under source. Now browse to the folder you saved the ISO file into with Folder2Iso and select it, then click
Open
. Now it should fill in in the source field and some information on its label and overall size will appear under source.
Now you have to select your DVD writer (
Destination
). If you have any virtual drives running (from
Alcohol
or
Daemon Tools
) then make sure that they aren't selected by mistake.
Test Mode
will test to see if it will burn properly, if you are a little low on media this might be a useful option to select.
Verify
will verify the written data afterwards. Both options are entirely up to you.
Now all that is left is to select your
Write Speed
. Make sure you don't pick an option that is faster than your media is capable of. If unsure,
MAX
should be an OK selection but if you are still paranoid then check out the media information that's right over the Write Speed settings. In my example picture, we see that Max
Supported Write Speed
is 2x so I have went right ahead and selected it.
Burn the DVD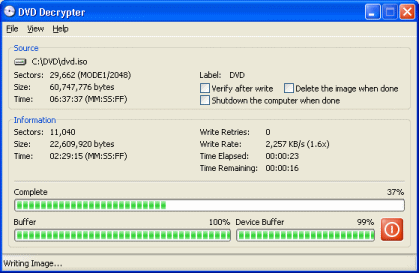 Now all that's left to do is to burn the DVD. Click the big button that show's a HDD an arrow and a DVD disc and the burn should begin after a few moment. You have the option once again to select
Verify after write
. There is also the option to
delete the original ISO
when finished and the option to have your computer automatically shutdown when the process is finished.
So that's pretty much it. The time the burning process will take depends on your computer, burn speed and DVD burner but in most cases it shouldn't take too long. Once the image is written you can go ahead and test out your DVD.
Finally
Now you should have been able to understand the guide enough to burn a DVD folder properly with DVD Decrypter. If you have any problems or questions, please visit our
Discussion Forums
for help.
Version History
v1.0
-- 2nd May, 2005, First version online (
Dela
)