Introduction to Nero Express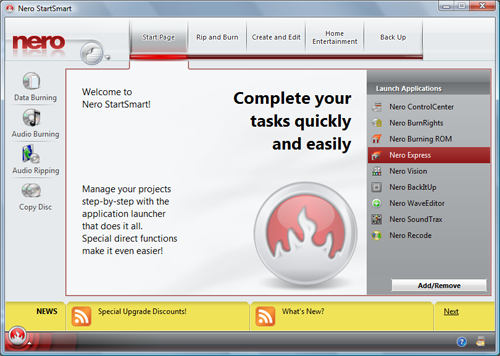 On these upcoming pages we will learn how to use the impressive
Nero Express 8
to burn pre-authored DVD-video. There are a few options to do so and we will go through each of them. To begin, we will start by opening
Nero StartSmart
and navigating to
Nero Express
in the right hand column. If Express is not there, then hit
Add/Remove
, check off Express and hit OK. You will now be met with the Nero Express page which has multiple options. Note: We will not be using the
Music
option as this guide is about video files :)

The first option is
Data
. There are only two options here, to burn a standard data CD or a standard data DVD. You can choose to burn your DVD-Video files as data on a blank DVD-R for storage purposes, but that is really the only option you have in the
Data
category.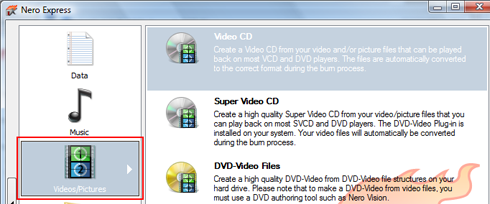 The second option, and much more useful for us, is the
Video
sector of Nero Express. There are three options here,
Video CD
,
Super Video CD
, and
DVD-Video Files
. To be honest,
VCD
and
SVCD
are outdated and so we wont get into them but be aware that those options are there. On the following page I will show you how to use the
DVD-Video Files
option so make sure to check it.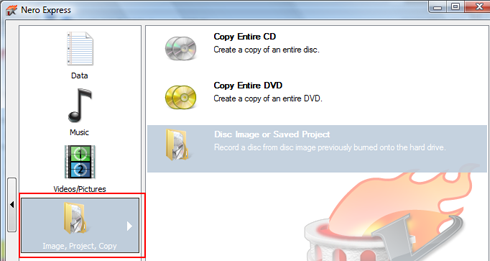 The final option is the
Image, Project, Copy
option. From here, you can quickly burn any
image files
you may have or even copy DVDs that have no copy protection on them. We have no use for these options so please click to the next page to learn how to burn your DVD-Video files using Nero Express.