Using Nero Express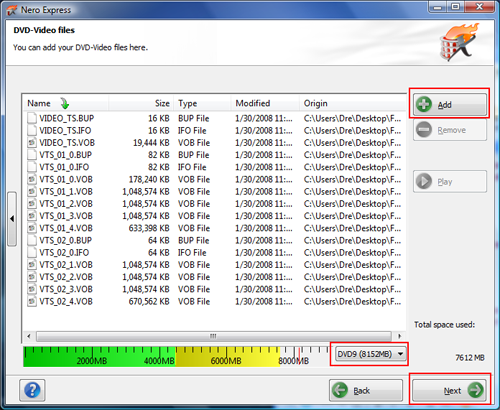 Navigate back to
Videos/Pictures
and hit the
DVD-Video files
option. You will be greeted by a new screen. The first option we will want to check here is in the bottom right hand corner and it is the max size of the DVD to be burned. By default it should be set to
DVD9/8152
. This is the capacity of a
DVD-9
, which is a dual layer DVD. Depending on the size of the video files you are trying to burn, you may either want to leave it at DVD-9 or hit the drop down arrow and change it to
DVD5/4483
. This is the size of a single layer DVD or
DVD-5.
For my example I am using a DVD-9 but choose what size fits your Video_TS folder.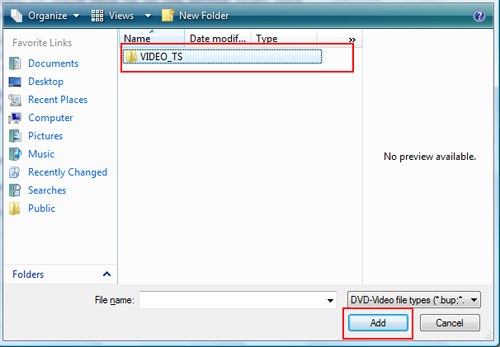 Now in the top right hit
Add
and navigate to where your VIDEO_TS folder is. Highlight the
VIDEO_TS
folder and hit
Add
. It should move all the
IFO
,
BUP
and
VOB
files to the screen as the in the screencap above. Now hit
Next
and move on to the next screen.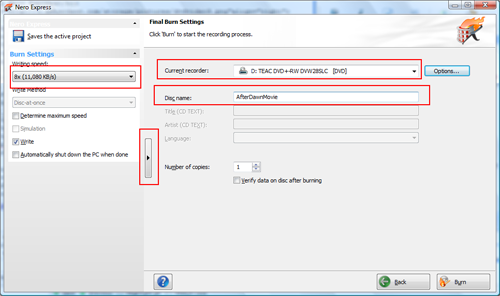 The next page is the DVD burning options and process. There are a couple things you will want to check here. Under
Current Recorder
make sure you have the DVD burner you want to use selected, especially if you have multiple burners in your system. The next option to switch is the
Disc name
option. Here you can name your movie, for the example I have selected "AfterDawnMovie". :) To access the next set of options you must hit the arrow on the left of the screen. From there you can change the write speed of the DVD. The max for my burner is 8x and I have opted to burn it at the max speed. Some say that burning at half of your max is the way to go, but I have never had any problems at any speed. The choice is therefore yours. You also have the option to have Nero shutdown your computer when the process is over. To finish the process hit the lit match that says
Burn
and there you have it, your
DVD-video files
burnt to a single or double layer disc.
Version History
v3.0
-- 30th January, 2008, Complete revision and update to Burning Rom 8 and added pages for Nero Express 8. (
DVDBack23
)
v2.0
-- 9th February, 2005, Updated to Nero Burning Rom 6, Kept most original text. (
Dela
)
v1.0
-- 21st March, 2003, First version online (
JK
)