Due to its popularity on the site, we have put together a thorough Cinavia FAQ page, dedicated to educating you on the DRM that you may be experiencing on your TV at this very moment.


---
What is Cinavia?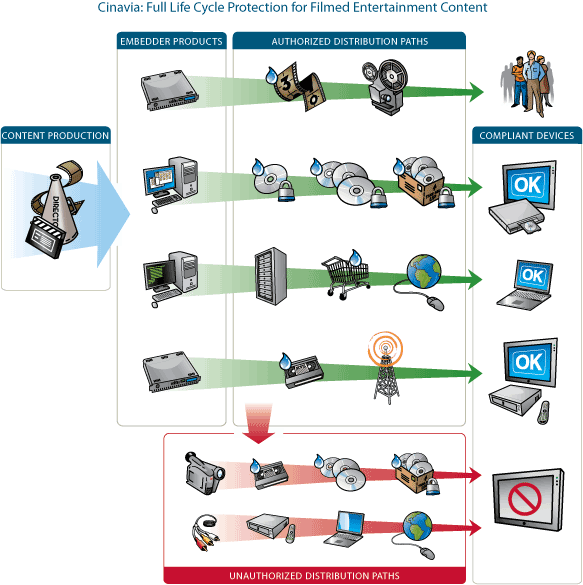 In early 2010, the Cinavia DRM began to hit mainstream when a telesync copy of "The Wolfman" hit torrents and warez sites. The audio watermarking technology, most notably when played on PlayStation 3s, would stop the playback just minutes into the film.
The DRM works by comparing the source of the audio to the format in which you are playing the film.
In the example of a telesync, the audio was taken from a line source in a theater, which obviously did not match up with the format it was released in (most likely an .avi). Cinavia searched to see if the audio was accompanying the theatrical release and when it did not, it shut down playback of the movie.
The company explains where Cinvaia may be found:
"Cinavia is a cross-platform content protection solution that works across all widely-used distribution formats during the motion-picture industry's theatrical and home video release windows. Theatrical and home video releases of filmed entertainment of any kind can be protected with Cinavia, including content distributed in film, digital cinema, DVD, Blu-ray Disc, and many digital download and streaming formats."
How does Cinavia work?
While I gave a very basic explanation up above, here is the word right from the source:
"Cinavia embeds inaudible watermarks into the soundtrack of movies prior to distribution in theatrical releases, in packaged media including Blu-ray Discs, and in Internet entertainment and music content. The watermark is detected by consumer or professional electronic products that incorporate Cinavia detectors.

Similar to visible watermarks used on currency and stationery, audio watermarks verify the authenticity of content. The difference with the Cinavia audio watermark is that it is inaudible and invisible to the consumer and does not interfere with the intended uses of the content. The Cinavia audio watermark travels with the content throughout all subsequent uses of the content regardless of copying or modifications.

Blu-ray Disc players integrated with Cinavia technology will identify and protect against the use of pirated copies taken from theatrical release prints. These could include camcording and recording and redistribution of content in unauthorized formats, such as Blu-ray Disc titles that are re- authored and distributed on pirate DVDs. Cinavia audio watermarking adds a valuable layer of content protection that complements encryption technology provided by AACS and the Blu-ray Disc format."
What will Cinavia look like?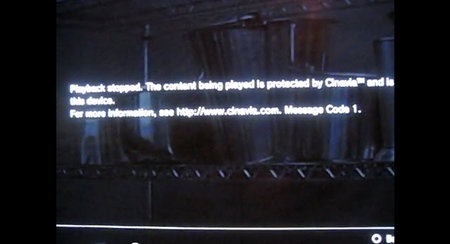 If your file or movie has been hit by the Cinavia DRM you will get a screen similar to the one above, which was taken on a PS3.
The file will go black and a screen will pop-up with a message similar to "Playback stopped. The content is being protected by Cinavia and cannot be played on this device."
Cinavia does make it clear that no one is notified except for the end user. The company says:
"Cinavia is not used by Blu-ray players to report any information about consumer behavior to any third party. The only party that is notified when pirated content is played back is the consumer, through an on-screen message."
What titles have been affected by Cinavia, so far?
As of November, 2011, there have only been 26 known cases of the DRM.
Because there are at least a handful of releases for every film, the list below is only the names. Most of those hit with Cinavia were Telesync editions or R5, which are Russian DVDs mixed with English line audio:
The Wolfman
Repo Men
Scott Pilgrim vs. the World
Due Date
Battle: Los Angeles
Just Go With It
The Roommate
Sucker Punch
Fast Five
Paul
Hall Pass
Red Riding Hood
Priest
The Hangover: Part II
Bridesmaids
Bad Teacher
Something Borrowed
Horrible Bosses
Harry Potter and the Deathly Hallows: Part 2
Zookeeper
Friends With Benefits
The Change-Up
Final Destination 5
Contagion
30 Minutes or Less
As you can see, the frequency of the DRM being used is increasing.
Is my device affected?
If your Blu-ray player was built anytime past April of last year, then
yes
, it has Cinavia built-in.
A quick list of known players:
Sony Playstation 3 (PS3)- All firmwares past 3.01
Pioneer BDP-V6000
Denon DBP-1611UD
Marantz UD5005
LG BD550
LG BD560
LG BD570
Samsung BD-P1590
Samsung BD-C5900-XAA firmware
Samsung BD-C6900
Sony BDP-S300
Sony BDP-S301
Sony BDP-S360
Sony BDP-S370
Sony BDP-S550
Sony BDP-S560
Sony BDP-S570
Sony BDP-S580
Sony BDP-N460
Sony BDP-CX960
Oppo BDP-83
Oppo BDP-93
Panasonic DMP-BD85
Panasonic DMP-BDT350
Panasonic SC-BT230
Philips BDP9600
Pioneer BDP-51FD and BDP-05FD
Pioneer BDP-320
Western Digital WD TV HD Media Player 1st Gen - model: WDAVN00- On firmwares past 1.03.01
Western Digital WD TV HD Media Player 2nd Gen - model: WDBABF0000NBK-NESN - On firmwares past 1.01.70
Western Digital WD TV Live HD Media Player 1st Gen - model: WDBAAN0000NBK - On firmwares past 1.03.35
Western Digital WD TV Live Plus HD Media Player 1st Gen - model: WDBABX0000NBK - On firmwares past 1.03.29
Vizio VBR100
Which companies use the DRM?
Cinavia has been adopted by 20th Century Fox Film Corporation, Sony Pictures Entertainment, Universal Pictures and Warner Bros. Entertainment. The use of Cinavia, however, on any individual title is at the studios' discretion. If you are curious on whether a disc will include the protection in the future, Cinavia says to email the studio.
Can it be cracked?
In short, yes for Blu-rays and DVDs, and no for video files.
Companies like DVDFab and Slysoft have software that can kill Cinavia for purchased retail media like Blu-ray and DVDs.
For video files, like that telesync or R5 you just downloaded, there is no quick or painless method. You are best just watching the movie on your computer or mobile device.
We will update the FAQ with updates on cracking Cinavia.
Finally
That concludes our FAQ on Cinavia. If you would like to discuss this guide or similar things, then please visit this thread here:
New Cinavia DRM takes aim at pirates