Preview, Rendering, Burning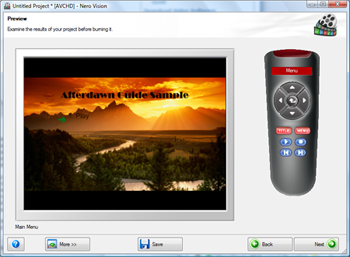 The next page is the
Preview
page which includes a virtual remote control to help you check out your newly created AVCHD as if it were the real thing playing on your Blu-ray player. Once you are satisfied the disc is as good as you want it to be hit
Next
again and you will be met by the final page of this guide.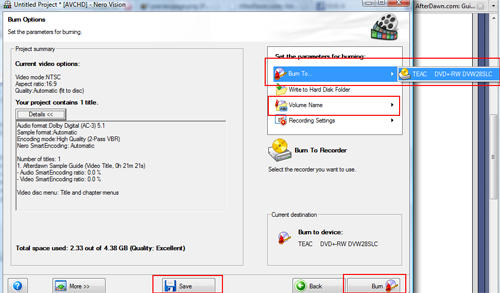 The final page, the
Burn Options
page, shows the details of your project and gives you the option to change burning settings. I recommend burning write from the program instead of saving to the hard drive as Nero Vision 5 has a bug where the "Write to Hard disk Folder" leaves the output directory structure and files incorrectly tagged, thus forcing you to manually change them. So for that reason, we will be burning directly through Nero, right now.
Under
Burn To...
, select the writer you want to use. If you only have one then the option should be pretty clear :)
For
Volume Name
, write the name you want to have written with the disc. When you are playing it back later this name will show up in your player of choice before selecting to play it.
Under
Recording settings
you can change the burn speed for the disc. I recommend half of your maximum write speed( in this case 8x).
Once that is done, hit
Burn
and let it do its business.
Once it has completed (depends on computer speed and input file size, as well as quality settings) then you will have your new custom AVCHD DVD to be played on any Blu-ray standalone or drive. :)
Final Thoughts and related links
Hopefully you will now be able to make an AVCHD DVD using Nero Vision 5. If you have any questions or problems, please visit out
Discussion Forums
for help. Even more specifically, we have a
Nero
forum that can be found
here.
For those that are interested, there are also more than good amount of
Nero
and
Authoring
guides available here on
Afterdawn
and I will list them here so they are easier to find.
Here are our related guides for authoring DVDs:
Basic DVD Authoring Project Part 1 - Introduction
Basic DVD Authoring Project Part 2 - Analysis
Basic DVD Authoring Project Part 3 - Prepare Audio Assets
Basic DVD Authoring Project Part 4a - Prepare NTSC Video
Basic DVD Authoring Project Part 4b - Prepare PAL Video
Basic DVD Authoring Project 5 - Calculate Video Bitrates
Basic DVD Project Part 6 - Encode Video Assets With CCE Basic
Basic TMPGEnc DVD Author Guide
Advanced TMPGEnc DVD Author Guide
TSUNAMI MPEG DVD Author Pro Guide
Here are our related Nero guides:
How to burn AVCHD with Nero Burning ROM
Burning pre-authored DVD-Video using Nero
Version History
v1.0
-- First online by
DVDBack23
- May 20th, 2008