Convert the AVI to DVD/MPEG-2
IMPORTANT: Newer / Easier guides

NOTE: This guide, while still working, is very outdated and uses an older and complicated method to achieve an otherwise easy task. Luckily, AfterDawn has many other guides that use free or commercial software to achieve this task and in 2008, it has never been easier before. Here are your options...
This is by far the easiest and fastest method. It will take an AVI file (or MKV, WMV, OGM, FLV, .DIVX, MPG etc.) and convert it to a DVD ready to burn, complete with chapters, subtitles and a motion menu (all optional), all in a few clicks. As of March 2008, this software item has had 212,000 downloads.
This guide is another excellent method to convert AVI (or MKV, OGM) to DVD using the freeware tool, Avi2DVD with either a freeware video encoder or a commercial video encoder. This guide arguably produces output of a small bit better quality than ConvertXtoDVD (if using CCE SP), but it will take more time. It produces a DVD ready to burn with optional subtitles and chapters. As of March, 2008, Avi2DVD has been downloaded 718,326 times.
If you have CCE SP, this guide will arguably create the best quality DVD when it is finished of all the options. CCE SP is a very expensive MPEG video encoder but for what it does, it does it fast. Unless you have CCE SP, you are better off with one of the above options.

You "can" technically continue this guide but it will take a long time and it is an outdated method, therefore one of the above is highly suggested. You may also want to learn how to join two AVI files, if your video is in two or more parts. You can find that and many other great articles in our Guide section.
Now it's time to convert the video file to DVD-Video -compliant MPEG-2 format. We're going to use TMPGEnc as our encoder, because it is fairly simple to use and produces very good quality MPEG-2 videos
(not excellent, but very good)
.
First, you should open
TMPGEnc
. Please note that TMPGEnc's trial version supports MPEG-2 encoding only for 30 days, after that you need to purchase a commercial version of TMPGEnc, called
TMPGEnc Plus
.
Launch the wizard
By far the easiest method of creating a new TMPGEnc project is to use TMPGEnc's wizard. As a default, wizard pops up when you launch TMPGEnc, but if it doesn't, go to the
File
menu and select
Project Wizard
.
Select the video format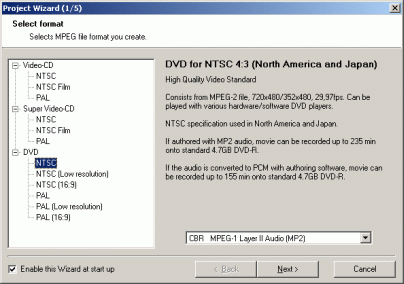 In the first page of the project wizard, you should select the correct video format under the
DVD
selection in the left side of the window. For people who really know what they're doing, there are more choices, but we're going to stick with two options here:
DVD - NTSC
and
DVD - PAL
(i.e. forget the low-resolution and 16:9)
.
Take the paper in front of you that you used when you wrote down the
fps
value from
AVIcodec
. If the fps is 25.000fps, you should select
DVD - PAL
and if the fps is either 23.976 or 29.97, you should select
DVD - NTSC
.
If your audio was something other than AC3
, you should select the audio here. We recommend that you use
CBR - MPEG-1 Layer II Audio (MP2)
as it takes less space than PCM and is more suitable for DVD. If your audio was in AC3 format, you can ignore this selection and choose whatever you like.
After you've done the selections, click
Next
.
Select the source video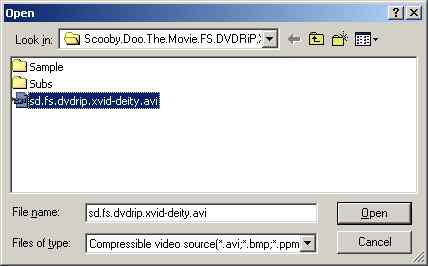 On second page you should first click the
Browse
button next to the box that says
Video File
. This opens up a file dialog and you should now locate your AVI file
(if you joined multiple AVI clips into one, choose this joined AVI)
. Select the file and click
Open
.
Normally TMPGEnc can recognize the correct values automatically based on the video file you just opened. As most of the existing AVI files are pre-deinterlaced, the
Video type
is normally set as
Non-interlaced
. You should only change this value if you're sure that this selection is not correct
(or if TMPGEnc suggested a different selection when you selected your video source)
.
Aspect ratio should be left as
1:1 (VGA)
unless you're one of the guys we mentioned earlier and know exactly what you're doing ;-).
For PAL videos, the
Content of Video
selection is normally grayed out, but for NTSC sources, the selection is typically
Film Movie
, unless the source is a DV cam recorded AVI.
After you've checked the selections, click
Next
.
Filter settings
On third page, the top three checkboxes should be left intact in most of the cases. But you should click the
Other settings
button.
Other settings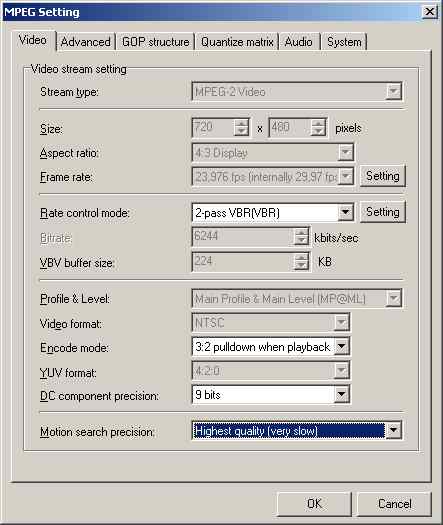 This opens up a new window, where you can define the encoding parameters more accurately. The most important selection here is the one that says
Motion search precision
. You should definitely change this to
Highest quality (very slow)
as this setting produces much better video quality than the default settings do.
You should also change the
Rate control mode
to
2-pass VBR(VBR)
which forces TMPGEnc to do the encoding using
multi-pass encoding
.
Once you've done this, click
OK
to close the smaller window. Once you're back in the project wizard window, click
Next
.
Bitrate settings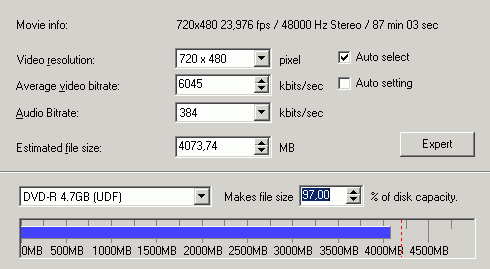 In bitrate settings page
(fourth page of the project wizard)
, you can adjust the encoding settings of the video, including the
bitrate
and the
resolution
.
Video resolution
should be
720x480
for NTSC movies and
720x576
for PAL movies.
Next, make sure that the
Audio Bitrate
selection is at
384
kbps.
For
Average video bitrate
setting, you need to adjust this value to get the DVD-Video to be "perfectly sized" for a DVDR disc. In the bottom of the window, you see a blue bar and a text
Makes file size XXX % of disk capacity
. Adjust the Average video bitrate up and down until the value "XXX" states something between 95 and 97, not more than that as we need to have space for our subtitles and other stuff that will be added to the DVD compilation. Also, if your audio was in AC3 format, try to keep the value between 94 and 96 instead, as AC3 audio tends to be in 448kbps
(ignore this if AVIcodec said that the AC3 bitrate was less than this)
.
Obviously remember to make sure that the dropdown just above the blue bar says
DVD-R 4.7GB (UDF)
.
Once you've done these settings, click
Next
.
Select the destination
First, remember to select the checkbox that says
Output video and audio as individual elementary streams
. Then, click the
Browse
button and locate a directory on your harddrive that has appx. 4.5GB of free space in it, select a name for the output video file and click
Save
.
Make sure the
Start encoding immediately
is selected and click
Next
and go to sleep, TMPGEnc will now encode the video file and this can take up to 20hrs
(or even more with slower machine)
.