Convert DVD Movie to Nero Digital

This guide show's how to use
Nero Recode 2
to convert a DVD movie to
Nero Digital
. The Nero Digital
codec
is based on
MPEG-4
, therefore it produces higher quality video at lower birates, allowing you to store entire DVD movies in files small enough to fit on CD-Rs. This guide converts just the main movie quickly to Nero Digital.
Introduction & Requirements
Nero Recode 2
- Get it from the Nero Digital site, either a trial or purchase a full version.
You need to have enough disk space to store the encoded files, which in this guide will be
1.4GB
(to fit on 2 CD-Rs). Nero Recode 2 cannot handle copy protected DVDs, for this reason if you have a copy protected DVD, you will need to find a way to bypass the copy protection to make a backup to Nero Digital.
Read this guide here for more details.
What we want to do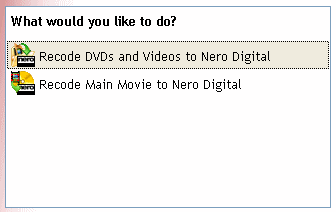 Ok the fist thing you will see when you run
Nero Recode
is a choice between two different things to do. For this guide you need to select the second option, which is
Recode Main Movie to Nero Digital
.
This guide is opening a DVD folder (
VIDEO_TS
) that has been stored on the Hard Disk after being ripped from DVD.