Burn AVCHD disc with ImgBurn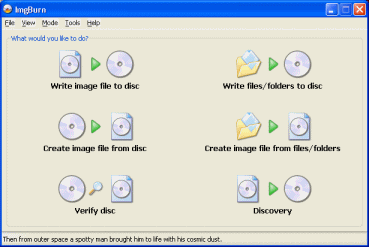 Download and install the ImgBurn utility
, and then run it from a shortcut on your Desktop or in your Start Menu. You will get the welcome screen which is very easy to understand.
The option you must click is
Write files/folders to disc
.
ImgBurn Build Mode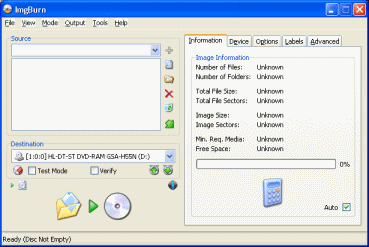 The next thing you will see is ImgBurn in
build mode
. You don't need to concern yourself with much of these settings, just make sure you have a blank DVD disc in your drive with enough capacity for your CERTIFICATE and BDMV folders.
The next thing to do is to click the
Open Folder
button. The open folder button is one of the small six icons beside the source box. Click it and browser for the CERTIFICATE folder and import it, and do the same for the BDMV folder... that's when you should get an alert.
UDF 2.50 file system

For Blu-ray Disc and
AVCHD
, you must use the
UDF
2.50 file system for compatibility with hardware. You should now receive a prompt (unless you set ImgBurn to UDF 2.50 before). It will ask you if you want it to correct the file system settings. Click
Yes
.
Get Ready to Burn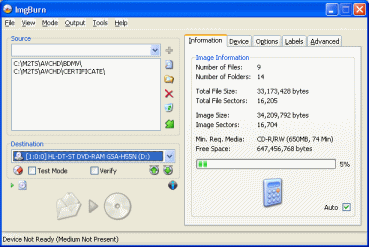 You should have the CERTIFICATE and BDMV folders in the root. Those folders must always be at the root of the disc or it simply won't work with most hardware. When you have a disc inserted you can use the calculator to check if your compilation will fit. If it doesn't, you might have some options to make it fit (but the best option is a dual layer disc).
One such option would be to compress huge
DTS
audio streams by converting it to
AC3
to save 100s of MBs of space. When you are ready to burn, click the button with the folder and an arrow to a disc.
Volume Label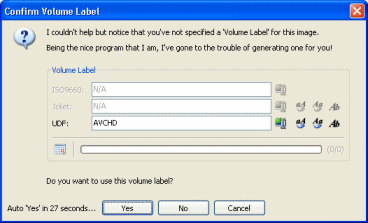 You will now be given an option to give the disc a
Volume Label
. Truth be told, this is not a very vital process at all, you can name it whatever you want.
Confirm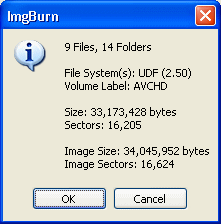 You will now be prompted on the stats of the compilation you are about to burn. Simply click on
OK
button to begin.
The Burning Process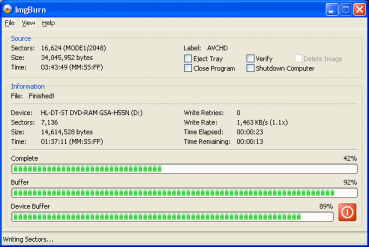 The burning process will now commence. The amount of time this process will take depends entirely on the size of your compilation as well as the speed you are burning your disc at. It should go without errors as
ImgBurn
is a very reliable utility.
Success?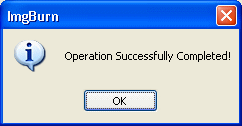 If you have been successful you will now be prompted with a message telling you so, and ImgBurn will play a sound (don't get a fright!).
Finally?
That concludes creating and burning AVCHD for
PlayStation 3
or other Blu-ray hardware. Remember, these are the early days so problems do arise every now and then. However, don't give up. If you run into problems, go to our
Discussion Forums
(PS3 or Blu-ray forum) and ask for help and our friendly users will diagnose problems that you experience. Thank you for visiting and be sure to check out the rest of our guides for Digital Video, Audio, Consoles, High-Definition, etc. or visit our Hardware section and drool over some gadgets.
Version History
v1.0 -- First version published by
Dela
. (15/04/2008)