DVDSanta - Step 1 - Start Project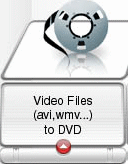 There are five main buttons on the
DVDSanta main window
. They are
Video Files to DVD
,
Photo Slideshow to DVD
,
Digital Camcorder Direct to DVD
,
Disc Image or DVD Video Folder to DVD
and
Buy now
. The only button we need is the Video Files to DVD button so click it.
DVDSanta - Step 2 - Add Media

A new will popup, the first thing we need to do is add a file to the list, so click the
Add media
button.
DVDSanta - Step 3 - Select File(s)

With the file browser, go to the folder that you file(s) is in. When you get there, select your file (in my case,
Video.avi
) and click the
Open
button. You will now see the file in the list. You can add as many files as you want to DVDSanta, during the authoring of the DVD, DVDSanta will put them all in a separate track.
DVDSanta - Step 4 - Settings

As you can see you will have to change some simple settings here.
Video Standard
just lets you choose between an
NTSC
or
PAL
DVD, NTSC is used in the United States and Japan, whereas PAL is used mainly in Europe and Australia. You should also try not to convert NTSC to PAL and vice versa if you want to keep good enough quality.
Video Resolution
should be selected depending on your input video files. If they are low resolution and low quality, then pick
Medium
or
Low
, but if they are high quality, like a
DVDRip XviD
then leave the resolution on
High
for the best results.
Aspect Ratio
lets you choose between whether the DVD will specify the movie as
16:9
or
4:3
on playback, select whichever option depending on what your source file is.
DVDSanta - Step 5 - Advanced Settings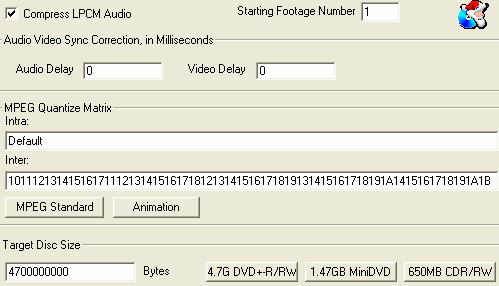 Click the
Advanced Settings
button. There will be more than likely nothing here that you have to change.
Compress LPCM audio
should be ticked.
Audio Delay
and
Video Delay
let you set start-up delays in milliseconds for the audio and video streams. This can help with "some" sync issues.
Quantize Matrix
settings should not be touched. Choose a
Target disc size
then, for this guide, we are using
4.7G DVD+-R/RW
. When you are done here, click
OK
.
DVDSanta - Step 6 - Create DVD

All that is left to do now is to select an output folder for your files and click the
Create DVD
button. The time the conversion will take will depend on the speed of your computer and your source files.