PAL to NTSC using Nero Recode
Overview

Difficulty
Easy
Progressive PAL to NTSC (23.976fps)
Good
Progressive PAL to NTSC (29.97fps)
Fair
Interlaced PAL to NTSC (29.97fps)
Poor
Nero Recode offers high quality MPEG-4 encoding capabilities in a very user friendly interface. Among its features is the ability to convert from one framerate to another. Recode uses frame duplication or removal to change framerates. This means you can keep the audio as-is from the original PAL file without making any changes.
Although Nero is perhaps the easiest tool for PAL to NTSC conversions, it doesn't work flawlessly. When converting from PAL to NTSC film (23.976fps) it sometimes replaces original frames with duplicates. This leads to some judder, which is a sort of jerking that happens when some frames (the duplicates) are shown longer than others
Despite a few problems, Nero Recode PAL to NTSC conversions are watchable, if not quite as good as they could be.
Required Software



When it comes to encoding to MPEG-4, Nero Recode produces some of the best, and highest quality results possible. Can also perform compressed domain transcoding on DVDs, similar to the extremely popular DVD Shrink.Nero Burning ROM Suite
.

How to Convert PAL to NTSC in Recode
Once you've opened your source video file in Recode you can click on the
Settings
button on the
Video
tab.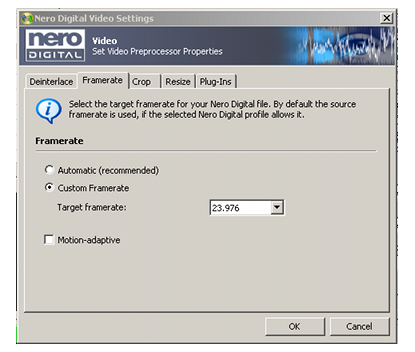 Changing Framerate
On the
Framerate
tab, select
Custom Framerate
and then either
23.976
or
29.97
if your PAL video is progressive. If you convert to 23.976fps it's likely you'll also need to add pulldown flags to the final video as well. You can find instructions for that later in this guide. Read
Page 5
for pulldown of MPEG-2 files or
Page 6
for Pulldown of MPEG-4 (AVC) video.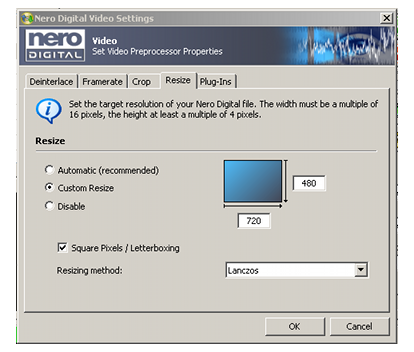 Resizing
If you will be putting your NTSC video on a DVD you should also resize to a NTSC resolution, such as 720x480. You can do that on the
Resize
tab.
Progressive PAL to NTSC film
As you can see below, the video converted by Nero (left side) has one original frame duplicated and another removed. This results in some unnecessary judder (jerkiness) on playback.
Progressive PAL to NTSC
If you convert directly to 29.97fps there's obviously no need to remove any frames. Instead, one out of every five frames is duplicated. This results in judder similar to what NTSC viewers are used to when watching film content, although someaht more pronounced since entire frames are repeated.
Interlaced PAL to NTSC
Recode takes the same approach to converting interlaced video as progressive. This approach is particularly problematic for interlaced content, since the movement tends to be more fluid than in progressive video to begin with. For converting interlaced video it's best to avoid Recode.
Continued On Page 3



Next we'll look at another encoding and editing tool, TMPGEnc Xpress, and see how it handles PAL to NTSC conversions.






Convert PAL to NTSC
Viewing Page 2 of 5 -- Go To