Convert SUB-IDX subtitles to BDN XML
Blu-ray (BDMV1) discs use a similar subtitle format to DVD. In both cases the subtitles are essentially just simple images with timing information that tells a player when to start and stop displaying each one. That means you can easily convert subtitles extracted from a DVD to a format suitable for Blu-ray authoring.
BDSup2Sub is a tool designed for exactly that job. In this guide we will look at converting DVD subtitles extracted in IDX/SUB format to the BDN XML format required by some Blu-ray authoring applications. Before using the guide you will need to have your subtitles extracted. You can find instructions in AfterDawn's comprehensive guide for extracting content from a DVD. That guide includes instructions for using VobSub for extracting subtitles from VOB files and also using MkvCleaver for extracting from Matroska (MKV) files.
Software Used
| | |
| --- | --- |
| | Java Runtime Environment (JRE) |
| | BDSup2Sub |
Video Guide
We also have video guides for using BDSup2Sub for converting DVD subtitles. You can either watch the entire series of three videos here or go to the end of each section to watch a related guide.
Converting subtitles with BDSup2Sub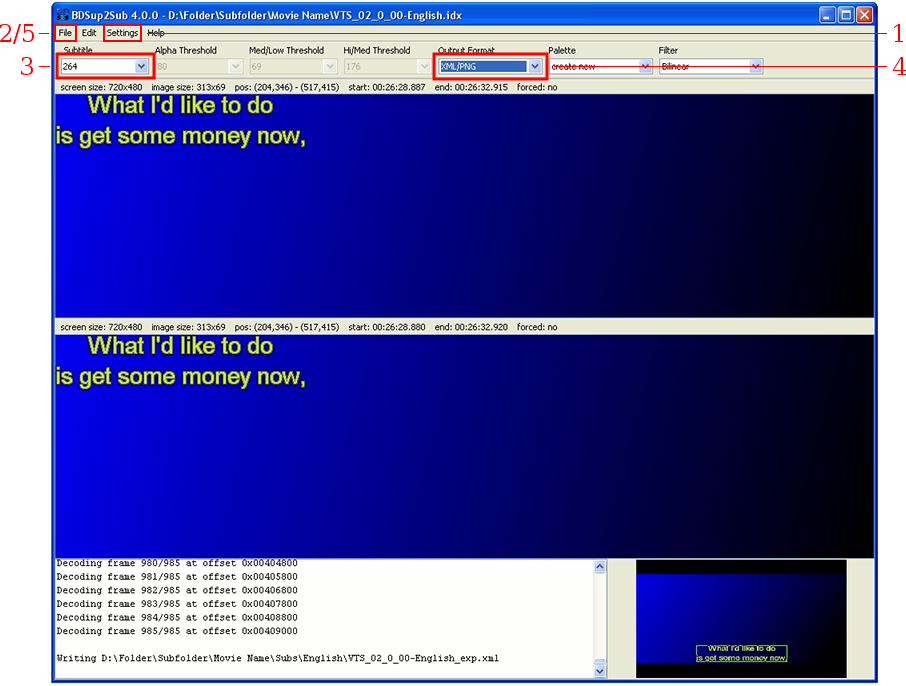 1. Invisible frames

Before you open the subtitle file you extracted from your DVD, you should consider whether you want BDSup2Sub to make invisible subtitles visible. Subtitles which have no alpha channel information will not be visible on the screen. Missing alpha channel data can happen during subtitle extraction. I recommend setting this to on (checked) unless you run into a subtitle file that doesn't look right that way.


2. Open subtitle file

You will need to navigate to your subtitle files. Select either the index (.IDX) or subtitle (.SUB) file to open the pair.


Conversion Options

Most of the options in the Conversion options dialog won't be used. If you need to change the speed or size of the subtitles, continue to the second page of this guide for more information. You can also click on the image to the right to go straight to the relevant section.
The one option you will most likely want to worry about for normal subtitle conversion jobs is called 'Fix too short frames.' Checking it will ensure every subtitle is set to display for at least half a second.


Errors and warnings

If you BDSup2Sub finds any errors in your subtitle file, it will notify you and also let you know what, if anything, was done to correct the problem. Look in the bottom left corner to see these messages.


3. Subtitle selection

You can select a particular subtitle to preview using the dropdown list on the top left.


4. Output Format

Make sure the output format is set to BDN XML.


5. Export subtitles

Use the Save/Export option on the File menu to create your new subtitle files. You should use a completely separate folder for your subtitle output since the BDN XML format uses a separate file for every subtitle. If you have multiple subtitle files to convert, make sure to put each one in its own folder.


Progress bar

The progress bar will tell you how close your export is to finishing.