Convert video files to MP4 files for iPod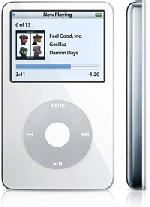 This guide shows the process of converting video files to MP4 video to store and view on a
video iPod
. The guide is pretty simple and should be fine for new users. In this guide we will be using only free software, mainly
Free iPod Video Converter
. Besides the use you will make of
iTunes
after the process is complete, this should be the only software that you need for this process. Before we start there are a few things that you need to remember first...
What are the video capabilities of Free iPod Video Converter?
In this guide I will be converting my
DivX
files to
MP4
. The software can handle any of these input video files...
Introduction & Requirements
Free iPod Video Converter
- This is freeware and constantly updated. Make sure you check back to the site for new versions regularly.
This guide assumes that you know how to use iTunes to add video to your iPod (
File --> Import
, select the video you want, then click
Videos
in iTunes and drag the video to your iPod) so that isn't covered. You may however need additional software to open your video files. As a general rule, if you can play your source files, you have the codecs required. Nevertheless you might still get an error saying
"This source file can NOT be opened".
If that happens then you probably need a codec. Check the files with
Video Inspector
if that happens, you should be able to track down a codec then. I recommend that you disable any screen savers if you are encoding long videos. Also any scheduled tasks such as virus scanner, spyware scanner, updaters etc. should be disabled if you think they will clash with the process.