Last minute editing?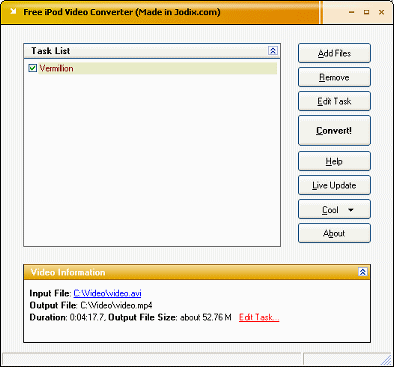 After you are finished with video output settings, the main program interface will have changed slightly. Now your
Track List
will be populated and the
Video Information
window will have some useful info for you. When you select a file, it will show you the length of the file and the predicted output file size.
You will notice too that now the
Remove
and
Edit Task
buttons work when you have items selected. If you select a track and click Edit Task (either in the buttons or in the Information window) it will take you to the
Settings
again, right at the start with the
Input
information.
So before it's time to convert make sure you have the right settings for your files.
Starting the conversion

Starting the conversion couldn't be easier, just click the big
Convert!
button.
The conversion process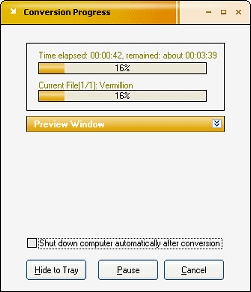 The time the conversion will take depends on the length and number of files you selected. By default, a
Preview
is shown but I highly recommend that you stop the preview by clicking on the little button on the right of the
Preview Window
title bar (bar is just above the actual preview). This will cut down the overall time the process will take.
The
Hide to Tray
button will minimize the conversion to the system tray so you can continue working (although I don't recommend that you use anything too resource demanding during any encoding process). You can also
Pause
or
Cancel
the conversion any time you wish.
The
Shut down computer automatically after conversion
option is there if you have a huge bunch of videos or one really long video that you wish to convert. You might want to do long conversions during the night while you sleep so that's the best time to avail of this feature.
The encoding process usually takes very little time. When it completes, the program will offer to open the output folder for you to view the output files. You should check to make sure that they came out in good enough quality (remember when judging quality that you will be watching these files on a tiny iPod screen, so don't be too demanding) and check if the audio and video are in sync (one doesn't lag behind the other).
When you are happy that the files are fine, use
iTunes
to transfer them to your
iPod
. Enjoy :-).
Finally
There are commercial software packages to encode video for iPods, but this should cover your needs unless you are an extreme quality perfection freak (which is ok, I admit I am somewhat demanding with quality ;-) ). Oh and let's for forget, this software is free and makes the process so easy :-). If you have any problems, refer to our
Discussion Forums
. We have a specific forum for
iPod discussion
here. If you find any problems, mistakes or have any feedback on this guide, send me a
Private Message
(you need to have an account to send a PM). My nickname is
Dela
. I hope this guide helped you, hope you stick around :-)
Version History
10th February 2006
, First Version Online (
Dela
)
V1.0