Create MKV files from Blu-ray titles with MakeMKV
As good as the quality of the content on a Blu-ray disc is, when it comes to versatility they leave a lot to be desired. In particular, if you just want to play a title from a Blu-ray disc on your computer it can be a big pain and even require commercial software. Or you can move the video, audio, and subtitles to a more open format like MKV. That's exactly what MakeMKV can do for you.
MakeMKV is not a compression program. You will save some space because MKV (Matroska) files are more efficient than the M2TS files used on Blu-ray discs. You can also choose not to keep every audio and subtitle stream, potentially reducing the size much further. However, if you want to compress the video itself you will need to do that separately.
Analyzing Blu-ray files
Although MakeMKV gives you detailed technical information about your Blu-ray titles, it doesn't include any preview functionality. You can preview Blu-ray playlists with Media Player Classic - Home Cinema, which you can read about in our guide on extracting content from Blu-ray files.
Software Used
| | |
| --- | --- |
| | MakeMKV |
Using MakeMKV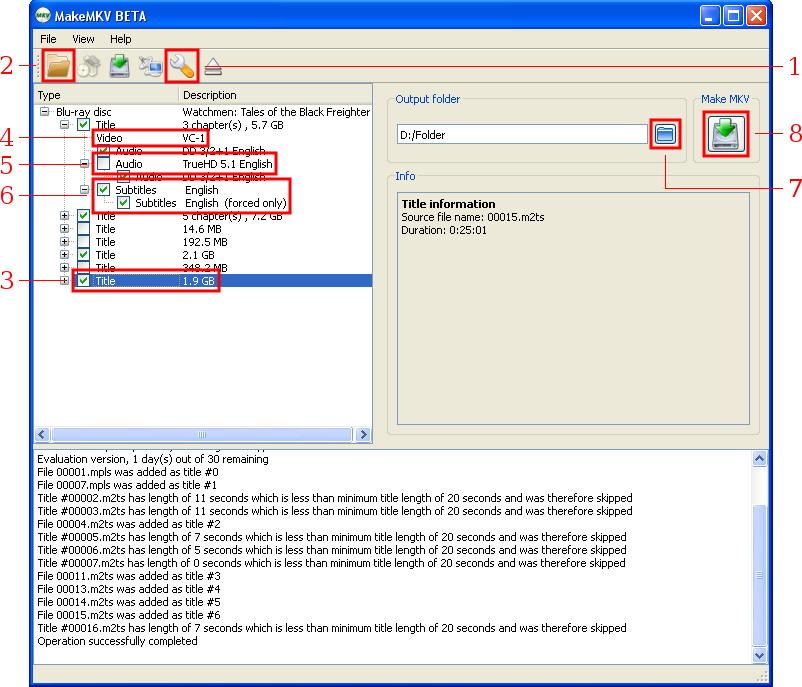 1. Settings

Depending on the playing time of the content you are trying to put into a MKV file, you may need to change MakeMKV's default settings. Click the settings button and go to the Video tab of the Preferences dialog.


2. Open Blu-ray files

Click the folder icon to open your Blu-ray disc files. They must already be ripped to your hard drive. You will need to navigate all the way to the file named index.bdmv. Alternatively, if your disc was ripped to an image (ISO fle) you can open that instead.


3. Title information

Click on a title to get general information about it, including the M2TS files and the playing time. Uncheck the box if you don't want it extracted to a MKV file.


4. Video stream

You can't unselect the video stream if the title is selected, but if you click on it you will get some additional details, such as the resolution, framerate, aspect ratio, and codec.


5. Audio streams

You can choose which audio tracks you want to keep. Dolby TrueHD and DTS HD audio both include a lossy component for compatibility with older A/V equipment. By default MakeMKV will select the core, but not the high resolution component. You can manually select both or neither. If you want to convert lossless audio (Dolby TrueHD or DTS MA lossless) to FLAC for better computer support, check out AfterDawn's guide to extracting Blu-ray content with MeGUI.


6. Subtitles

For every subtitle stream there will be two entries. The second one is for forced subtitles. Those are subtitles which are displayed no matter whether they are selected by the viewer or not. This doesn't actually mean there are forced subtitles. It just means if there are forced subtitles, they will become a separate stream. This is a requirement for Matroska files. On the other hand if there are no forced subtitles, no additional streams will be created.


7. Output Folder

Select the folder you want your new MKV files to be created in.


8. MakeMKV

Once you've selected all the titles and streams to convert to MKV files, click the MakeMKV button to start processing them.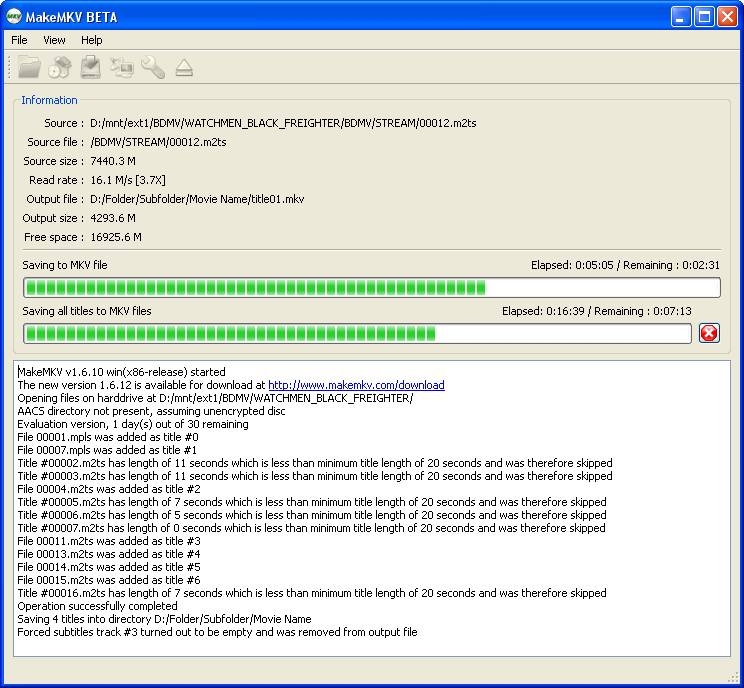 As your MKV files are being created you will get updates on how many files have been processed. You will also see status messages telling you whether any forced subtitle tracks were created.