Setup DVD2SVCD and Begin Conversion.
Now we will change some preferences in DVD2SVCD. When you installed DVD2SVCD you also installed D2SRoBa, so go to the desktop and launch D2SRoBa.
D2SRoBa Settings
First we will look at the D2SRoBa settings. Since the method uses just one 1 pass encoding, there is no way to completely predict the output video size. For this reason, the CD Size
4464
, probably should be lowered to about
4300
to make sure the output file sizes don't go too high and there's extra transcoding needed. It is vitally important that this value is set to less than 4000MB if you are using the FAT32 file system. I recommend about 3800 if you are using FAT32 so that your output files do not stray over 4GB. Set the CD Size to what you find appropriate and click the
Go
button.
Setup CCE SP 2.50
So you have launched DVD2SVCD with D2SRoBa. The next thing you need to do is click the
Encoder
tab. Make sure that you have the full path to the executable file in the
Cinema Craft Encoder 2.5
field. It should be located in your
Porgram Files/Custom Technology/Cinema Craft Encoder SP
folder. D2SRoBa will have changed the settings for you. First of all you will notice it is not set to one pass VBR, do not change this setting or this method will not work correctly. The other settings can be left as default.
Misc Preferences.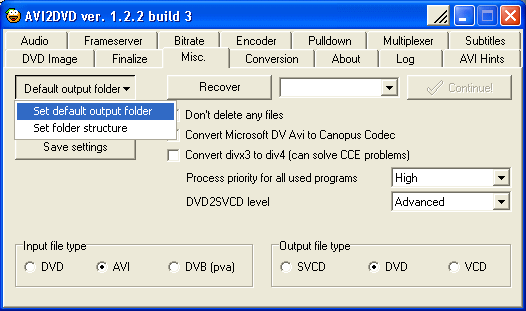 Click the
Misc
tab in DVD2SVCD. First of all make sure
Input file type
is set to
AVI
(as DivX/XviD files are AVI files) and
Output file type
is set to
DVD
. Change
Process priority for all used programs
to
High
and DVD2SVCD level to
Advanced
. Leave
Don't delete any files
ticked. Now click the
Default output folder
button and click
Set default output folder
. Now you have a chance to set a folder that all the processes involved in the conversion will save files into. My default folder is set to
D:\movies
, and I suggest you set yours to something similar. A default folder for all your output files just makes things easier for you in the long run. Make sure whatever partition you choose a folder on has at least
20GB - 25GB
of free space, as it will definitely be needed to store all the files from this conversion. Inside this folder it will also save another folder with your authored DVD files in it. After you have set this, click the
Conversion
tab.
Conversion Preferences.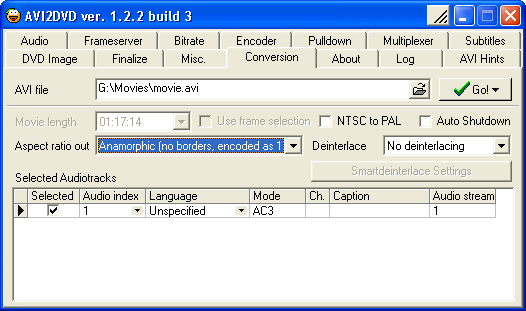 Click the
Conversion
tab. Click the little folder icon beside the Avi file field and browse to the DivX file you wish to convert. Now we will use some information from earlier. In the example here we found out using AviCodec (or GSpot) that the
Aspect Ratio
was
2.35:1
. If your Aspect Ratio was
1.85:1
or 2.35:1 then set your Aspect Ratio out to
Anamorphic (no borders encoded as 16:9)
. If you got an Aspect Ratio of around 1.33:1 then chance your Aspect Ratio out to
4:3 (No borders, encoded as 4:3)
. If you didn't get a good value from GSpot or AviCodec to determine an Aspect Ratio, then simply choose Anamorphic if the file plays back with black borders on the top and bottom of the video. If there are no borders, choose 4:3. You can preview a still image of the output video in the drop down list if you click the Go button. If you have set your Aspect Ratio to Anamorphic, it may look a little bit stretched on the preview but will look fine when you play the DVD in a DVD player or a Software DVD Player.
NTSC to PAL
is available to pick, but I must warn you if you do pick it, you cannot use the source AC3 audio and the video length will be longer than the DivX length. Also if you got
29.976fps
as a framerate, I highly suggest you DO NOT try to convert it to PAL using this method.
Audio Preferences.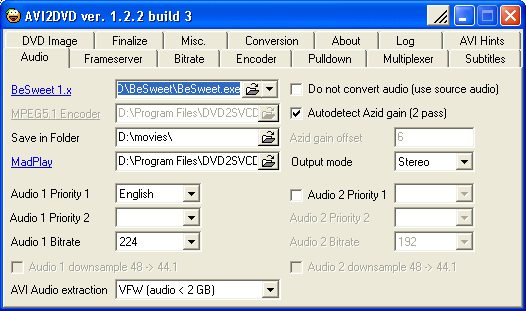 Click the
Audio
tab. Now its time to remember what the audio format was. If you had AC3 audio and you are not converting NTSC to PAL, then I suggest you tick
Do not convert audio (use source audio)
. If you had
MP3
audio, or you are encoding NTSC to PAL, then I suggest you do not tick that option. Instead you will encode to
MP2
audio. You can choose the audio Birate yourself, but do not choose a birate lower than 224kb/s if your input audio is AC3.
DVD Image Preferences.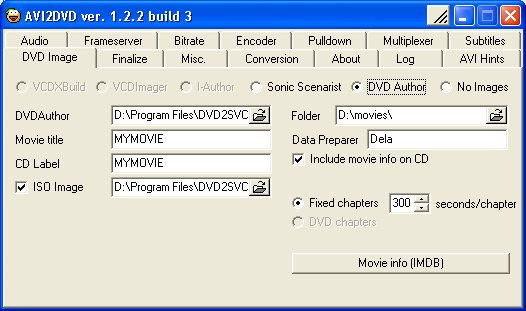 Click the DVD Image tab. Firstly choose DVD Author unless you know what you are doing with Sonic Scenarist. Changed Fixed chapters to whatever you want in seconds. I have always chosen
300 seconds
, or 5 minutes as my fixed chapters. Change the
Data preparer
to anything you want also.
Movie Title
and
CD Label
you can also choose yourself. Now, if you tick
ISO image
, it will give you a huge ISO file but will also give a bunch of DVD files. It is up to you whether you would prefer an ISO image as well as a
VIDEO_TS
folder containing all the DVD files.