Convert DivX to VCD with subtitles
Ok, many users who have a habit of downloading movies from the Net prefer to use subtitles with those clips due various reasons
(obviously most of the world's population don't speak English, but want to watch Hollywood movies)
. Very often the movies that are available on the Net are in some
AVI
-wrapped format, such as
DivX
or
XviD
. Then people tend to download separate subtitle files
(with extensions such as .srt, .sub, .txt, etc...)
and watch their movies like this. But the thing is that virtually everybody nowadays has a stand-alone DVD player
(or at least should have ;-)
and many prefer watching videos with their DVD players instead of using PC's TV out connections.
Now, since AVI is not a standard in any ways, DVD players don't play them. But there are two formats that can be stored on CD that most DVD players support:
VCD
and
SVCD
. SVCD produces better video quality than VCD, but since VCD is accepted by more players than SVCD, we will use VCD in this guide.
So, the plan is to
re-encode DivX/XviD video into VCD with permanent subtitles
. You can use this guide also without subtitles if you don't need those, simply skip the subtitle part of the guide.
Please remember than re-encoding video from any lossy format to any other lossy format, will always make the video worse
-- this is always the case, whether you re-encode DivX to XviD, VCD to SVCD, SVCD to DivX, etc.. So, use this guide only if you can't re-rip the original DVD into VCD format and really want to convert the video into VCD format.
At first
Now, since AVI videos can virtually contain anything under the Sun, there are several things you need to check before proceeding with the re-encoding. First one is obviously to check whether the video plays on your system at all. If it doesn't, you probably need to install required video
codecs
to your system. Generally speaking, 99% of the movies available on the Net can be opened with
FFDShow
codec/filter.
If your video plays, but audio doesn't, this is very important aspect -- your video is most likely using
AC3
or
Ogg Vorbis
audio.
This poses a small problem to us, since TMPGEnc can't handle these types of audio formats directly
.
Requirements
You need to have appx. 1.5 gigabytes of free space for the resulting VCD file. You also need to have these tools -- some of the are optional, depending on the video and audio codecs of your video and what you have installed on your system already:
Setup the subtitles

Now, copy your subtitles and your AVI file into same directory on your HDD and rename them so that their
filenames are exactly identical, but the extensions remain different
(i.e. c:\movie name.avi and c:\movie name.srt)
.
Test your file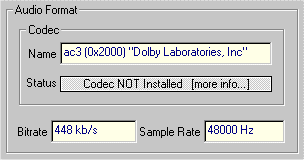 First of all, download and install an excellent little freeware tool called
GSpot
that can tell you what audio and video encoding the video file uses.
In GSpot, go to
File
menu and select
Open..
and simply locate your AVI file and click
Open
. GSpot analyzes the file and fills the information into correct places on its main window.
Now, the most important information for us in here is the
Audio Format
information.
If your audio format is in Ogg Vorbis or in AC3 format
, we must separate the audio from the video file and re-encode the audio separately. If the audio is in MP3 format, you can go directly to the TMPGEnc step.
Other thing you should check from GSpot is the video
framerate
which is showed in the
Video Format
section, in
Frames/Sec
box. Write this value down, you need it later on.