Change the plugin priorities with TMPGEnc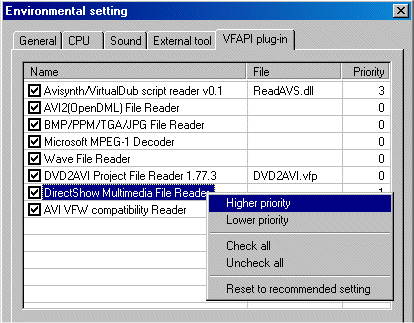 Ok, launch TMPGEnc and first thing what we need to change are the
VFAPI Plugin
orders, to make the DirectShow plugin to kick in. This is required because we want to use the DirectShow subtitle filters -- and also, if you use FFDShow to play your DivX/XviD
(FFDShow is not a "real" codec, but DirectShow multimedia filter instead)
.
So, go to the
Option
menu and select
Environmental setting...
. Now, go to the
VFAPI plug-in
tab. Here you see a list of registered reader plugins for the TMPGEnc. Now, if the top-most plugin in the list is not called
DirectShow Multimedia File Reader
, you need to go and select this plugin. Now, click right-mouse-button and select
Higher priority
and do this until the DirectShow Multimedia File Reader's priority is higher than anything else. Finally close the window by clicking
OK
.
Open the video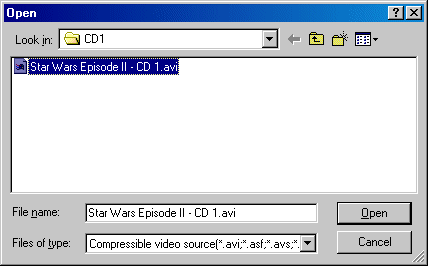 Now we're ready to load the video into TMPGEnc. Simply click the
Browse
button next to
Video source:
selection and locate your AVI file from your HDD and load it by clicking
Open
.
Load the encoding settings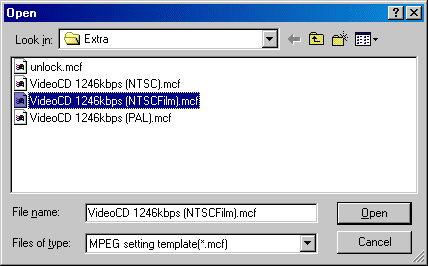 Now, take out the piece of paper where you wrote your AVI file's framerate. Now, if the framerate is 29.97 or 30fps, your video format will be
NTSC
. If the framerate is 25fps, your video format will be
PAL
. Finally, if the framerate is 23.97 or 24fps, the video format will be NTSCFilm.
So, click the
Load
button located in bottom-right corner of the TMPGEnc's main window. This opens a file dialog that lets you choose the video encoding template. Now, choose either
VideoCD 1246kbps (NTSC)
,
VideoCD 1246kbps (NTSCFilm)
or
VideoCD 1246kbps (PAL)
according to your video format you chose.
Now, if you had to go through the audio hassle earlier in this guide
, you need to click the
Load
again and select a template called
unlock.mcf
. This frees the locked settings, but leaves the settings selected that the previous template loaded anyway. Still, if your audio needs tweaking, from the right-bottom corner, select
System (Video only)
as your
Stream type
.