Adjust the encoding settings

Now, click the
Setting
button from the right-bottom corner of the TMPGEnc's main window. This pops up a new window that allows you to modify the encoding settings. From the
Video
tab, leave everything else intact, but change the
Motion search precision
setting to
Highest quality (very slow)
in order to minimize the quality-drop in re-encoding.
Advanced tab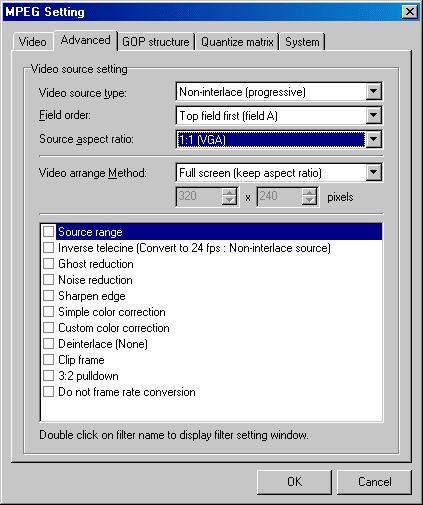 From the
Advanced
tab, set the
Video source type
to be
Non-interlaced (progressive)
as normally the deinterlacing has been done to the encoded AVI already if necessary. Change the
Source aspect ratio
to be
1:1 (VGA)
and set the
Video arrange Method
to
Full screen (keep aspect ratio)
. Leave all the boxes in the bottom part unchecked.
Close the window by clicking
OK
.
Preview to check the subtitles
Now, go to
File
menu and select
Preview..
. This opens a new window that allows you to preview the video how it will look like after your modifications. It is also important to check whether the subtitles are visible at this point -- if they're not, check your subtitle filter's settings and make sure it works correctly
(try opening the video with Windows Media Player -- if the subtitles play on it without turning them on anywhere, the problem is probably that you didn't remember to make the DirectShow Multimedia File Reader to be the top priority filter in the filter list in TMPGEnc)
.
If everything looks OK, simply close the preview window.
Encode

Change in the
Output file name
field the filename and directory you wish to use for the resulting MPEG-1 file and then simply hit the
Start
button in the top-left corner and wait for couple of hours
(might take much longer if your computer is slightly slower)
for encoder to finish the video encoding part.
Multiplex the audio to video (optional)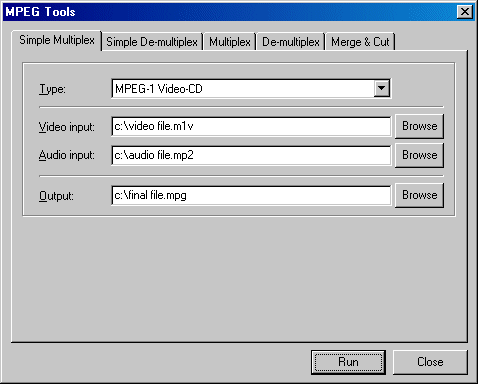 Now, if you had a separate audio file, you need to join the video and audio files together. This process is called multiplexing. Go to TMPGEnc's
File
menu and select
MPEG Tools..
. In
Simple Multiplex
tab, change the
Type
to
MPEG-1 Video-CD
.
Next, click the
Browse
button next to
Video input
dialog and select your video file you just encoded with TMPGEnc. After you've done that, click the
Browse
button next to
Audio input
dialog and select the
.mp2
file you created earlier with BeSliced. Finally, change the filename and directory to the
Output
to whatever you want, but remember that this destination has to have appx. 1.5GB of free space, because it actually copies the audio and video files into one and puts the resulting .mpg file into this directory. After you've done this, click
Run
.
After a short while, you will have a finished VCD-compliant .mpg file :-)