Convert DivX video to VideoCD format with VobSub subtitles
Ok, most of you already know at least one method how to convert DivX clips to VideoCD format and that's why we decided to add an additional twist to our guide. With this guide you can convert your DivX movies with VobSub subtitles to VideoCD format with permanent subtitles.
Please note that this guide only refers to VobSub subtitles, other formats require other techniques!
Also, you should
always
remember that
re-encoding always causes quality loss
whatever the conversion is (DivX->VCD, VCD->DivX, DivX->DivX, SVCD->DivX, etc). So, if you really, really, REALLY
need
to have your movie in VCD format, please continue -- otherwise just be happy and use your existing DivX clip or rip your movie directly from DVD to VCD format.
You should also remember that this guide is valid only for videos that have been pre-processed like DivX clips -- using this guide to encode "raw format AVIs" to VideoCD produces horrible results, because of lack of deinterlace, IVTC, resize, etc..
Requirements
Obviously you need two, three gigabytes of free HDD space, as always when dealing with full length movies. Other than that, you need these tools:


VirtualDub (remember to install the frameserver as well!)

Before we proceed
Please remember that you need to install all the applications listed above
before
you proceed. Don't ask us how to install the applications, all of them have relatively good readme files that you can read through.
Note!
Even that I specifically asked people not to whine about their installations, VirtualDub's frameserver seems to cause problems -- in VDub's directory there's a file called
AuxSetup.exe
, run that and you have installed the frameserver for VirtualDub.
Open the DivX with VirtualDub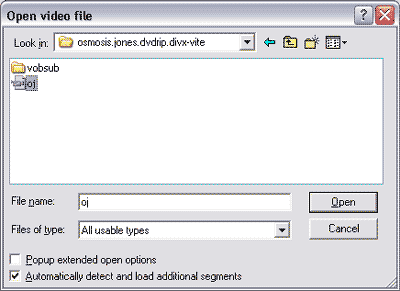 From
File
menu, select
Open video file..
and choose the clip you're about to convert and click
Open
.
Basic Audio and Video settings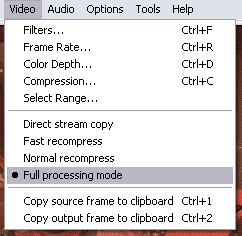 Go to
Video
menu and change the video processing mode to
Full processing mode
-- this is done because usage of filters requires this.
Check also that
Direct stream copy
is selected under
Audio
menu.
NOTE!
In some cases, TMPGEnc doesn't allow you to load the file you've generated with this method -- reason is very likely that your audio is in some "weird" compressed format, like VBR MP3. If so, try this trick: Change
Audio
to
Full processing mode
and from
Audio
/
Compression
menu select
No compression (PCM)
. Also, select from
Audio
/
Conversion
the
Sampling rate
as 44100Hz and leave other settings as they were.
Add the subtitles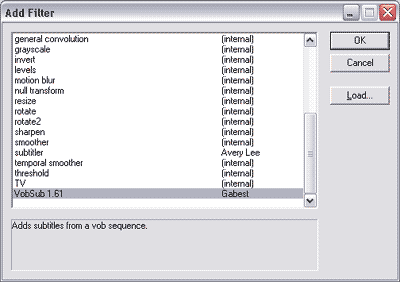 Go to
Video
menu and select
Filters
. This opens up a window that lists all the filters you've applied to process your video -- it should be empty at this point. Click
Add
and you see a list of available filters -- select
VobSub
and click
OK
.
Now programs opens a new window that allows you to select the .ifo file that is normally bundled with the subtitle package -- select the file using
Open
. After you've selected the file, you can alter the subtitle settings, like color, transparency and possibly the language you wish to use. After you've made your selections, click
OK
.
Now you're back in the filter list, just click
OK
to return back to VirtualDub's main window.
Save a pseudo-AVI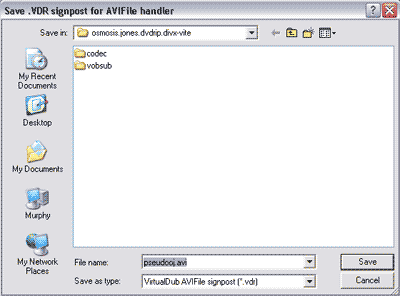 Sure you did remember to install the frameserver before you launched VirtualDub, right?-)
(this can be done by running AuxSetup.exe file from VirtualDub's directory)
.
Go to
File
menu and select
Start frame server
. Now VirtualDub
might
ask you to enter a process name -- enter whatever you want in here, I normally keep it as VirtualDub's suggested name. After this, VirtualDub asks you to save
.vdr file
--
ignore the request for .vdr extension!
Instead, type something like
filename.avi
--
notice the .avi extension!
After you've done this, frame server is running. Now, you
CAN NOT
close VirtualDub! Leave the program running and if it annoys you, minimize it to system tray or something.
Open the file with TMPGEnc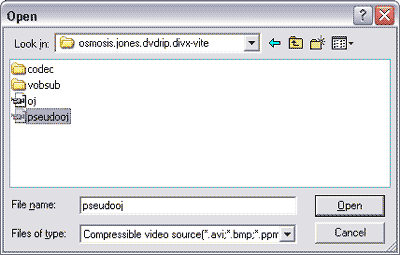 Ok, now open the TMPGEnc and click the
Browse
button next to
Video source
input field and search the pseudo-AVI you just created with VirtualDub and click
Open
. Audio should be assigned to the correct AVI automatically.
After you've done this, remember to fill the correct path and filename for the output file as well -- also remember that you need to have 10MBs of free HDD space for each minute of video.
Load the settings template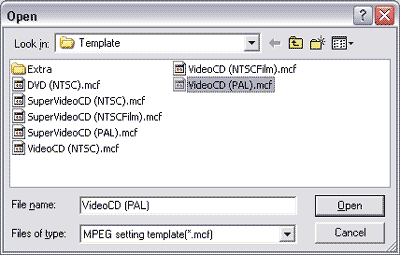 In the main window of TMPGEnc, from the bottom-right corner you should see a button that says
Load
-- click that and TMPGEnc opens up a file dialog box. From this box you can select one of the TMPGEnc's preset settings templates. Select one of these:
VideoCD (PAL)
(if your original video's framerate is 25.00fps)
,
VideoCD (NTSC)
(29.97fps)
or
VideoCD (NTSCFilm)
(23.97fps)
and click
OK
.
Adjust the settings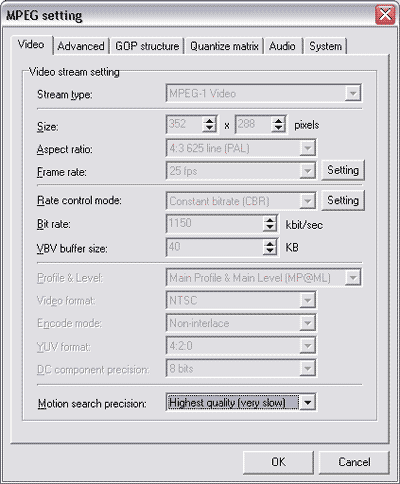 Now, next to the
Load
button there's a button called
Settings
. Click that one and TMPGEnc pops up a window that allows you to adjust encoding settings for the video. From the
Video
tab, change
Motion search precision
to
Highest quality
.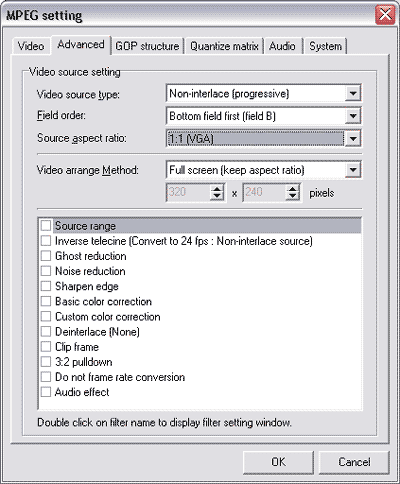 Go to
Advanced
tab and change
Source aspect ratio
to
1:1 (VGA)
(this is because you have already adjusted the video to correct aspect ratio when you originally encoded the video to DivX format)
. Check also that the
Video arrange method
is set as
Full screen (keep aspect ratio)
. Let other settings be as they originally were and click
OK
.
Encoding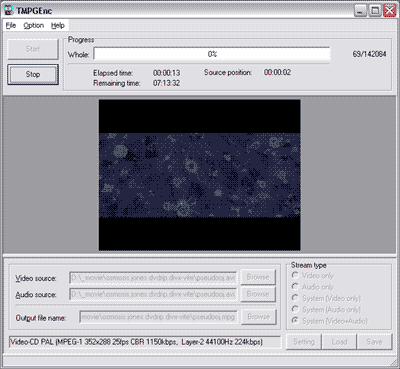 Now you should be ready
(you absolutely sure that VirtualDub is running, are you?)
to start encoding the video. So, from the top-left corner of TMPGEnc you should find a button that says
Start
-- click it and go to sleep :-) After a good night's sleep, you should have a VideoCD-compliant MPEG-1 clip with permanent subtitles.
Troubleshooting
We know that this guide contains some parts that tend to cause issues for our users. Two most typical problems are related to
frameserving from VirtualDub
to TMPGEnc and
resulting video not having audio at all
(this audio problem relates also to a problem where TMPGEnc complains about the audio)
.
We have solutions to these issues in our forums:
Very simple solution for the audio problem
Help with frameserving issues
Final words
As usual, if you're converting a full-length movie, it doesn't necessarily fit on one CD
(one VideoCD can hold 74mins of video)
and you might need to split the MPEG-1 file into two smaller chunks. Just go to our
articles section
to find out more how to do this.
Once you've created perfect CD-fitting MPEG-1 files, you probably want to burn them on CD as well :-) We suggest that you read our
guide
for burning VCDs with Ahead's Nero.
If you experience problems, please post all your questions and comments to our
discussion forums
-- don't ask any guide related questions using our feedback feature!