Create a new folder for DVD-5 version

In this version of DVD2One, there are some little annoyances, like the fact that it doesn't create a new folder for your new files, so you need to create a new directory before you start playing with DVD2One. Remember that your new destination directory
must have at least 4.36GB of free space
.
DVD2One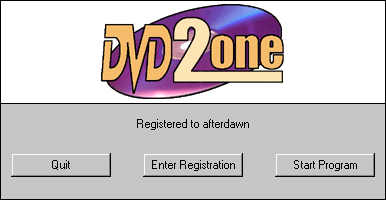 Now, DVD2One is probably the hottest DVD ripping product available right now
(Feb, 2003)
because of its unbelievable speed of processing. Program itself is
really
easy to use. Now, simply launch DVD2One.
Select source and destination

Now,
select the VIDEO_TS directory
the DVD Decrypter created for you
(normally inside a directory with same name as the DVD-Video disc has)
as your
Source Directory
and the folder you created previously as your
Destination Directory
and click
Next
.
Select the main movie title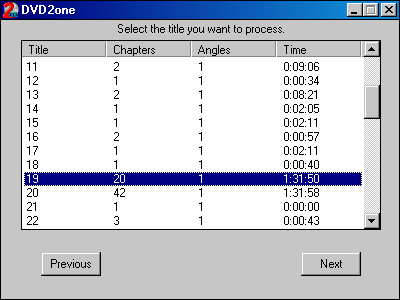 In this window you need to select the main movie title from the title list. In most cases, this selection is easy, you
simply select the one with the longest play time
. But in some cases, there are multiple possible selections for this and there is really no way to determine the correct one other than knowing it
(in this example what you see in the screenshot, the titles 19 and 20 are almost identical in length, but the title 19 has 20 chapters and title 20 has 42 chapters -- the title 19 is the correct one, the title 20 is the main movie added with visual commentary from the movie creators)
.
Once you've selected the title, click
Next
.
Select audio and subtitle streams and correct angle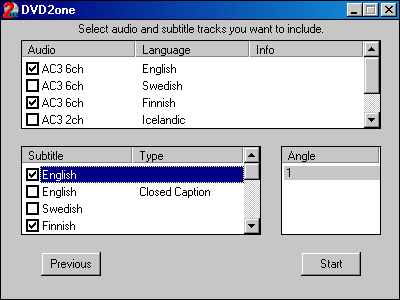 In next step, you need to select which audio and subtitle streams you wish to keep on the disc. Simply
use the check boxes to select the streams you wish to include
and please remember to check that you selected the correct audio type as well
(i.e. you selected surround audio, such as AC3 5.1, if you want to have surround sound on the disc)
.
Also, if the movie contains various angles, you need to select which angle you wish to use from the selection box. After you've done the selections, click
Start
and DVD2One will start processing the movie.
Processing the movie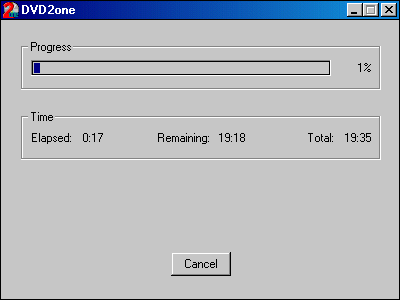 Depeding on your hardware and movie length, the process of shrinking the DVD-9 into DVD-R should take something between 15 and 90 minutes.
DVD2One processing finished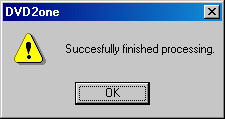 Now, simply close the DVD2One and open your preferred DVD burning software -- we recommend using
Nero
, but you're free to use
Gear
, Primo, etc if you wish.
We also have
a guide for burning DVD-Video using Nero
available.
Version history
v1.0
-- First version online, 8th Feb, 2003 --
dRD
v1.1
-- Added link to Nero guide, 21st Mar, 2003 --
JK