IMPORTANT: Newer Versions of this Process

NOTE: This guide, while still working, has not been updated since 2004. However, we do have newer, more complete and more comprehensive guides for using DVD Shrink available right now.
This newer guide shows you how to copy a full DVD (movie/episodes, menus, extras etc.) while also taking into account that problems can occur with newer DVDs. It also shows how to trim possibly hundreds of megabytes from a motion menu.This newer guide shows you how to copy just the main feature (i.e. movie) of a DVD and doesn't include the extras or menus. This generally leads to higher quality. It also takes into account that problems might occur with newer DVDs and shows you how to get around it.

Hopefully one of the above guides will help you to make perfect backups. If you want to learn how to do other cool things, like copying two full movies to one DVD disc with DVD Shrink, then check out our Guide Section.
Backup!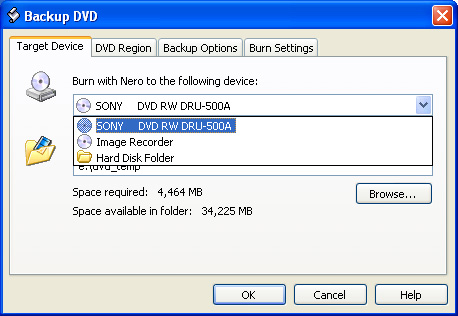 After you've gone through all the items and are satisfied with the compression percentage, click on the
Backup
button to start the backup process.
A
Backup DVD
dialog window opens up allowing you to set various options before burning. First select the target drive for burning, choose
Image Recorder
to create an ISO image to be burned at a later time or choose
Hard Disk Folder
to just create the
VIDEO_TS
folder content suitable for burning.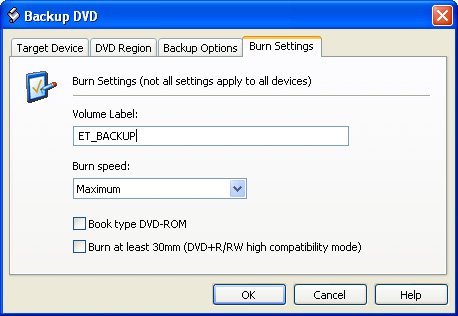 Under the
DVD Region
tab you can adjust region settings for the backup. By default DVD Shrink makes the backup region free, so usually there's no need to adjust the selections.
Under
Backup Options
you can set the priority for the backup to be low, so that processing the DVD will not consume more resources than is absolutely necessary. That way you can continue working with your computer while DVD Shrink processes in the background. You can also set DVD Shrink to shut down your computer after backup, if you want to leave it processing for the night.
The volume label and the burn speed (or image target) are defined under the
Burn Settings
tab. If you are burning on DVD+R/RW media, you can tick the
Burn at least 30mm
box for higher compatibility.
Encoding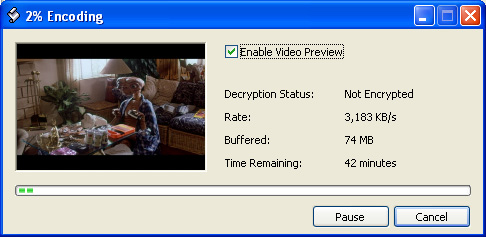 Once you are satisfied with the settings, click
OK
to start the backup process. This will, again, take quite a while, and the speed depends on your CPU and DVD-speed.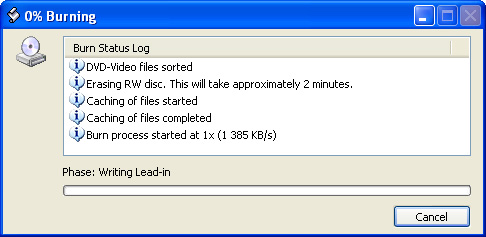 If you chose to burn the DVD immediately, DVD Shrink will begin burning automatically after the encoding is done. If not, then your ISO image or prepared VIDEO_TS folder is available for burning after the encoding process. For instructions on how to make a DVD-Video disc from a VIDEO_TS folder, please read the
burning DVD with Nero
guide.
For questions, comments, suggestions and more information, please visit our
discussion forums
and post your comments there.
We'd like to thank our user
Oriphus
for providing the draft and the idea for the guide -- thanks mate!
Version history
v1.0
--
dRD
, 29th June, 2003 -- First version online.
v2.0
--
Ketola
, 25th January, 2004 -- Rewrote most of the guide for DVD Shrink v3.1
v2.0
--
Dela
, 1st January, 2006 -- edited guide slightly to comply with new copyright law
Written by: Jari Ketola