Select Source & Destination Folders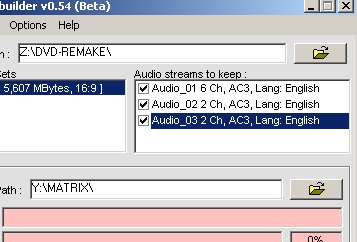 Start DVD Rebuilder (Rebuilder.exe) and click the button at the top with the folder icon. Browse to the directory you ripped your DVD into and click the OK button. DVD Rebuilder will show you a list of Video Titlesets and Audio Streams. You can uncheck any Audio Streams you don't want to keep. If you uncheck the one at the top of the list you'll have to do some IFO editing later (Rebuilder won't map a new default audio stream), so unless you know what you're doing I recommend keeping it. Now click the button in the middle (also with a fodler icon) and repeat the process to set the working directory. DVD Rebuilder uses the same directory for encoding and authoring, so you should select a folder on a drive with 9GB or more free.
1 More Click And You're Done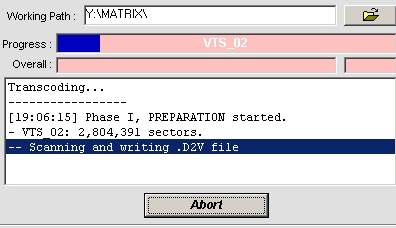 Now you're almost ready to start backing up. DVD Rebuilder can work in either 1 Click or 3 Click mode. Using 1 Click mode will allow you to walk away from your computer and come back in a couple of hours to a finshed DVD. On the Mode menu, make sure One Click Mode is checked. In One Click Mode all you have to do is select your Location and Destination directories, select or deselect audio streams, click the Transcode button, and go watch a movie or two. Once DVD Rebuilder is done, your movie will be ready to burn. In the same folder as the D2VAVS folder you'll have VIDEO_TS and AUDIO_TS, ready to burn to DVD.
Trying Out CCE Before You Buy
Since CCE is commercial software, I can understand not wanting to buy it without testing it out first. The problem you'll run into is that the trial version of CCE Basic is limited to encoding 3 minutes of video per input file. If you use the trial you'll actually get more than 3 minutes of video, since Rebuilder splits the video into smaller pieces based on the original DVD structure, but it's doubtful you'll get enough video to accurately judge the quality. In other words the trial version of CCE Basic probably won't help much.

If you decide to go this route you'll need to have a third party program called EclCCE so the trial software can read the ECL (CCE settings) files created by DVD Rebuilder. You can find EclCCE with instructions on this thread from Doom9: [
link
] You'll also need to change the CCE version in the Options menu to CCE SP 2.67+ and go into Setup (where you set the path to CCE Basic), and set the path for CCE SP (New) to the location of EclCCE.exe. Make sure you don't set it to the actual CCE executable because that won't work for the trial version. Make sure you also change the CCE version (on the Options menu under CCE Options) to CCE SP v.2.66+. After that you can use the rest of this guide normally.
Advanced Techniques
While the basic settings for DVD Rebuilder should give you excellent results almost every time, you may want to read the
DVD Rebuilder Advanced Techniques guide
. This is by no means mandatory for using it, and if you're perfectly happy with your backups there's no need to change what works. If, however, you're one of those people who likes to experiment and you want to learn more, you may end up with better results or faster encodes.
You can read the guide at
http://www.afterdawn.com/guides/archive/dvd_rebuilder_tutorial_advanced.cfm
Version history
v1.0 - Initial version by Vurbal (2004-04-21)
v2.0 - Updated version by Vurbal (2004-06-04)
v3.0 - Guide updated and split into basic and advanced versions by Vurbal (2004-07-11)
-
-
-
-