In this guide, we will teach you how to use the excellent
AutoGK
program to convert your DVD movies into
AVI
files with either
AC3
or
MP3
audio, and in excellent quality.
Requirements
To start this guide you will need, obviously, AutoGK, but also some codecs on your computer. The best way to find what codecs you will need for AVI playback is to read this guide here:
How to play xvid
AutoGK
- (Auto Gordian Knot) is powerful and very easy to use tool for making DVD rips. It was designed for people who know very little about video conversion. It includes everything you need to rip DVD to DivX/Xvid in very easy-to-use interface.
Creating perfect DivX/XviD with AC3 or VBR-MP3 soundtracks is extremely easy, since AutoGK is able to calculate the maxium bitrate that can be used for video to still fit in on the selected CD/DVD size.
Additionally, you will need about 12GB of free space on your hard drive, a working DVD-ROM or DVD+-RW drive and the movie you want to have a digital copy of.
Ripping the movie to your HDD
We cannot explain how to do this here because of the
AfterDawn
administration's decision to fully comply with Finnish Copyright Laws that went into effect on 1 January, 2006. For more information please see this link ->
http://www.afterdawn.com/guides/archive/afterdawn_guides_copyright_law.cfm
Because it can not be posted here, please go elsewhere or to the forums to learn how to rip the DVD movie to your hard drive. When you have successfully ripped it into
VOB
and with
AC3
audio, please return to the guide.
To rip your subtitles (if you want any) use this great guide available here:
Ripping Subtitles with SubRip
Opening up AutoGK for the first time

Open up
AutoGK
and check out the GUI. It is very simple and straightforward. Also, it is conveniently divided into
4 Steps
which are in order from Step 1 through 4 which need to be followed in that order.
Let's go to
Step 1
in AutoGK.
For
Input File
, provide the path to the
Video_TS
folder that you ripped previously.
For the
Output File
, select a place you will remember, such as the
Desktop
.
Step 2: Audio

In
Step 2
, the main audio track should be chosen by default but you have the option to select other tracks such as a Director's Commentary track or a second or third language.
We will be fixing the settings in a later step so for now you are finished with the audio part of Step 2.
Step 2 continued: Subtitles

If you ripped subtitles along with your movie before here is the option to use them.
Add the subtitle track or tracks from where you saved them when ripping. As of now the default is set to make the subtitles hardcoded (you cannot turn them on or off) but we will fix that in a later step as well.
Step 3: Select output size

In this step we are selecting the output size of your AVI. The default is 2 CDs which is equivalent to 1400 MB or 1.36 GB.
Here is where personal preference comes into play but I will give you the rules of thumb I follow when using this method.
If the movie is
under 2 hours and has nothing spectacular
(ie. a short comedy film) in terms of the audio then select
1 CDs (700MB)
as the output.
If the movie is
over 2 hours OR has a spectacular audio track or both
(ie. Lord of the Rings Trilogy) then select
2 CDs (1400 MB)
as the output.
If the movie
is over 3 hours AND includes a spectacular audio track
(ie. King Kong) then select
3 CDs (2100 MB)
as the output.
Whichever you choose from the predefined CD outputs will be split into 700 MB pieces, so a 3 CD film will be split into 3 700 MB pieces.
If you
do not want your movie split
then there is an option for
Custom Size (MB)
. If you do not want your movie split, then select this option.
For a 2 CDs movie, make the custom size 1399.
For a 3 CDs movie, make the custom size 2099.
Doing this will give you the same quality but will not split your movie into pieces.
Step 4: Advanced Settings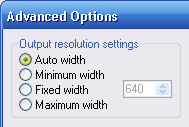 Now we come to the most important of all the steps,
Step 4: Advanced Settings.
The first part of the Advanced Settings is the
Output Resolution Settings
. It allows to set the horizontal resolution of the movie you are using. There are a few options for this.
Auto width
is the default and sets the resolution at automatic for what you inputed. I recommend leaving this option selected but will explain the other options.
Minimum width
simply means that the movie will not be encoded at a horizontal resolution lower than you set.
Fixed width
simply means the movie will encode at the horizontal resolution you set manually.
Maximum width
means that AutoGK will try lower resolutions and then stop when it reaches your manually added max even if compressibility would allow the resolution to go higher. Using this method often gives undersized final outputs and I would not recommend.
I recommend using Auto Width but the choice is up to you now that you have the options.
Step 4 continued: Output audio settings
Output Audio Type
is the next part of the Advanced Settings menu.
This is one of the most, if not the most important part of the whole encoding process so be careful during this section.
I will go through the options and then explain which one you should select.
Auto Audio
gives you MP3 audio at 128 kbps VBR (
variable bit rate
) for a 1 CD output and AC3 audio for 2 CD or 3 CD outputs.
Original (AC3/DTS/MPA only)
is the selection if you want high quality AC3/DTS/MPA audio with your movie.
VBR, MP3, kbps
is the selection if you want to manually select the variable bit rate for your encode.
CBR, MP3, kbps
is the selection if you want to select a
constant bitrate
for your encode. Constant Bitrate encoding
is not ideal
because it makes the whole audio track the same bitrate thus taking away quality from certain sections and taking up space in other sections that dont need it.
Now that you know the options, you can take the simple route and select
Auto
and be done with it. However, I would not recommend this. I recommend the following:
For 1 CD movies, select
VBR MP3
and
144
kbps.
For 2 CD and 3 CD movies select
Original
(recommended) or
VBR, MP3
and
320
if the movie is very long and needs additional bit rate for the video portion.
Codec selection

The next section of Advanced Settings is the
Codec
selection part.
For this you want to select
XviD
and you are done.
Subtitle options

Next we come to the
Subtitle options
part. If you selected to add a subtitle track earlier in the guide then you want to check both boxes,
Display on forced subtitles
and
Use external subtitles
. If you did not select a track earlier, do not check either box.
Checking the external subtitles option gives you the choice to turn subtitles on or off when viewing the movie and checking the forced only subtitles option forces necessary subtitles to be played during the course of a movie (ie. translation from language different than the main movie language).
Previewing

You can now choose to see a preview by selecting the
Preview
button. Be warned that a preview takes about 5-10 minutes to load before you can view it.
On the next page we will go over AutoGK's "hidden options" as well as how to reach the encoding process.