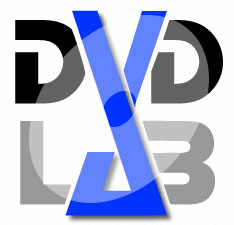 The combination of digital video cameras and inexpensive recordable DVD drives has led to a growing demand for DVD authoring software. The majority of the software available on the market is based on wizard interfaces offering little, if any, room for customization. Even though intended and priced for home use,
DVD-lab
offers features and flexibility that have only been available in professional DVD authoring software.
Some of the features include:
·99 titles per dvd (4:3 or 16:9, NTSC or PAL)
·Support for MPEG, AC-3, DTS, WAV and AIFF audio from two to six channels
·Integrated menu designer and support for up to 250 menus
·Built-in menu transition generator for animated transitions between menus
·Motion menus and menu background audio
·Connection view for easy overview of more complex projects
Starting a new project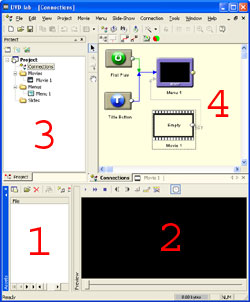 Unlike most of the low-cost DVD authoring software on the market, DVD-lab features a "professional" user interface. It takes a while for an unexperienced user to figure out where to start.
After launching the software you are presented with a new project window consisting of asset bin [1], video preview window [2], project overview tree [3] and title and menu connections [4].
The asset bin contains
video & audio, background, object (eg. menu button), image, clip and music assets
that can be used in the project. The most important bin is obviously the video & audio, where the DVD formated video is placed. Content placed in the other bins is available to all projects. Hence they are known as
permanent bins
.
Video and audio assets

DVD-lab requires the video and audio to be in a DVD compilant format, ie. you cannot just add DivX AVI files to the project and expect them to work. Multiplexed MPEG-2 streams will automatically be demuxed to elementary MPEG video and audio streams.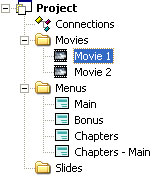 New movie, menu and slide items can be added to the project using the project tree view. All the items in the layout can be accessed quickly and easily through the tree.
Timeline and chapters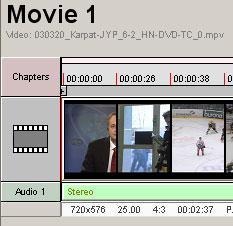 Adding video and audio to a movie track is done by simply dragging & dropping the appropriate assets to the movie timeline. You can add just one video per track. Chapter points can be created easily by just scanning the video track and hitting spacebar at appropriate time codes. If necessary, you can also trim the end of the video track. The audio track will automatically be cropped according to the video track. You cannot edit video in any way, so all the necessary cuts need to be done elsewhere.
Creating menus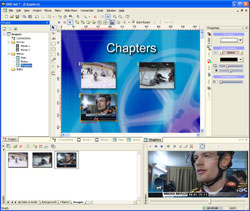 DVD-lab includes a tool which is capable of creating rather complex menus. You can control the menu playback features (including timeout and automatically selected button), define auto actions for buttons etc. You can even export and import the menus in Photoshop PSD format.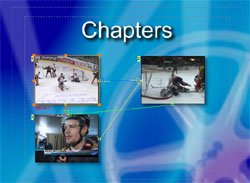 The menu items can be automatically routed, which means that DVD-lab tries to figure out the most logical way of navigating between the links (ie. where to move the highlight when the user pushes the down arrow on the remote control etc.). The routing can also be done manually, which is sometimes necessary with complex menu layouts.
The big picture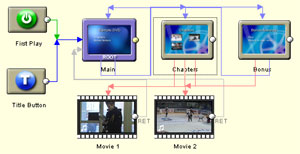 As the project grows larger, the connections screen gives a nice overall view of the layout. It is very easy to see possible flaws in the layout without extensive and laborious testing.
Putting it all together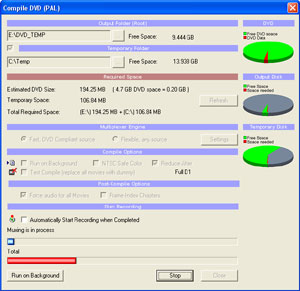 When everything is in place the movie is compiled to AUDIO_TS and VIDEO_TS folders. The video and audio assets can be replaced with dummy files for testing the layout and navigation on standalone players without the need for compiling and gigabytes of video. During the compilation the menu screens are generated, and elementary MPEG video and audio streams are multiplexed to VOB files.
For a mere $99 DVD-lab offers amazing quality, features and flexibility. Even though it lacks some of the more advanced DVD features, such as command scripts, it is capable of much more than any competitor in its price group.
Note!
The review is based on version 1.3 beta 2. Version 1.1 can be updated to 1.3 by downloading an update from the software homepage.
Version history
1.0 - 09/23/03 - Initial version - JK
Discuss this article at our
discussion forums
!
Written by: Jari Ketola