Now you''re ready to start the backup process. Click the Backup button in the lower right corner of the window. As DVD-RB goes through the steps for backing up your DVD you'll see what''s been done on the left side, below the words Status Window. This same information will be written to a file called Rebuilder.log which you can find in the Working Directory. To the right of the Status Window are two progress bars. The one on the top is for the piece of the DVD that's currently being analyzed, encoded, or rebuilt. The bottom bar is for the entire DVD.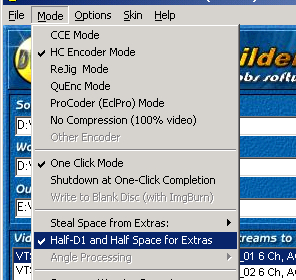 Once you've made a backup or two you'll probably want a little more control over the process. If you have a DVD with a lot of extras on it, like previews, deleted scenes, or documentaries, you may want to apply additional compression to the extras so you can apply less to the main feature. On the Mode menu you'll find some options for this. The simplest way to do it is to select Half D1 and Half Space for Extras. This will apply twice as much compression to extras and reduce resolution (the number of pixels per frame) for extras by half to help avoid encoding artifacts from the lower bitrate.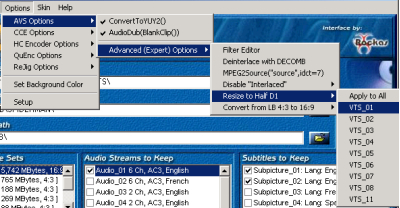 If you want more control over how much compression the extras get you can use the Steal Space from Extras option on the Mode menu. You can specify a 10%, 25%, 33%, or 50% bitrate reduction. This option doesn't affect the resolution. To lower the resolution separately you'll have to go to AVS Options on the Options menu and go down to Advanced (Expert) Options. On this sub-menu you'll find an option that says Resize to Half D1. When you hold your mouse over it you'll see a list of Video Title Sets. Click on each title set you want to reduce to half resolution. This option can be used either by itself or with Steal Space from Extras. It's important to remember that extras are often encoded at lower quality than main features on the original DVD, so even if you reduce the size of extras by the same percentage as the main feature you may still want to use a lower resolution for them in some cases.
Other Settings
These are only a small sample of the options available to customize DVD-RB's output. Most otions are only useful if you have a good working knowledge of MPEG encoding and digital video in general. These options are outside the scope of this guide.
Getting Help
If you run into problems with DVD-RB you can post a question in Afterdawn's DVD-RB forum. There are many members there with months, or even years, of experience using it.