Copy DVD-9 to DVD-R using DVD X Copy XPRESS

Backing up your DVDs could not be simpler.
321 Studios
, who provided us with
DVD X Copy
has recently released a new transcoding tool to allow single-DVD-R-backups of DVD-9 movies. DVD X Copy split DVD-9 movies on two DVD-Rs and preserved the original quality perfectly.
DVD X Copy XPRESS
squeezes down the size of the video so that the movie can be fitted on one DVD±R(W) disc. And it does it faster and better than any software before!
Requirements
To follow the guide you need:
·A DVD-recordable drive
·About five gigabytes of free space (depends on the DVD)
·
DVD X Copy XPRESS
(duh!)
·About 30 minutes of your time (depends on the speed of your DVD-recorder and computer)
Launch the program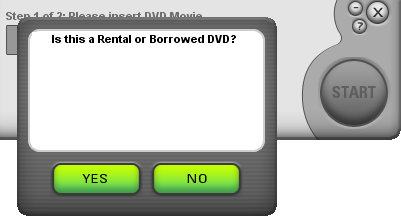 Insert the DVD you want to backup to your DVD-drive. Either the DVD-recorder, or a DVD-ROM -reader, if you have one. When you launch XPRESS you're first asked to confirm that you are, in fact, backing up a DVD you own. Of course we are, so we respond "No" to the prompt.
Adjust options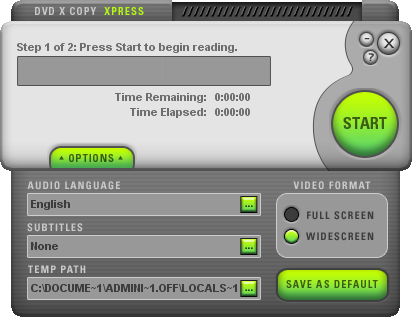 Clicking on the 'Options' -tab brings down audio language, subtitles, video format, and temporary path options. It's good to change them to suit your needs. I changed them as follows: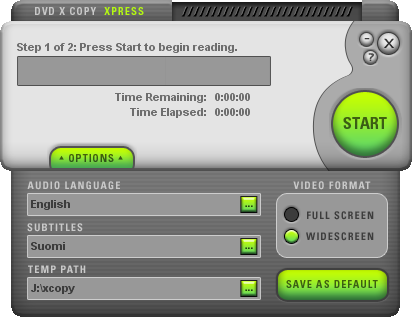 I set the subtitle language to Finnish, and temporary path on a drive I have enough space on (about five gigabytes). The other settings were left untouched. The settings can be saved by clicking the 'Save as default' -button. That way XPRESS remembers the audio and subtitle settings for each DVD you backup (provided that the DVD has the chosen audio track and subtitle language available, of course).
Start backup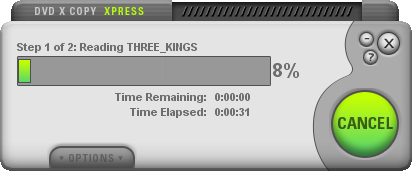 All set to go! Clicking on the big and friendly green 'Start' button begins transferring and transcoding the movie. No user interaction is required.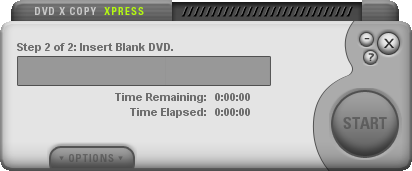 When the reading is complete, XPRESS requests a blank DVD to be inserted.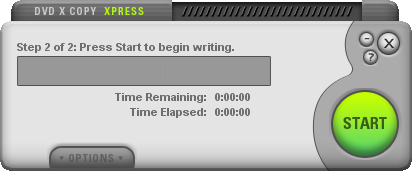 After you've inserted a blank disc, and are ready to go, just click on 'Start' again.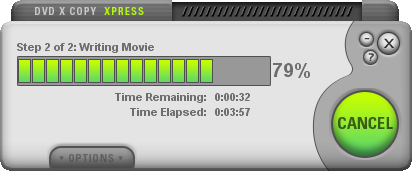 A 4x DVD-recorder writes a 4.3GB DVD-R in about fifteen minutes, so in roughly 30 minutes from starting the software, you're presented with the following screen: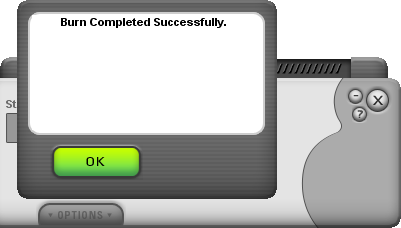 It couldn't be simpler! The results are quite phenomenal as well! DVD2One, DVD95Copy, and DVD Shrink all perform very well indeed, but XPRESS has the edge with integrated ripping, and impressive speed. Price-wise no-one can compete with DVD Shrink, but as many have discovered, DVD Shrink doesn't always work that well. For easy, top-notch quality movie-only DVD backups, DVD X Copy XPRESS is the number one right now.
Discuss DVD X Copy and DVD X Copy XPRESS at the
Official DVD X Copy forums
.
Get your copy of DVD X Copy from here
Version history
v1.0 - Initial version 030513 / JK
v1.1 - Fixed links 2005-04-03 / dRD
Written by: Jari Ketola