EasyBD Blu-ray Authoring Tutorial Lesson 1
A Basic Blu-ray Disc
Blu-ray discs are by far the most flexible and powerful consumer video format ever developed for the mass market. They can be as simple as the most basic DVD or as powerful as a piece of software written for a desktop computer. While very few people can just jump into Blu-ray authoring and almost immediately become experts, with the right software you may be surprised just how quickly you can become proficient enough to make professional looking discs. In this tutorial, over the course of several lessons, you will learn to use EasyBD to do just that. Each lesson will build on the last, adding some new techniques or knowledge to your authoring toolbox until, hopefully, you will be able to produce Blu-ray discs with many of the same features found on professional Blu-ray releases.
An Introduction To EasyBD
EasyBD is actually an entire line of Blu-ray authoring programs developed by DVD-Logic. Prices range from $200 for the standard version up to more than $1,000 for their top of the line version with support for secondary video streams (Picture in Picture), multiple angles in a single title, support for reauthoring an existing HDMV disc, and even includes their Interactive Menu Editor software.
Obviously most people will have neither the need for all those features nor the money to pay for them. Fortunately the standard version is perfectly suitable for all the lessons in thie tutorial. In addition some of the later lessons will require you to create menus to add to your Blu-ray (HDMV) compilation. While all the commercial versions of EasyBD fully support adding menus, it will require you to either spend an additional $99 to add Quick BD Menu. If you are planning to use EasyBD to make commercial discs and can justify a somewhat more significant investment you may prefer to move up to their more sophisticated menu creation program called IGEditor.
EasyBD Free & This Tutorial
In addition to the commercial versions of EasyBD, DVD-Logic also offers a free version called EasyBD Lite. Although it is a perfectly good program for creating simple Blu-ray discs, and perhaps even unique in the offering a professional quality M2TS muxer in a free program, EasyBD Lite is not suitable for use with this tutorial. Although only free for a limited time (21 days as of the date this was written), the trial version of EasyBD or EasyBD Professional allow you full access to the software's feature set. If you want to make the most of this guide in order to evaluate this trial software you should probably read through the guides prior to installing the software so the clock doesn't start ticking until you're ready to get to work.
Required Assets
Each lesson in this tutorial will require you to have specific assets to add to your disc. An asset is simply a video, audio, or graphic file. In other words it's the content on your disc. Or at least most of the time it is. In order to simplify things we are using a common set of assets which are available for anyone to use legally. These assets will typically require some preparation on your part in order to ensure they are Blu-ray compliant. For each asset you will find a link to a separate guide with instructions for downloading and additional information on preparing them for use on a Blu-ray disc.
The Main Feature
The instructions contained in this lesson will require you to have the basic assets (video, 1 audio track, and 1 subtitle stream) for the Blu-ray disc you will be making in this series. It is an animated movie called Sita Sings The Blues. If you intend to follow through with future lessons in the series it's recommended that you download all the assets for this title (a video stream, main audio, director's commentary audio, and 3 different subtitles) and prepare all of them. At a bare minimum make sure you download and prepare the video, primary audio, and your choice of the English, Finnish, or French subtitle stream. You will find instructions for all of this on Page 2 of our guide for preparing assets for AfterDawn Blu-ray authoring guides.
Downloading EasyBD
In order to follow along with this tutorial you will need to either buy or download the trial version of EasyBD Standard, EasyBD Professional, EasyBD Authoring Suite, or EasyBD Authoring Studio. And of these programs will work, although the additional tasks for creating menus (covered in separate but related tutorials) will require you to get either EasyBD Suite (or higher) or acquire either IGEditor or Quick BD Menu separately. Information and downloads for all these programs can be found at the link shown below.
| | |
| --- | --- |
| | EasyBD Standard, EasyBD Professional, EasyBD Suite, EasyBD Studio, or BD Authoring |
Once you have downloaded either a trial or full version of EasyBD go ahead and install it. Since the trial version is only good for 21 days it's best if you wait until you are ready to start using it before installing to get as much chance as possible to properly evaluate it.
The Complete EasyBD Blu-ray Authoring Tutorial
In the first lesson of our EasyBD Blu-ray Authoring Tutorial you will learn the basics of the EasyBD interface by creating a disc with just a single title with one audio stream, one subtitle stream, and a handful of chapters.
Official Official EasyBD Blu-ray Authoring Tutorial feedback thread
We have created a dedicated discussion in our forums (open in new window) for feedback on this tutorial. We would love to hear your whatever thoughts you have. Tell us what you liked or what you didn't like. Let us know if there was something you didn't understand or even something that was just plain wrong. We strive for 100 percent accuracy in our guides, but nobody's perfect. Any help you can give us in getting a little closer to that goal is appreciated. Our goal is to help you out, and anything we can change to do a better job of that is an improvement.
Lesson 1 Objectives
Learn how to specify the video stream for a track in EasyBD
Learn how to add an audio stream to an EasyBD track.
Learn how to add a subtitle stream to an EasyBD track.
Learn how to add chapters to a track in EasyBD.
Learn how to save and compile an EasyBD project to generate the files for a Blu-ray disc.
More Than Multimedia
Before you jump into creating your first Blu-ray disc it's a good idea to step back and consider exactly what that means. First off there's the Blu-ray medium - the specifications of the optical disc itself. A Blu-ray disc is an optical disc format, much like a DVD except that the data is much more densely packed and therefore must be read with a more precise laser.
However the disc specification, while important when it comes to things like video and audio bitrate, isn't the most important thing to understand. In fact if you have read through the instructions for preparing Blu-ray assets you will probably already have realized that you can create your disc using DVD media. The term Blu-ray, at least as used in the context of authoring a disc, really refers not to the physical medium but rather to a pair of application formats.
A Blu-ray disc is fundamentally nothing more than a computer application. It is designed for a relatively primitive computer (a Blu-ray player) which doesn't have the features you probably envision when you hear that word. Nonetheless a Blu-ray player is a computer and just like a PC, or an iPhone, or even a Smart TV, each one is designed to meet a particular set of standards which allows every player from every manufacturer to support a standard set of commands.
HDMV and BD-J
There are two basic types of Blu-ray application. The one most commonly used for mass commercial releases is the BD-J application. This takes advantage of Blu-ray's support for a special version of the Java programming language to offer a range of features limited only by the technical specs of the player. This tutorial will not cover BD-J applications. Instead you will be learning how to create HDMV (High Definition Movie) Blu-ray applications. While lacking the open ended feature set of BD-J, HDMV discs (applications) are significantly more sophisticated and flexible than the DVD equivalent which dominated the home video market for a decade.
If you are intimidated by the thought of a Blu-ray disc as an application, you really shouldn't be. While certain features you may wish to add to your discs may potentially require some actual programming skill, almost nothing in this tutorial will rise to that leve. And in fact one of the most appealing aspects of DVD-Logic's Blu-ray authoring tools, whether it's the various EasyBD titles or their menu generation programs, is that they keep things simple. With a little guidance and some practice you will probably be surprised at how easy it is to create extremely polished and full featured Blu-ray discs.
Step 1 - Adding A Title
Creating a basic Blu-ray disc using EasyBD isn't much more complicated than pointing the program to the appropriate video, audio, and subtitle files, adding chapter points wherever appropriate, and specifying the action to be performed after the title plays. As simple as this is, it's the foundation for everything you will do in each lesson which follows this one. In addition to providing directions for those basic steps you will also get some explanations about the information presented in some of the more advanced areas of the EasyBD interface which will become important later on as you begin modifying the simple commands used to provide interactivity via a Blu-ray player's remote.
When you first open EasyBD you will be presented with a new project consisting of a single title with a single title. We'll be taking a look at exactly what a title is a little later in this lesson. For now all you need to know is that you will be adding your assets to this title.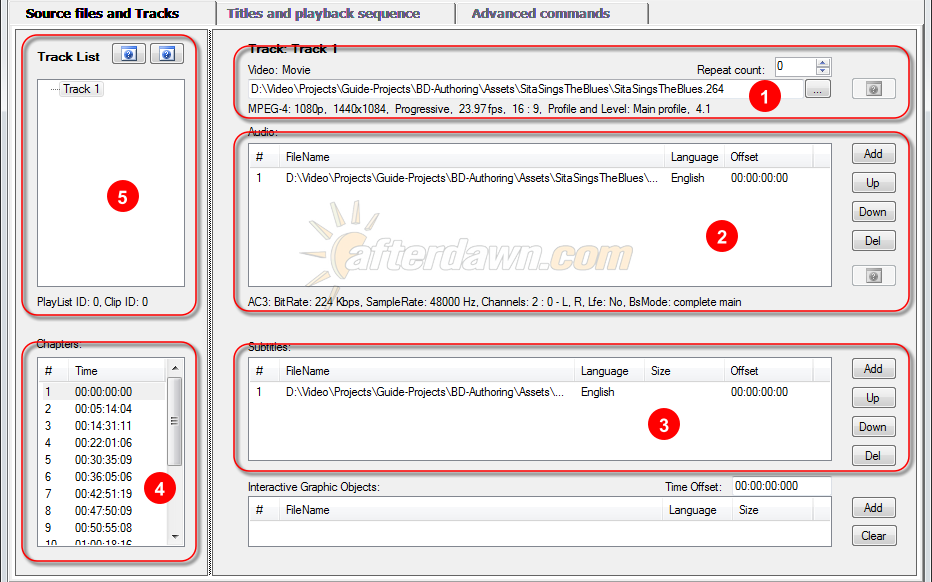 1. Video file
A. Select video file

Use this button to open a file browser for selecting the video file to use for this title. After encoding the video for Sita Sings The Blues according to the instructions linked to previously you should have an elementary video stream file with an extension of .264.

B. Repeat Count

This number specifies how many additional times the title will play after it has finished once. Typically this should be left at 0, particularly since there are other ways to loop a title which allow you more flexibility.

C. Technical details

Once the video for your clip is loaded EasyBD will automatically scan it for Blu-ray compliance. Key details including encoding format, resolution, framerate, and aspect ratio will be displayed here once the scan is complete.

2. Audio file
A. Add audio file

Use this button to open a file browser for selecting an audio file. You can add multiple audio tracks to a single video file. From the previous steps for creating your audio assets you should have a Dolby Digital file with an extension of .AC3 which you will select here.

B. Technical details

As with the video your audio file will be scanned to verify Blu-ray compliance once it has been selected. Also like the video stream you will see some reasonably detailed technical information about each stream. If you have more than one audio stream added to your title this information will reflect whichever one is highlighted.

C. Language and Offset

If you right-click on an audio stream listed here you will be given the opportunity to select what language the audio is in and also set a delay if the audio needs to start either before or after the video. See below for more details.

Audio language and offset
a. Language

Like DVD, Blu-ray has a specific list of languages defined, each of which has its own code. This way your player can automatically tell you what the language of the track playing at any given time is. Selecting Set Language from this context menu will bring up a list of languages so you can set this audio stream to the correct one. If the audio stream for your project does not already list English as the language make sure to set that here.

b. Set Offset

If the audio needs to begin playing after the video this option will open a prompt where you can specify the delay. In this case no delay should be necessary unless you have altered the length of the video or audio in some way.
3. Subtitle Options
A. Add subtitle stream

Use this button to open a file browser for selecting a subtitle file. You can add multiple subtitles to a single video file. Whichever subtitle file you decided to add should have an extension of .SUP once you have converted it using the instructions linked above.

B. Language and Offset

If you right-click on an subtitle stream listed here you will be given the opportunity to select what language the subtitle is in and also set a delay if the subtitle needs to start either before or after the video. See below for more details.

Subtitle language and Offset
a. Language

Like DVD, Blu-ray has a specific list of languages defined, each of which has its own code. This way your player can automatically tell you what the language of the track playing at any given time is. Selecting Set Language from this context menu will bring up a list of languages so you can set this subtitle stream to the correct one. The language should be set to match whichever subtitle stream you are including.

b. Set Offset

If the subtitle needs to begin playing after the video this option will open a prompt where you can specify the delay. Since the subtitles are already timed to match the video there should be no reason to set this.
4. Chapters
Right-clicking in the Chapters area will make a context menu appear which includes a number of different options for adding chapters via manual selection or automated entry using configuration files. For the purposes of this lesson we will be focusing exclusively on one method in particular - the Chapter Wizard.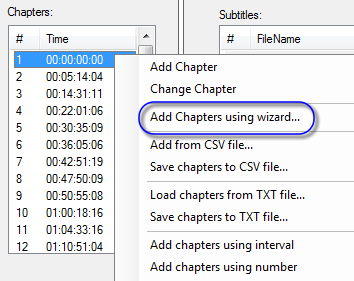 a. Existing chapter points

On the right side of the Chapter Wizard interface is a list of chapters already set in the selected title listed by timecode. The notation is listed in terms of hours, minutes, seconds, and frames (hh:mm:ss:ff). At the bottom is a display of the first frame from each chapter. Double-clicking on either the timecode or frame for a given chapter will navigate to that frame.

b. Frame and timecode references and navigation

You can jump directly to a specific frame by entering the timecode associated with it in the same format as the chapters listed below (hh:mm:ss:ff). You can also view information about the frame currently being displayed (the frame number is shown on the far right) as well as the total length of the title.

c. Basic navigation buttons

The buttons at the top on the far left allow you to jump to the beginning or end of the title or even preview it in motion using the play button.

d. Precise navigation buttons

These buttons allow you to navigate forward or backward either by a single frame or to the next (or previous) I-frame.

e. Add or remove chapter

Once you have navigated to the frame where you want to place a chapter point click on the plus button to add it. Alternatively you can remove an existing chapter using the minus button.
Use the timecodes listed for the chapters in the example image above to set the chapter points for your movie. These should correspond to locations already manually selected for I-frames during the earlier encoding phase.
5. Titles
This area shows a list of tracks. On an extremely simple Blu-ray compilation a track refers to both a clip (M2TS file) and playlist. On more complex discs multiple titles may refer to the same clip but different playlists or multiple clips may be combined into a single playlist. Additionally this is where menus may be created, or perhaps more accurately the framework for a menu created which can then accept one or more IGS (Interactive Graphic Stream) files to add interactive features like buttons.
Compiling your first Blu-ray disc
Once you have your video, audio, and subtitles all added and your chapter points set you are ready to compile your disc. Or rather you are ready to save your Blu-ray disc project and then compile.
Save project
To save your EasyBD project select Save As from the File menu and a file browser window will open allowing you to save.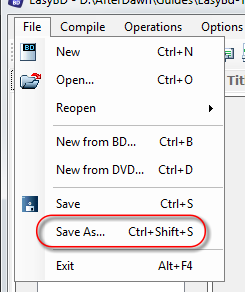 Compile Blu-ray disc
Now you are ready to compile your disc using the Compile menu. Once selected it will open another dialog where you can select the folder where you would like EasyBD to create the files for your Blu-ray disc. These files (and the accompanying folders) can be burned to a Blu-ray disc.