The Xbox 360 console plays quite a bit of content natively, but what about the rest of the video files that it doesn't support. For high resolution and high quality videos, EncodeHD can encode for Xbox 360 in excellent quality. It is made specifically for multimedia devices capable of playing the highest quality video content, which includes the Xbox 360 console.

---
Introduction & Requirements
Software you must download and install

 EncodeHD
 Required: Obviously you will need to download EncodeHD. You may need WinRAR to extract its contents into a folder. Download!
Extract the files in the EncodeHD download into a folder somewhere on your hard disk drive and run
EncodeHD.exe
. You will need to have
.NET framework 2.0
installed (
32-bit
,
,64-bit
) for the program to run.
EncodeHD First Run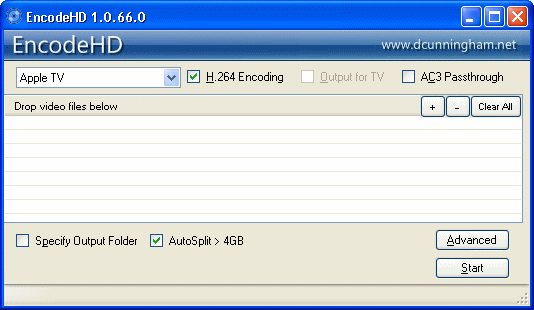 The EncodeHD interface is fairly basic and easy to understand. It is designed to be free from huge amounts of settings that are available in other programs, picking ease of use over flexibility. It can output based on a profile of a media extended or portable device that you choose. Obviously this guide is for the
Xbox 360
console and so we will need to set that.
Set Xbox 360 as Target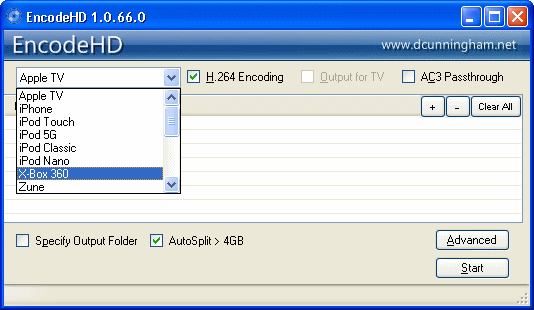 Click on the drop-down list as shown in the picture above and select X-Box 360. This will automatically change the settings in the background for the best possible output quality for the Xbox 360 console, but remember, if the quality of the input is bad, EncodeHD will not improve at all on it.
Set Output Folder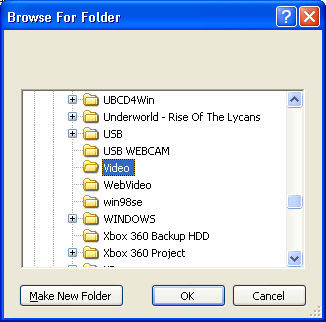 Tick the box beside the
"Specify Output Folder"
option in order to set a folder to save your
Output
files into. This is not necessary but it is good to know where your Output files will be going as opposed to scratching your head later. A File Browser will pop up. Navigate through your hard drive and find the folder you want to save everything to. Select it and click
OK
.
Open Files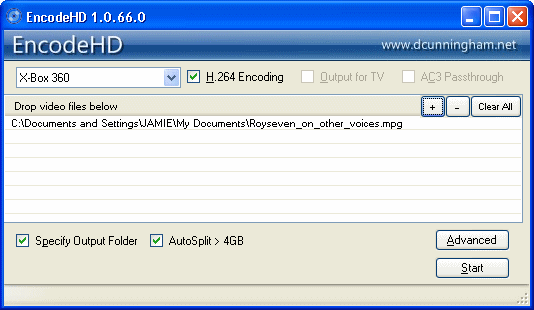 There are two ways to open files, firstly, you can simply drag and drop the files you want to convert into the list and that will do the job. You can also click the small
+
button on top of the list (to the right) and navigate through the hard drive to select whatever file you wish to encode yourself. When you have populated the list with what you want, click
Start
.
Start Output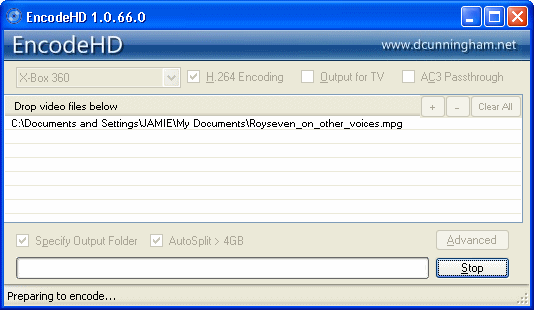 When you click
Start
, the program will sit on
"Preparing to Encode"
status for while. How long this will last depends on the type of content that you have loaded into the program, but it will start eventually.
Encoding Process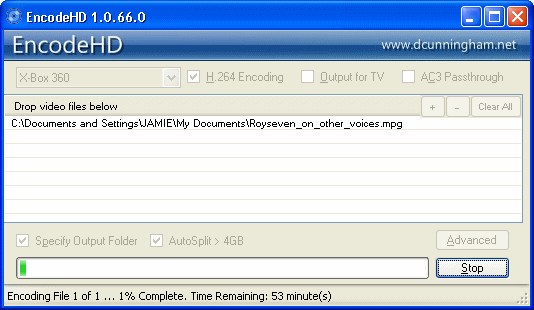 Eventually you will finally see the
Encoding
status start. The amount of time the process will take overall depends on the speed of your computer and the input content that has to be encoded. Sometimes it is a good idea to encode while you sleep so that it doesn't get in the way of your regular computer use or anything like that. Once it is finished encoding, it will show up in your Output folder with a .
MP4
extension. This file will now work if you feed it to the Xbox 360 on a disc, portable
USB
stick or over a network.
Finally
Hopefully this guide will have shown you how to encode video that will play on the Xbox 360 console. If you have any problems or require assistance in any way, please visit our
Discussion Forums
and look for help there