Load Source and Analyze
The first step to any encode with HDConvertToX is locating and opening your source file(s). It can then run some automated analysis to give you information which will be helpful for selecting output settings.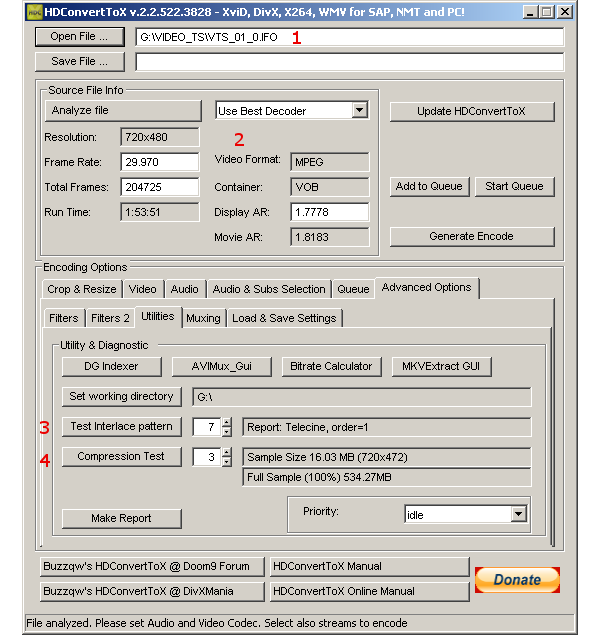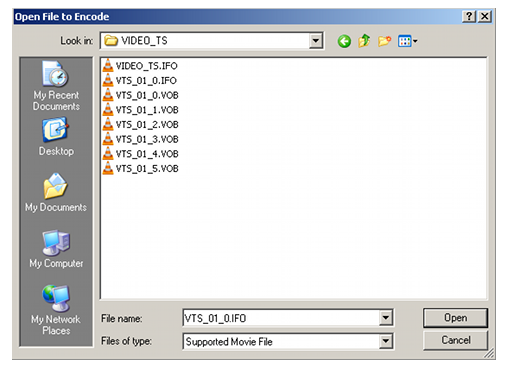 1. Open File
Click the
Open File ...
button to open your source(s). In addition to standard video like AVI, WMV, MP4, MKV, MPG and MPEG, HDConvertToX can also parse (unencrypted) DVD IFO files to find titles to encode.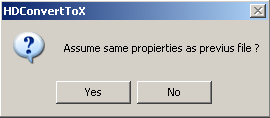 2. Basic Analysis
Most of the information you'll need to decide on encode settings can be found by HDC through its
Analyze file
tool. Click the
Analyze file
button to begin. If you have previously loaded a file you'll be asked if you want to assume the same properties as the previous file. If there's any question, or if you just want to be safe you should answer
No
.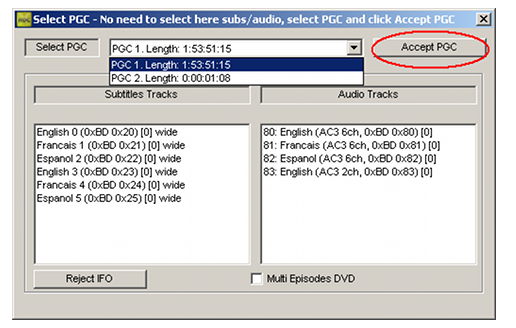 DVD Sources
You can select either the main IFO file (VIDEO_TS.IFO) or the IFO for a particular titleset (VTS_##_0.IFO) and HDC will parse it to find information on the titles contained on a DVD. The DVD must be unencrypted. Normally a DVD's main feature will be the longest PGC (Program Chain) and have multiple audio and subtitle tracks. Click on the
Accept PGC
button to use the selected PGC as your source.
After analysis is finished you will have most of the basic information about your source video. You can skip straight to encoding now or continue on to do some more advanced analysis.
Advanced Tools
On the
Utilities
tab of HDC's
Advanced Options
tab you'll find tools to examine your video's interlacing and field order and help you decide what CRF (quality) setting to use with 1 Pass AVC encoding.
3. Interlacing Analysis
With the wide variety of interlacing combinations possible from different sources it's important to be sure how your source video is encoded, as well as how it would be best encoded to MPEG-4 or WMV. Click the
Test Interlace pattern
button to have an analysis run.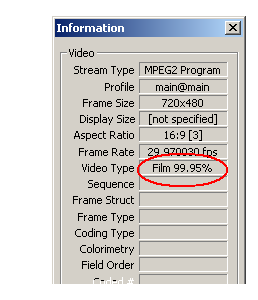 DGIndex
If your video file has MPEG-2 video, such as a DVD or DTV capture, the analysis will include the creation of a D2V file using DGIndex. As the movie is indexed you can see a lot of information about the video read from the MPEG headers. The
Video Type
should generally be close to 100% Film for most theatrical movies and many TV shows. For older video based content it will generally be 100% interlace, and some TV shows (particularly in the 1990s) combined film with video-based (interlaced) effects sequences.
Be careful when you get a movie that DGIndex reports as 100% interlaced because even progressive content can be encoded that way. Fortunately HDConvertToX doesn't rely on the flags or encoding to identify sources which started out as (progressive) filme.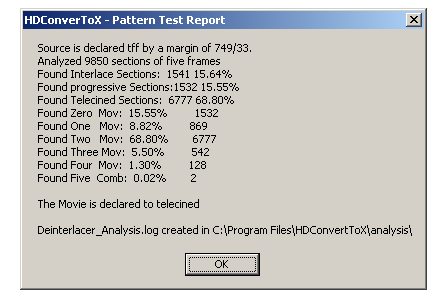 Interlace Test Results
After encoding selected samples of the source video HDC will give you a report on how much interlaced and progressive content it found. It attempts to match fields together to determine if IVTC (Inverse Telecine) is appropriate. If the video is interlaced you'll need to decide if you want to encode that way or deinterlace. We'll discuss that decision in the next section.
4. Compression Test
The last tool we'll look at here is the Compression Test. Unlike the general and interlace analysis tools this one is best left for after some video settings have been set to ensure the results reflect your actual output. Once you reach that point in this guide there will be a link to return here to complete this step.
The Compression Test encodes small samples of the movie to predict the results of using specific quality settings for 1 Pass encoding. It will tell you what CQ Value for XviD or CRF Number for x264 should be used to achieve good quality using your selected settings. This should be done after setting any cropping, resizing, deinterlacing, or other editing options to make the results more accurately reflect your actual encoded output.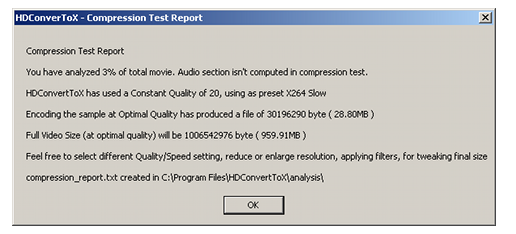 When HDC's Compression Analysis has completed you will be presented with a prediction for the video portion or your output file based on your chosen CQ (XviD) or CRF (x264) and Speed/Quality settings. This is based on a small sample of the frames which make up your source file and accuracy may vary from one movie to another.
Continued On Page 3



Armed with the information collected by HDC and our desired output format we can now do some editing and set some encoding (and possibly authoring) options.






Encoding With HDConvertToX
Viewing Page 2 of NumPage -- Go To