Basic Ripping and Naming Options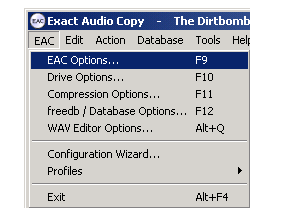 In order for EAC to give you exactly the results you want it's best to look at some options for yourself. Start by selecting
EAC Options
from the
EAC
menu.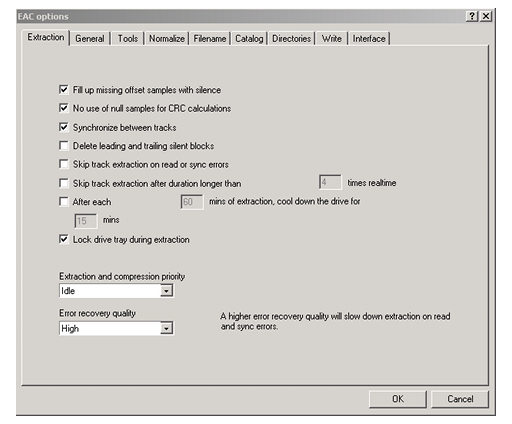 Extraction Tab
You'll find most of what you need to consider on the
Extraction
tab. If you want to make sure EAC gives up after encountering too many errors set it to either
Skip track extraction on read or sync errors
or
Skip track extraction after duration longer than
.
At the bottom of this window you'll find options for compression priority and error recovery. Using a lower priority will usually have little affect on encoding a single file to MP3, AAC, or whatever format you choose. But it will usually make it faster to encode multiple files. A setting of Idle is usually safe.
Error Recovery
should be set to
High
unless you have problems ripping CDs because of too many errors. Lower quality also means fewer retries after read errors, making it easier to copy CDs with a lot of scratches or other damage.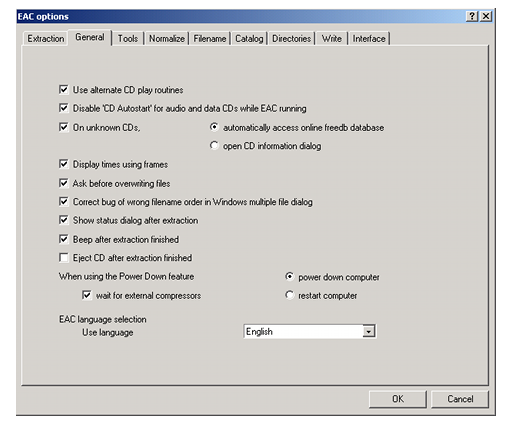 General Tab
On the General tab you can make sure EAC will check the internet for CD information when a new disc is inserted. It will use the email address you entered during setup for this.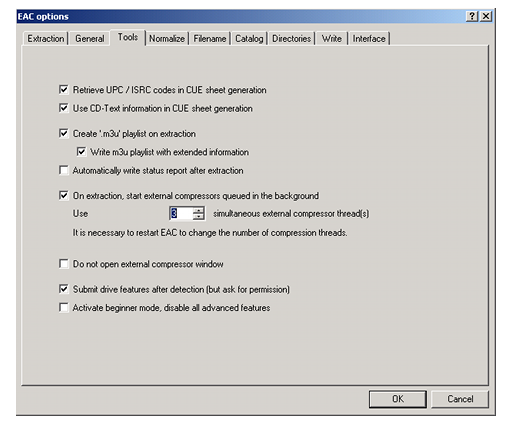 Tools Tab
The
Tools
tab includes options on what information to record in each CD's Cue sheet (for CD images), whether to automatically create an MP3 playlist and even gives you the option to encode multiple files at the same time. To do this simply check the box that says
On extraction start external compressor queued in the background.
and set the number of songs to encode simultaneously in the box below.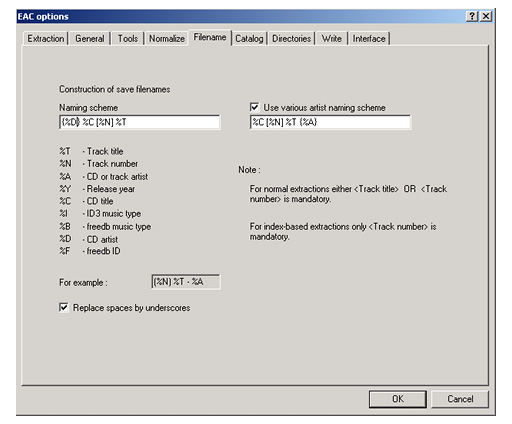 Filename Tab
EAC will use the information from freedb and the formatting selected here to name the output files. If you create CD images this will be unimportant. Use the characters listed for each of the pieces of information. For example, %T will be replaced by the track's title in each filename. You can also combine other characters in the filenames.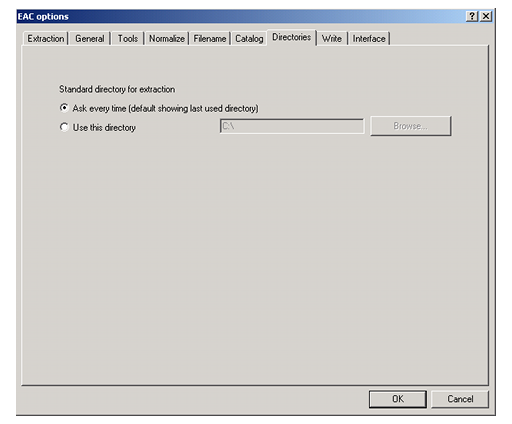 Directories
When you rip your CD you can either use the same location for everything or have EAC ask you where to write it each time.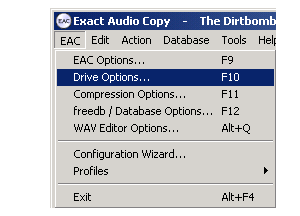 Drive Options
Drive Options
on the
EAC
menu gives you access to some advanced EAC settings. Unless you know a lot about drive configuration you shouldn't touch most options here, but some are safe, even for novices.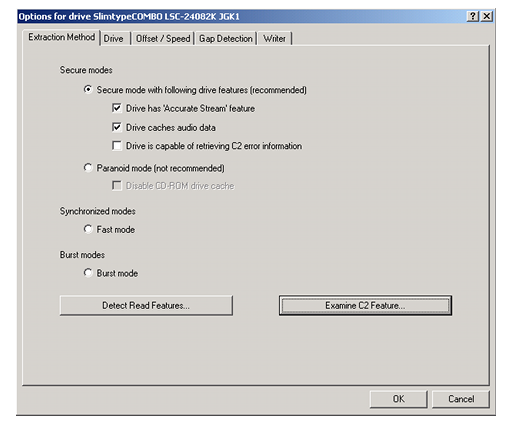 Extraction Method
The primary feature you'll want to think about here is C2 error information. Even though many drives can detect these errors, and some can even correct them, unless you can say for sure (beyond what EAC reports) that your drive does this right you might want to uncheck it here. This will only make a difference if you're copying a disc with a lot of errors (scratches).