Configure FLAC Compression
FLAC, or the Free Lossless Audio Codec, is used to make audio files smaller without losing any quality. Unlike formats such as AAC or MP3 there is no difference in the sound from a CD and a FLAC file created from that CD. Some programs, including EAC itself, can burn CDs directly from FLAC files by decompressing on the fly. It even comes with FLAC as part of the default EAC installation. You just need to do some configuration to start using it.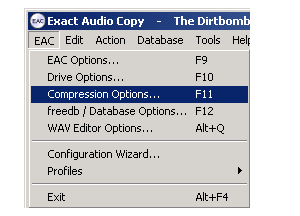 Compression Options
Select
Compression Options
from the
EAC
menu. Go to the
External Compression
tab and check the box marked
Use external program for compression
.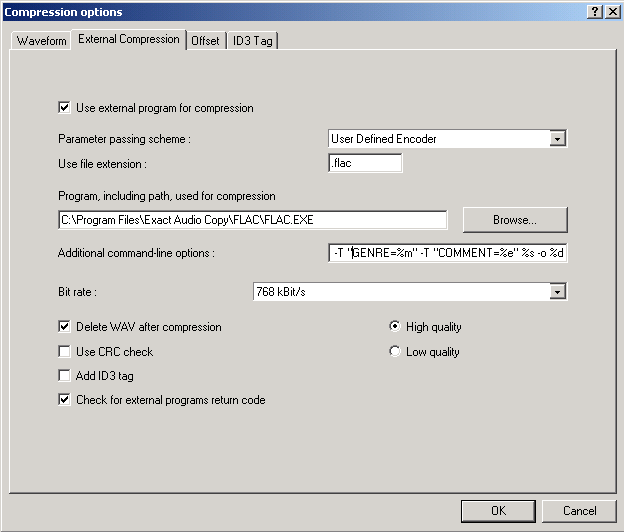 External Compression
Parameter Passing Scheme
must be set to
User Defined Encoder
and the
File extension
to
.flac
. Use the
Browse
button to locate FLAC.exe so EAC can run it for you.
The command line should read
-6 -V -T "ARTIST=%a" -T "TITLE=%t" -T "ALBUM=%g" -T "DATE=%y" -T "TRACKNUMBER=%n" -T "GENRE=%m" -T "COMMENT=%e" %s -o %d
This will not only create the FLAC file, but also add tags. You may already be familiar with the ID3 tags used for MP3 files. FLAC's tags are different but perform the same function of identifying the song to media player software.
Checking
Delete WAV file after compression
gets rid of the (uncompressed) audio file ripped from the CD after the FLAC file is created.
Check for external program's return code
ensures you get any errors from FLAC if there are problems.
---