Sometimes software that opens DVD-Video compilations - like DVD Shrink and VobBlanker - will encounter errors in the process. If this happens, it is often due to any number of different inconsistencies in the DVD compilation. FixVTS can scan for these issues and fix them very quickly, without affecting your files negatively in any way.

---
Introduction & Requirements
Software you must download and install

FixVTS
Required: FixVTS is a lightweight application. Download FixVTS and extract the download files with WinRAR or similar into any folder. Download!
For such a small program,
FixVTS
can be a very useful tool if you backup a lot of DVDs, particularly if they are new DVDs and you use old tools such as
DVD Shrink
.
FixVTS Interface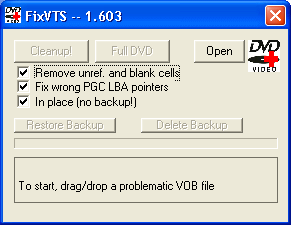 FixVTS
is a very simple program to understand and get used to. There are three main options that you can choose to change on the
FixVTS
program, and we should take a quick look at them now.
Remove unref. and blank cells
: With this option selected, any unreferenced material on the
DVD
(absent from
IFO
) will be removed by
FixVTS
. If you used
DVD Shrink
a lot, you will notice there is a lot of
Unreferenced Material
on DVDs. With DVD Shrink you can of course convert that material to still frames and save some space, but FixVTS can handle it here before you even use
DVD Shrink
.
Fix wrong PGC LBA pointers
: This adjusts the First VOBU start LBA, Last VOBU start LBA and Last VOBU End LBA in PGCs when these LBAs are obviously bogus and remaps a cell if it references something wrong.
In place (no backup)
: If this option is selected, then
FixVTS
will process the files without making it possible to restore a backup. FixVTS won't damage your video files, but if you would prefer a backup, then don't select this option.
Open DVD files in FixVTS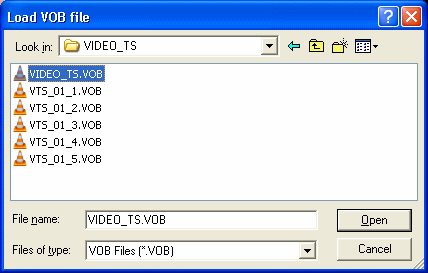 Click
Open
and navigate to your
DVD
folder. Depending on what
VOB
files you select, you will have an option later to simply
"cleanup"
that particular
VTS
or to process the entire
DVD
. This article aims to make my DVD files work with
DVD Shrink
so I'm going to process the entire
DVD
so it doesn't matter what file i select.
I opened
VIDEO_TS.VOB
.
Start The Process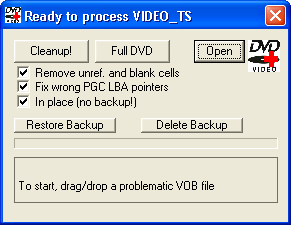 Before you begin, think again about whether you want FIxVTS to make a Backup or not. If you are only processing a particular
VTS
then click
Cleanup
, but if you want
FixVTS
to process the entire
DVD
, click
Full DVD
.
Warning Message
Despite the fact that
FixVTS
will only make a
DVD-Video
compilation more compliant than it was (which is good!), you will still receive this warning (above) if you have chosen to perform the backup
"In place"
. This is a
"just in case"
warning, but I have never encountered a bad
DVD
after it was processed with
FixVTS
.
The Process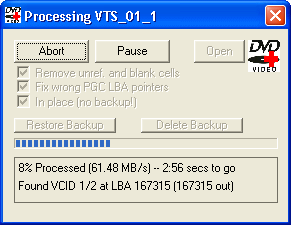 The entire process should not take too long, but of course it depends on your settings and the actual
DVD
itself. In most cases though (and especially if there is no backup) its only a matter of a couple of minutes.
Finishing Up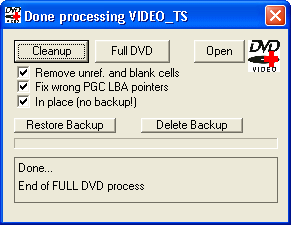 If everything went well the program will simply say
"Done..."
. And that's that, very simple very so effective. You can now try your
DVD
files with
DVD Shrink
or another program again.
Finally
If you have any problems, please visit our
Discussion Forums
and ask your questions there. Thanks to
Jeanl
for yet another invaluable contribution to us all