Copy full DVD movie disc to a DVDR using CloneDVD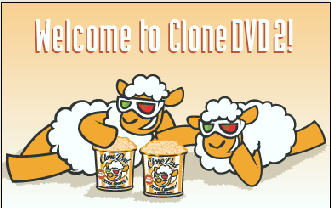 Over the years there have been a huge amount of programs and tools that allow users to backup dual layer DVD movies to a single DVD-R or DVD+R disc. Some work well, some don't. Some are expensive, some are free. CloneDVD 2 from Elaborate Bytes is one of the best compromises at the moment for people who are looking for simple user interface, but also a certain amount of flexibility -- and of course, good picture quality.

Introduction and Requirements
For this guide, our goal is to backup a single
DVD-9
movie to a single layer DVD-R or DVD+R disc, using CloneDVD 2 as our
transcoder
(the thingy that quickly compresses a movie that takes more than 4.36GB of space to fit into one 4.36GB blank DVDR disc)
. We will be keeping all the working menus, and whatever extras you would like to keep as well as the main movie. To save quality, and space, we will be mainly getting rid of unwanted foreign language audio tracks.
Please note that if your DVD is
DVD-5
, you shouldn't be using this guide, but
this guide
instead.
What You Need To Start
First of all, as always with DVD to DVDR guides, it is highly desirable that you have a DVD recorder, otherwise there's very little point of actually completing this guide, unless you wish to prepare for the future when you might have one and store the DVD images to your massive 2TB HDD until then :-) Whether you have a DVD recorder or not, you need to have some form of DVD drive installed on your PC anyway to read the
DVD-Video files
from your DVD disc.
Secondly, you must have at least 10 to 15 gigabytes of free HDD space to rip the original files to your harddrive and then transcode them to fit on a single DVD-R
(or DVD+R, obviously they're both the same size)
disc.
As for programs, you will only need one for this guide but be noted that it is shareware, but has a 21 day free trial.
CloneDVD 2
(appx. $50, buy it from here )
About Copy Protection and Copyright Law
It is generally accepted in most countries that making backup copies of your personally owned DVDs is acceptable and a wise practise. However, this can sometimes not be the case and making backup copies can be illegal in certain territories. In almost all countries it is illegal for you to copy DVDs that you don't own (like rental DVDs). This guide, as mentioned earlier, is for
"backups of your own DVDs for personal use"
, it is NOT intended to teach people to make pirate copies and neither I, nor
AfterDawn Oy
can be held responsible if you misuse this information to break local law.
Additionally, in some territories making backup copies is completely legal, but breaking / circumventing copy protection technology is illegal (makes no sense?). In Finland where AfterDawn is based, it is illegal to provide indepth information on breaking copy protection, so we don't in this article. In January 2006, we removed a huge list of software and guides from this site (
see list here
) to comply with the new laws. If you have a DVD that contains advanced DVD copy protection schemes, you wont find it here. For more info please read:
http://www.afterdawn.com/guides/archive/afterdawn_guides_copyright_law.cfm
Anyway, enough of that. This guide assumes that you already have your DVD files ripped to your HDD, however you got them there :)
On the next page, you will learn the basics of CloneDVD 2 and how to process the movie as well.